Please zoom closer to see listings
---
We couldn't find any results that matched your criteria, but tweaking your search may help. Here are some ideas:
Remove some filters.

Expand the area of your search.

Search for a city, address, or landmark.
Hawaii Vacation Rentals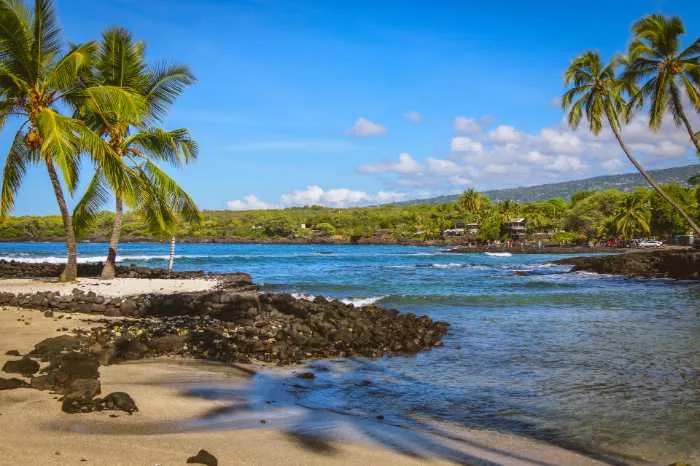 Hawaii - Our Vacation Guide
The Hawaiian islands are a beautiful vacation destination, offering stunning scenery, tropical weather, and rich history. With so much to see and do, it's no wonder that Hawaii is one of the most popular tourist destinations in the world. Whether you're interested in soaking up the sun on one of the many beaches, hiking through lush rainforests, or learning about the culture and history of Hawaii, there's something for everyone on these islands. In this guide, we'll give you all the information you need to plan the perfect Hawaii vacation.
What's the best time of year to take a vacation in Hawaii?
The answer to this question depends on what you're looking for in a vacation. If you're hoping to avoid the crowds, the best time to visit Hawaii is during the shoulder season, which runs from April to May or September to October. These months offer beautiful weather and lower prices than the peak season. However, if you are looking for the best deals, you can visit Hawaii during the winter months, when rates are at their lowest.
What type of vacation rentals can I expect to find in Hawaii?
There is a wide range of vacation rentals available in Hawaii, from basic hotel rooms to luxurious oceanfront villas. No matter what your budget is, you should be able to find something that suits your needs.
What's the weather like in Hawaii?

© WeatherSpark.com
The weather in Hawaii is tropical, with average temperatures ranging from 75 to 85 degrees Fahrenheit. The islands experience two seasons: the wet season (which runs from October to April) and the dry season (from May to September). During the wet season, you can expect occasional showers, but overall the weather is still very pleasant. The dry season is the best time to visit if you're looking for perfect beach weather.
Is there anything else I should know before I visit Hawaii?
Yes - one important thing to remember is that Hawaii is part of the United States, so you will need a valid passport to enter the country. Additionally, since Hawaii is located in the Pacific Ocean, there is a risk of hurricanes during the wet season. Be sure to check the weather forecast and travel advisories before you depart on your trip.
What should I pack for my Hawaii vacation?
Since the weather in Hawaii is tropical, you'll want to pack light, comfortable clothing. Be sure to pack plenty of sunscreen, as the sun can be quite intense. A hat and sunglasses are also a good idea.
What's the best way to travel around Hawaii?
The best way to travel around Hawaii depends on which island you're visiting. If you're staying on one of the larger islands, like Oahu or Maui, you can rent a car and explore at your own pace. If you're visiting multiple islands, you may want to take inter-island flights or take a ferry between them.
How many islands are there in Hawaii?
There are eight major islands in Hawaii: Oahu, Maui, Kauai, Lanai, Molokai, Niihau, Kahoolawe, and the Big Island of Hawaii.
Oahu is the most popular tourist destination, home to the state capital of Honolulu and famous for its beaches, golf courses, and nightlife.
West of Honolulu is Pearl Harbor, the site of WWII's 1941 bombing attack and home to the USS Arizona Memorial. Pearl Harbor National Memorial museums & grounds are free. Although reservations are recommended.
Maui is a favorite among honeymooners and features gorgeous beaches, rainforests, and waterfalls. Maui is home to the Haleakala National Park which is the largest of Hawaii's national parks and covers 14,000 acres. The island's highest peak, volcanic Haleakala, is included in the park as well as Ohe'o Gulch's pools and waterfalls, which are accessed via the beautiful winding Hana Highway.
See our vacation rentals on Maui here
Kauai, also called the garden isle, is known for its stunning natural beauty, with cliffs, canyons, and waterfalls.
Its name comes from the tropical rainforest that covers most of its surface. Its Na Pali Coast's spectacular cliffs and pinnacles have been used in major Hollywood movies, while 10-mile-long Waimea Canyon and the Nounou Trails that traverse the Sleeping Giant mountain ridge offer great hiking options.
Lanai is a small, secluded island with pristine beaches and luxury resorts. There are some spectacular vacation rentals on Lanai.
Molokai is a less developed island with a more laid-back atmosphere.
Niihau is a private island that can only be visited with permission from the owners.
Kahoolawe is an uninhabited island that was once used for military purposes.
The Big Island of Hawaii is the largest island in the state and features volcanoes, black sand beaches, and rainforests. Its size is overwhelming: it is twice the size of all of the other Hawaiian Islands combined (hence, its name "Big Island"). Its vast area enables you to visit all but four of the world's climate zones.
Check out your accommodation options on The Big Island here
What are the most popular activities in Hawaii?
Some popular activities in Hawaii include swimming, sunbathing, surfing, hiking, fishing, and snorkeling. Hawaii is also home to several golf courses, as well as a number of museums and art galleries.
What's the best time of year for whale watching in Hawaii?
Warm weather and calm seas make Hawaii an ideal destination for whale watching. The best time to see these majestic creatures is from late November to early April. During this time, humpback whales can be spotted in the waters off Maui, Kauai, Lanai, and the Big Island of Hawaii.
If you're interested in seeing other types of marine life, Hawaii is also home to dolphins, turtles, and a variety of tropical fish.
What are some popular events and festivals in Hawaii?
Some popular events and festivals in Hawaii include the Honolulu Marathon, the Maui Film Festival, and the Hawaii International Jazz Festival.
What are the best beaches in Hawaii?
There are so many great beaches in Hawaii, it's hard to choose just a few!
Here are some of our favorites:
Waikiki Beach (O'ahu) - This iconic beach is one of the most popular in Hawaii, and for good reason! The sparkling sand and clear blue water make it a perfect place to relax and soak up the sun.
Lanikai Beach (O'ahu) - This beach is a little bit off the beaten path, but it's definitely worth a visit! The soft white sand and turquoise water make it look like something out of a postcard.
Hapuna Beach (The Big Island) - This beach is perfect for those who want to enjoy some waves! The gentle surf makes it a great place to swim, body board, or just float in the water.
Kailua Beach (O'ahu) - This beach is known for its tranquil surroundings and gorgeous views. It's the perfect place to relax with a good book or take a leisurely stroll.
Haleakala Beach (Maui) - This beach is definitely worth a visit if you're looking for something a little different. The black sand and dramatic cliffs make it a truly unique place.
What food is specific to Hawaii?
Tropical fruits such as mango, pineapple, guava, and papaya are typical in Hawaii. Macadamia nuts are also common, as are baked goods made with coconut milk or flakes.
Plate lunches, a type of casual dining popular among locals, usually consist of meat (often grilled) served with two scoops of rice and one scooparo, a root vegetable, is also a common food in Hawaii.
What time zone is Hawaii in?
Hawaii Standard Time (HST) is 10 hours behind Greenwich Mean Time (GMT-10).
What is the capital of Hawaii?
The capital of Hawaii is Honolulu. It is located on the island of Oahu and is home to over two-thirds of the state's population. The city is a popular tourist destination, known for its sandy beaches, lush tropical landscapes, and vibrant culture.
How did Hawaii get its name?
The first European to visit Hawaii was British explorer James Cook, who arrived in 1778. The islands were then called the "Sandwich Islands" after the Earl of Sandwich, who was the First Lord of the Admiralty at the time. In 1819, the name "Hawaii" was officially adopted by the Hawaiian kingdom.
What is Hawaii's state bird?
Hawaii's state bird is the Nene (Branta sandvicensis), a species of goose that is endemic to the Hawaiian islands.
What is Hawaii's state flower?
Hawaii's state flower is the Hibiscus (Hibiscus brackenridgei), also known as the "Pua Aloalo".
Start planning your trip to Hawaii today!
Whether you're looking for a relaxing beach vacation or an action-packed adventure, Hawaii has something for everyone. So what are you waiting for? Start planning your trip today!
Places in Hawaii