Please zoom closer to see listings
---
We couldn't find any results that matched your criteria, but tweaking your search may help. Here are some ideas:
Remove some filters.

Expand the area of your search.

Search for a city, address, or landmark.
Massachusetts Vacation Rentals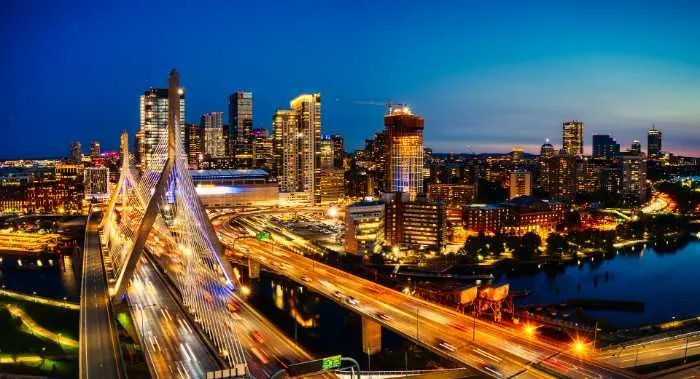 Massachusetts - Our Vacation Guide
When planning a vacation, many people overlook the charming state of Massachusetts. Massachusetts offers beautiful scenery, interesting history, and plenty of activities to keep visitors of all ages entertained. Whether you are looking for a romantic getaway or a family-friendly destination, Massachusetts is an ideal choice.
There are several reasons why Massachusetts is such a great vacation spot. First of all, the state is home to some of the most beautiful natural scenery in the country. From the picturesque Berkshires to the stunning Cape Cod coastline, there is no shortage of beauty in Massachusetts. In addition to its natural beauty, Massachusetts also has a rich history. Visitors can explore famous sites like Plymouth Plantation and Fenway Park, or take a stroll through one of the many charming historic towns.
Of course, no vacation would be complete without plenty of activities to keep you busy. In Massachusetts, you can go whale watching, hiking, biking, or sailing. You can also enjoy the state's vibrant arts and culture scene, or sample some of the delicious local cuisine. No matter what you are looking for in a vacation, you are sure to find it in Massachusetts.
So why not consider Massachusetts for your next vacation? With its beautiful scenery, interesting history, and wealth of activities, the state has something to offer everyone.
What's the best time of year to take a vacation in Massachusetts?
The best time to visit Massachusetts depends on what you are looking for in a vacation.
If you are interested in outdoor activities, the spring and summer months are the ideal time to come. The weather is warm and sunny, perfect for exploring all that the state has to offer. Fall is also a great time to visit, as the leaves change color and create a beautiful backdrop for your vacation.
If you are looking for a more relaxed trip, winter may be the perfect time for you. The state is still full of activities, but the pace is a bit slower and the crowds are smaller.
What type of vacation rentals can I expect to find in Massachusetts?
There is a wide variety of vacation rentals available in Massachusetts. You can find everything from cozy cottages by the beach to luxurious apartments in the city.
Where are the best places to stay in Massachusetts?
Some of the best places to stay in Massachusetts include Cape Cod, the Berkshires, and Boston.
Cape Cod is a popular summer destination for its beaches, fishing villages, and family-friendly atmosphere. The Berkshires are perfect for those who love the outdoors, with plenty of opportunity for hiking, biking, and skiing. And Boston is ideal for those who want to experience the city's rich history and culture.
What's the weather like in Massachusetts?

© WeatherSpark.com
The weather in Massachusetts varies depending on the time of year. Spring and summer are generally warm and sunny, with temperatures ranging from 60-80 degrees Fahrenheit. Fall is cool and comfortable, with temperatures in the 50-70 degree range. And winter can be cold, with temperatures sometimes dipping below freezing. However, Massachusetts is also known for its New England charm, so even the winter months can be a great time to visit.
What should I pack for my trip to Massachusetts?
Pack clothes that can be layered, as the weather can change throughout the day. Make sure that you take comfortable shoes for walking, sunscreen and hats for days spent outdoors, and umbrellas or raincoats for rainy days.
What's the best way to travel around Massachusetts?
Walking, biking, and driving are all great ways to get around Massachusetts. The state's public transportation system is also excellent, so you can easily take the train or bus to your destination. If you are planning on doing a lot of exploring, renting a car may be the best option for you.
What are the 10 best things to see and do in Massachusetts?
Visit the Freedom Trail in Boston - The Freedom Trail is a popular tourist attraction in Boston, Massachusetts. It is a 2.5-mile (4.0 km) long path that winds through the city, passing by 16 historically significant sites that are related to the American Revolution.
Take a scenic drive along the Cape Cod National Seashore - The Cape Cod National Seashore is a beautiful place to go for a drive. It is located on Cape Cod, a peninsula in southeastern Massachusetts. The national seashore features many scenic overlooks, hiking trails, and beaches.
Go whale watching off the coast of Cape Cod - Whale watching is a popular activity in Massachusetts. There are several companies that offer whale watching tours off the coast of Cape Cod.
Visit Plymouth Plantation - Plymouth Plantation is a living history museum in Plymouth, Massachusetts. It is located on the site of the original Plymouth Colony, founded in 1620. The museum recreates the daily life of the colonists, and visitors can participate in activities such as farming, cooking, and fishing.
See the fall foliage in New England - The fall foliage in New England is some of the most beautiful in the world. The best time to see it is typically from mid-September to early October.
Attend a sporting event at Fenway Park - Fenway Park is a baseball stadium in Boston, Massachusetts. It is the home field of the Boston Red Sox, and it is one of the most iconic stadiums in all of baseball.
Take a walk through Harvard Yard - Harvard Yard is the central campus of Harvard University in Cambridge, Massachusetts. It is a great place to take a walk and admire the architecture of the historic buildings.
Visit the Salem Witch Museum - The Salem Witch Museum is a museum in Salem, Massachusetts that tells the story of the Salem witch trials of 1692. The museum features exhibits on the history of witchcraft and magic, as well as interactive displays.
View art at the Isabella Stewart Gardner Museum - The Isabella Stewart Gardner Museum is an art museum in Boston, Massachusetts. It houses a collection of art from around the world, as well as a garden with sculptures.
Sample local wines at a vineyard - Massachusetts is home to many vineyards, and many of them offer tours and tastings. This is a great way to learn about the wine-making process and sample some of the state's best wines.
What are the best beaches in Massachusetts?
Warm weather means beach time in Massachusetts! But with over 400 miles of coastline, it can be tough to decide which beach is right for you.
Nantucket is a popular summer destination for its sandy beaches, quaint shops, and delicious seafood. The island also offers plenty of activities for visitors, from whale watching tours to biking and hiking trails.
Martha's Vineyard is another top beach destination in Massachusetts. The island is known for its stunning cliffs, beautiful beaches, and lush gardens. Visitors can also enjoy golfing, kayaking, and windsurfing.
What food is specific to Massachusetts?
Worcester sauce - Worcester sauce is a savory sauce that originated in the city of Worcester, England. The sauce is made with vinegar, anchovies, garlic, and spices. It is commonly used as a condiment on meat and fish dishes.
Clam chowder - Clam chowder is a soup that is traditionally made with clams, potatoes, onions, and cream. It is a popular dish in New England, and it can be found in restaurants all over Massachusetts.
Boston baked beans - Boston baked beans are a traditional New England dish made with navy beans and molasses. The beans are slow-cooked in an oven with bacon or salt pork to add flavor.
What festivals are held in Massachusetts?
Worcester County Fair - The Worcester County Fair is a county fair that is held annually in the city of Worcester, Massachusetts. The fair features exhibits, rides, and food vendors.
Salem Witch Festival - The Salem Witch Festival is a festival that is held annually in Salem, Massachusetts. The festival celebrates the history of the Salem witch trials and features costumes, performances, and food vendors.
Fenway Park Music Festival - The Fenway Park Music Festival is a music festival that is held annually at Fenway Park in Boston, Massachusetts. The festival features a variety of musical genres, including rock, pop, and hip hop.
What time zone is Massachusetts in?
Massachusetts is in the Eastern Standard Time Zone. This means that it is one hour ahead of the Central Time Zone and two hours ahead of the Mountain Time Zone.
What is Massachusetts' state bird?
Massachusetts Meadow Wildlife Sanctuary in Princeton is home to the state bird of Massachusetts, the black-capped chickadee. This little songbird is a beloved Massachusetts icon, and can be found throughout the state in wooded areas and backyard feeders. The best time to see them is during the winter months when they are more active and easier to spot. So if you're looking for a little bit of Massachusetts wildlife on your next vacation, be sure to keep an eye out for these cheerful little birds.
What is Massachusetts' state flower?
The state flower of Massachusetts is the Mayflower, a small white wildflower that blooms in early spring. The Mayflower is native to the Northeast United States and was one of the
Start planning your Massachusetts vacation today!