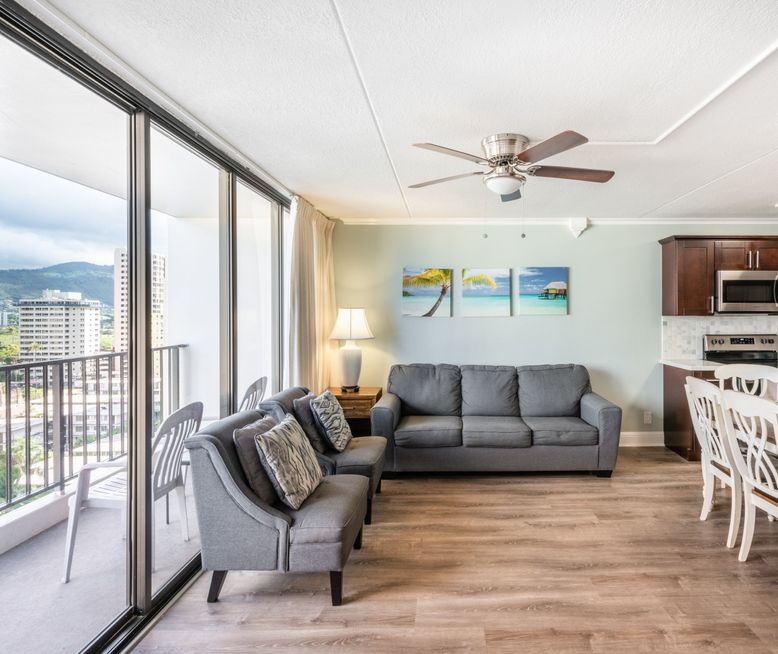 Book Tower 1 Suite 1212 | Waikiki Banyan Condominium | Koko Resorts
Listing titles:
Book Tower 1 Suite 1212 | Waikiki Banyan Condominium | Koko Resorts
WB 1212-1 Two Queen Beds, 1 Bath, Waikiki Banyan, Free Wi-Fi and ParkingWelcome to Koko Resorts! We are so happy you have chosen to stay with us for your vacation in Paradise!
...
Amenities
Essentials (towels, bed sheets, soap, and toilet paper)
WB 1212-1 Two Queen Beds, 1 Bath, Waikiki Banyan, Free Wi-Fi and ParkingWelcome to Koko Resorts! We are so happy you have chosen to stay with us for your vacation in Paradise!

This 12th floor condo comes with a fully equipped kitchen, which includes a refrigerator, stove-range, microwave, coffee maker, and all the kitchen supplies you need to have an at home cooking experience while on vacation. This kitchen is complete with a dining table and chairs to accommodate all your seating needs. Please also enjoy the spacious living area that comes with a large tv, pull-out sofa, and two large chairs that will provide you with great comfort and relaxation during your stay. 

This unit has a wonderful bedroom with 2 Queen Sized Beds and an ocean view from the window. The bedroom can be made private by the sliding partition doors or left open for a very spacious room. There is an amazing, renovated bathroom right off the bedroom which includes a detachable shower head. This bathroom is perfect to wash away all the sand and ocean from a great day spent at the beach which is only a few blocks away!  Additional sleepers can be arranged by special request, if need be, we do provide high quality inflatable beds.   Please contact us directly prior to room assignment.  This unit comes with FREE WiFi internet, TV with cable. There is A/C in the unit located in the living room. We hope you will take full advantage of all of the extras we provide for the ultimate vacation of your dreams! 



Koko Resorts at The Waikiki Banyan

Our condos at Koko Resorts are located in the Waikiki Banyan which is the absolute best location for your stay in Hawaiʻi no matter the occasion, whether it be your honeymoon, anniversary, family vacation, or just a relaxing getaway. Our condos are only one block away from the most famous beach in the world, Waikiki! On this beautiful island of Oahu, you can enjoy surfing, swimming in the ocean, scuba diving, hula dancing, Waikiki nightlife, and exploring all that Hawaiʻi has to offer! The Waikiki Banyan is within walking distance of the finest and greatest selections of world class dining. With so much variety you will be exposed to all new foods from all different places! For fun and enjoyable shopping experiences while you stay with us the International Marketplace and Royal Hawaiian Shopping Center are conveniently located only a few blocks away from the Waikiki Banyan. There are many attractions that the kids will love including the Zoo and Aquarium that are less than 5 blocks away! Honolulu offers easily and readily available public transportation just right outside of the Waikiki Banyan so that you can get to wherever you want to go! Our wonderful lobby is furnished with benches, couches, and soothing sounds from the tropical waterfall that runs into the gorgeous koi pond. Please enjoy coffee and breakfast at The Banyan Breeze that is also in the lobby for quick and easy access to fuel up for those fun-packed days spent enjoying the island! The Mini Mart is also in the lobby for your snacking convenience. Koko Resorts proudly boasts having access to one of the greatest and largest recreation decks in Honolulu, which is equipped with an amazing pool, two hot tubs, saunas in both the men and women restrooms, a tennis court, grills for barbequing with picnic tables, and a children's playground. It is the perfect place to be! Just lounge and relax while you get a suntan and enjoy the ocean breeze! The Banyan includes a laundry room on every floor for guests to use. We want you to feel safe with us during your stay which is why there is always 24-hour security in the building! 


With Koko Resorts you will be able to save money on standard amenities that include FREE parking for one vehicle, FREE Wi-Fi internet, cable TV, and an A/C unit in the living room. All suites managed by Koko Resorts are equipped with a full-size kitchen which saves you money and health by not eating out for every meal while on vacation. We want you to take full advantage of all these extra amenities we provide so that you get the most out of your vacation! Thank you for choosing Koko Resorts, we look forward to having you stay with us!
Maximum occupancy or the number listed that a suite sleeps is not always the same as the number of guests that a suite can sleep with our portable beds.  Portable (folding) cribs and high-quality inflatable beds are available to you upon advanced request.  To accommodate your laundry needs, Koko Resorts provides laundry detergent under the bathroom sink for your stay. Just in case of the unexpected, Koko Resorts offers a 24-hour emergency guest assistance phone line for you. For emergencies only please call: (888)-565-6411 
 

This property at the Waikiki Banyan is professionally managed by Koko Resorts.  Feel free to contact us if you have any questions.
Required Legal Disclosures:
Hawaii TAT: TA-121-578-0864-01
Honolulu NUC: 90/TVU-0848, 90/TVU-0982, 90/TVU-0836, 90/TVU-0895, 90/TVU-0595, 90/TVU-0994, 90/TVU-0865, 90/TVU-1022, 90/TVU-1023, 90/TVU-0853, 90/TVU-1057, 90/TVU-0876, 90/TVU-0782, 90/TVU-0783, 90/TVU-1099, 90/TVU-1101, 90/TVU-1102, 90/TVU-1109, 90/TVU-0887, 90/TVU-1123, 90/TVU-1126, 90/TVU-0625, 90/TVU-0628, 90/TVU-1149, 90/TVU-1150, 90/TVU-1348
Property Address: 201 Ohua Ave., HNL, HI 96815
Attractions: Cinemas
Family Friendly Amenities: Bathtub
Leisure: Scenic Drives, Sight Seeing, Walking
Resort Amenities: BBQ Grills, Hot Tub, Near Beach (Short Walk), On-Site Coin Laundry, On-Site Parking, Play Ground, Sauna, Swimming Pool, Tennis Court
Themes: Adventure, Away From It All, Budget
Unit Amenities: Dishwasher, Free Parking, Free Wi-Fi, Full Kitchen, Hi-Speed Internet, Kitchen Bar/Island, Lanai (Balcony), Mid-Stay Cleaning, Rice Cooker, Washer/Dryer (Coin Operated), crib
Save Even More Money On Your Next Vacation
35 great tips on planning, travel hacks, transportation savings, and cheap food and drink options!
House rules
Not suitable for pets

No smoking
About the host
Aloha E Komo Mai! When you stay with Koko Resorts you are staying with Ohana (family). We are here to help you have the best possible stay in Hawaii. Our accommodations are clean and affordable and are tailored to your needs. Our suites vary in size, location and condition, but they are always clean and ready for your arrival. Our team members will always greet you with a smile and they will do their best to answer your questions and give you the assistance that you need. Each team member will always treat you courteously and with respect. So if you have a special need or if something goes wrong, please tell us. We are here to help. Our goal is to have you say "Our vacation was the best because we stayed with Koko Resorts". Mahalo nui loa for staying with Koko Resorts.
or call
(
to see the contact phone)
for direct bookings or other property questions.