Price Comparison Results
Airbnb • Vrbo • Booking.com • Direct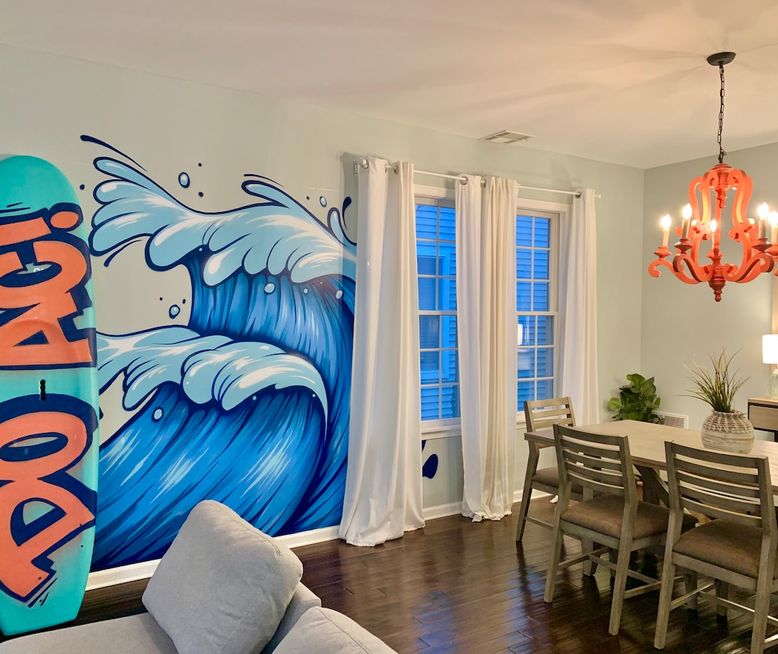 Bold & Blissful Playce: hot tub & game room
Listing titles:
Bold & Blissful Playce: hot tub & game room
*Newly updated with murals, hot tub, and game room!*
...
Amenities
Essentials (towels, bed sheets, soap, and toilet paper)
*Newly updated with murals, hot tub, and game room!*
Bliss Playce is a spacious home steps from the beach. This single family home with fenced in yard is tranquil & spacious and conveniently located to the beach.
FOR OUR CURRENT RENT 2 NIGHTS, GET 1 FREE SPECIAL*: Excludes holidays. Free night is lesser or equal value. Must book 2 nights and we will manually add the 3rd night if it is available. Please request at time of booking. Valid for stays til 4/15/23
This uniquely designed home is an amazing place to take memorable photos with your friends. The home features several murals and works of art by local and international artists .
Spacious, detached single family home in a beautiful neighborhood, Gardners basin. Our infamous party room is 2x pleasure, double the fun at this one with a hot tub, air hockey table, foosball, and games!
Our schedule is fully up to date. If it shows as available, it is but is on instant book so first come first serve. If it's blocked, that means it's booked and is NOT available. *If this house is booked for your dates please check out #BadandBeachyPlayce. It is very similar in layout and what's offered, also has a 2 car garage that's a party/game room, private back yard, and loft bedroom.
Pets are welcome at additional fee per night and must be approved and paid for in advance. Not all breeds permitted.
Our prices are up to date and non-negotiable. Our houses are unique and unlike anything else in AC. Respectfully, requests for negotiations will not be answered. They have been in high demand and booking quickly, if you're interested, don't wait!
This home requires a 2 night minimum and 3 on holidays. IF YOUR DATES ARE BOOKED, PLEASE ASK ABOUT OUR OTHER LISTINGS. Keep in mind, weekends book quickly.
Sleeping arrangements:
1st floor- living room sleeper sofa (sleeps 2)
2nd floor-
Primary- king bed (sleeps 2), 2 rollaway memory foam twin beds (sleeps 2), pack n play available
Middle room- king bed (sleeps 2)
Back bedroom- 2 queen beds (sleeps 4)
The open concept on the first floor is amazing for hosting or all gaming together. When entering from the front porch the living room offers a smart tv, comfortable seating, and opens to a dining area. There's also a large kitchen and 1/2 bathroom on the first floor. The backyard is a nice patio space to BBQ (we have a small grill for guests to use- must provide your own propane) and continues to the party room/garage- great for more photos or a separate area to hang out.
The 2nd floor has 3 nice size rooms and 2 full bathrooms- both with tub/showers- plenty of room to get ready before heading out for the night. All bedrooms have comfortable memory foam mattresses.
This property is cohosted and operated by Cozy Cohost LLC, a short term rental management company based in Atlantic City.
Beautiful, quaint, and quiet Gardners Basin is one of the prettiest and safest neighborhoods in all of Atlantic City. Nestled between the Ocean Boardwalk and Bayside, this neighborhood is convenient to casinos like Ocean Resort and Hard Rock. Walk to Back Bay Ale House for sunsets and string drinks or catch a limo with one of our exclusive partners that can take you anywhere you'd like to go in AC.
Pack your bike and ride the wrap around boardwalk that takes you as far as Margate or walk just steps to the inlet beach that you can see from the upper deck.
With more spacious yards and ample free parking, this area is much less congested than other parts of town.
You are just a few houses from entrance to the Inlet Beach which also happens to be the start of the boardwalk that wraps around to the ocean side where the larger beach is.
$5-10 for lyfts and Uber to just about anywhere
Parking near the ocean side beach if you aren't at the inlet beach near the house starts at $2/hr at a meter or $10-20 for a lot for the day.
Walk the boardwalk or bike to the bay, inlet beach, ocean resort (1 mile on boardwalk) or hard rock.
Atlantic City is a barrier island and due to the soft soil ants and other critters can be a common sighting in residential house holds.
Save Even More Money On Your Next Vacation
35 great tips on planning, travel hacks, transportation savings, and cheap food and drink options!
About the host
Offering a collection of boutique designer vacation homes for a memorable one of a kind experience. Whether you're joining us for a birthday, bachelorette, family reunion or just a weekend away our homes offer all of the amenities and comforts of a home while providing a unique designer look in each space. Come find your PLAYCE with us today!
for direct bookings or other property questions.