Price Comparison Results
Airbnb • Vrbo • Booking.com • Direct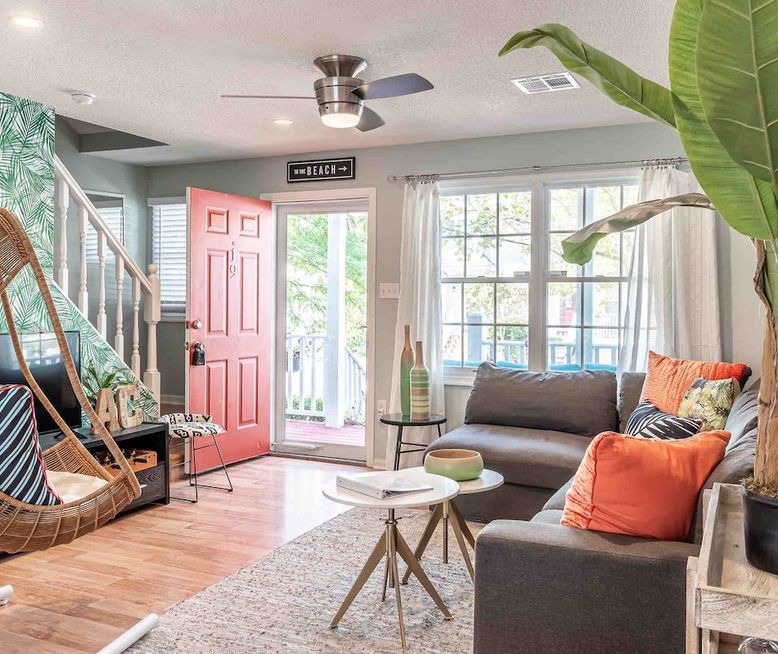 NotABasicPlayce:Book 2 get 1night free *June Only*
Listing titles:
NotABasicPlayce:Book 2 get 1night free *June Only*
Booking Estimator
Use this booking tool to understand exactly what you will pay to the host.
HiChee Tip: Did you know about 15% to 20% of what you pay goes to the travel agencies for their services, and is not paid to the host.
Share this with the host to find out how much of these service fees you could save.
NotABasicPlayce:Book 2 get 1night free *June Only*
This listing is verified in HiChee.
How does it work?
*Estimated book direct is the lowest price of OTAs minus their service fees.
Amenities
Essentials (towels, bed sheets, soap, and toilet paper)
***June promo***
Book two days and get 1 night free. offer excludes Fri & Sat nights holidays and holiday weekends. Nights must be equal or lesser value
New professionally designed airbnb just renovated with fun, stylish decor a bit different than most places in AC. Located in the best part of town, Gardner's basin is quiet and safe but close to everything you need. - this is truly a getaway perfect for families or groups. Complete with 2 balconies, a deck, & free easy street parking.
Another Playce Collection boutique designer home! Relaxed, stylish, and complete with birthday and bachelorette decor upon request. Easy free parking & easy self check in with a keypad. This house was fully renovated a few months ago with great new bathrooms, 4 bedrooms including one that is a loft with bonus lounge space. It is a comfortable space to both entertain as well as areas with make up vanities, plenty of mirrors for groups that are hitting the bars/clubs in AC, and everything you need to enjoy your time away. Cable and netflix are offered on the tvs.
**To make your travels and stay easy and very enjoyable, all linens, towels and starter of basic amenities are provided. Once the provided amenities run out, guests must purchase their own as needed.**
1 car driveway parking and ample free street parking on Adriatic. Do not park on Schooner!
Check out our other listings at on IG @PlayceCollective or #PlayceCollective. The hashtag for this house is #NotABasicPlayce
MINIMUM AGE IS 21 for all guests not accompanied by a parent. We are not responsible for underage drinking. Absolutely no loud parties as this is a quiet neighborhood. You will be asked to leave immediately if neighbors complain.
The schedule is fully up to date- if you see the dates available that means it's time to book! We are set up on instant book for qualified guests. If it's blocked, that means it's booked and is NOT available.
Our prices are up to date and non-negotiable. Our houses are unique and unlike anything else in AC. Respectfully, requests for negotiations will not be answered.
Washer and dryer, driveway and garage, 2.5 bathrooms, renovated kitchen.
This property is cohosted and operated by Cozy Cohost LLC, a short term rental management company based in Atlantic City.
If you haven't read about it yet, Gardner's Basin feels like you're in the cutest quaint town, but within AC. Gorgeous landscaping, a one walk block to the beach on the inlet and brand new board walk are some of our favorites. Being able to walk to brunch at Gilchrist's (worth the short wait on the weekends), Back Bay Ale House (you have to try the Bob Marley), and the delicious food at Kelsey & Kim's (just a block away) are AWESOME. Cedar Market complete with a deli and just about everything you could need is just a 1/2 block away. AC Aquarium, Steel Pier with the rides, and the new Hard Rock are great family activities. Bungalow Beach Bar and the new Biergarten are great fun for day drinking & fun!
Uber's and lyfts come within 2-5 minutes usually and are fairly inexpensive.
Please note: A starter supply of toilet paper, paper towels, and trash bags is supplied. Guests are asked to purchase more for longer stays.
Atlantic City is a barrier island and due to the soft soil ants and other critters can be a common sighting in residential house holds.
Save Even More Money On Your Next Vacation
35 great tips on planning, travel hacks, transportation savings, and cheap food and drink options!
About the host
Offering a collection of boutique designer vacation homes for a memorable one of a kind experience. Whether you're joining us for a birthday, bachelorette, family reunion or just a weekend away our homes offer all of the amenities and comforts of a home while providing a unique designer look in each space. Come find your PLAYCE with us today!
for direct bookings or other property questions.