Price Comparison Results
Airbnb • Vrbo • Booking.com • Direct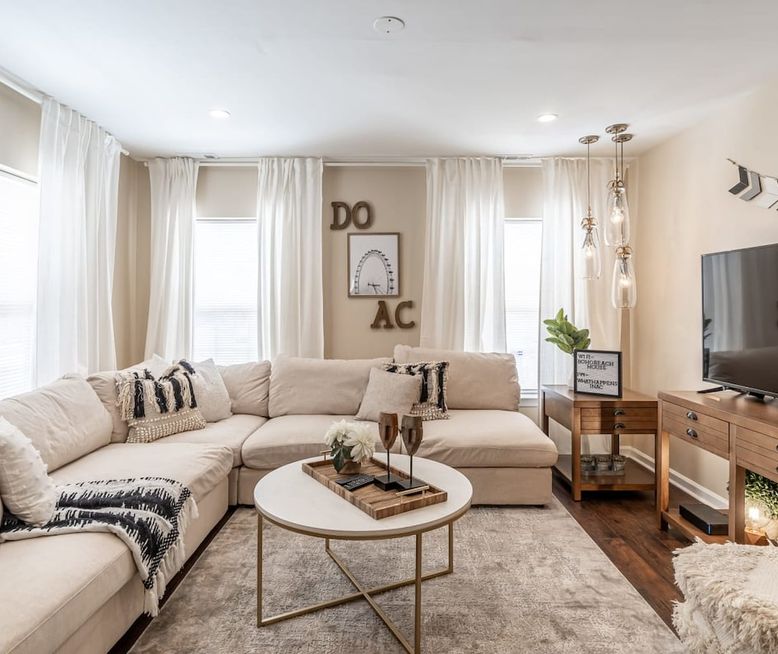 Boho Playce-Book 2nights get 1night free June only
Listing titles:
Boho Playce-Book 2nights get 1night free June only
Booking Estimator
Use this booking tool to understand exactly what you will pay to the host.
HiChee Tip: Did you know about 15% to 20% of what you pay goes to the travel agencies for their services, and is not paid to the host.
Share this with the host to find out how much of these service fees you could save.
Boho Playce-Book 2nights get 1night free June only
This listing is verified in HiChee.
How does it work?
*Estimated book direct is the lowest price of OTAs minus their service fees.
Amenities
Essentials (towels, bed sheets, soap, and toilet paper)
***June promo***
Book two days and get 1 night free. offer excludes Fri & Sat nights holidays and holiday weekends. Nights must be equal or lesser value
Another Playce Collection boutique designer home! Welcome to Boho Beach House AC. A stylish newly renovated home with light & airy decor, super comfortable beds furniture, & nice entertaining space. This is a twin house located in a quiet, safe, clean part of AC.
1 block from the water on the inlet beach & boardwalk
3 blocks to beach
Great location in the AC Inlet (a very safe, clean, quiet part of AC)
5 min drive to outlets, casinos
easy keypad check in
Nice size porch on front
larger yard area great for games or summer nights
garage space is awesome for birthdays, beer pong, or a perfect for hanging out when kids go to sleep or area to get away and will be equipped with games
new carpet in upstairs bedrooms so pets are not allowed unfortunately
THIS IS A FAMILY NEIGHBORHOOD. NO LOUD PARTIES AFTER 10pm!
Our schedule is fully up to date. If it shows as available, it is but is on instant book so first come first serve. If it's blocked, that means it's booked and is NOT available.
Our prices are up to date and non-negotiable. Our houses are unique and unlike anything else in AC. Respectfully, requests for negotiations will not be answered.
IF YOUR DATES ARE BOOKED, PLEASE ASK ABOUT OUR OTHER LISTINGS. WE WILL BE ADDING 4 more, each bomb AF. (see below)
Large open kitchen great for entertaining your group if you want to save some money by eating in. The house also has a small propane grill for guests to use as well!
3 nice size bedrooms:
- The master bedroom has a queen bed and an additional futon that sleeps 2. It is also connected to a private full bathroom.
- The second bedroom has two single beds
- The third bedroom has one queen bed
- Full bathroom shared on 2nd floor
- 1/2 bath on first floor
- Additional sleeping spaces: the living room has a queen sleeper sofa, and the back den has a folding futon that sleeps 2, as well as a large ottoman that folds out into a single bed (pictures are all in the listing!)
2 car driveway parking and ample free street parking in from (please limit to 3 cars total)
We will provide you with the keypad code on the day of entry. It's as easy as that!
JUST BRING YOUR SUITCASE!
**To make your travels and stay easy and very enjoyable, all linens, towels and starter of basic amenities are provided. Once the provided amenities run out, guests must purchase their own as needed.**
MINIMUM AGE IS 21 for all guests not accompanied by a parent. We are not responsible for underage drinking. Absolutely no loud parties as this is a quiet neighborhood. You will be asked to leave immediately if neighbors complain
If you're an IG user, please check us out @PlayceCollective
The house sleeps 9 Please review bedding layouts when considering space and comfort. If you have groups larger than 9 (10 or more people) please consider renting 2 or more houses. Rockwell, Boho, Casa Verde, Paloma are all within a few steps of each other on the same street. Boho and Casa Verde actually adjoin (they are separate townhomes right next to each other).
The full townhouse, backyard, and garage are accessible to guests. We have two supply closets that remain locked during the stay.
Atlantic City is a barrier island and due to the soft soil ants and other critters can be a common sighting in residential house holds.
This property is Hosted and operated by Cozy Cohost LLC, a short term rental management company based in Atlantic City.
It's best to use the app for all communication so a member of our team can get back to you ASAP.
-Cedar Market is 1/2 block away and has all of the necessities in case you forgot anything.
-Gilchrist's is an AMAZING brunch spot (closes at 2) on the water, known for their famous pancakes
-Kelsey & Kim's is 2 blocks away- delicious soul food
-Little Water Distillery is on the same street about .4 mi away for fun/different experience
-Uber & Lyft come right to the front door and is about $6-8 to get just about anywhere in atlantic city
There's a 2 car driveway and plenty of feee street parking. Uber's and lyfts come within 2-5 minutes usually and are fairly inexpensive.
The closest 2 beaches are inlet side (smaller beach, smaller waves, has bathrooms, allows grills) or the ocean side (at N New Hampshire & Oriental Ave) both are about 3 blocks to the entrance. The boardwalk is just a block away and can be walked by crossing over New Hampshire Ave. Parking near the beach is $2/hour.
There is a city wide noise ordinance to be mindful of which is 10 PM, this is not just our policy, it's for all Airbnb's in AC. While we understand that a lot of groups come to have a good time please be respectful.
Atlantic City is a barrier island and due to the soft soil ants and other critters can be a common sighting in residential house holds.
Save Even More Money On Your Next Vacation
35 great tips on planning, travel hacks, transportation savings, and cheap food and drink options!
About the host
Offering a collection of boutique designer vacation homes for a memorable one of a kind experience. Whether you're joining us for a birthday, bachelorette, family reunion or just a weekend away our homes offer all of the amenities and comforts of a home while providing a unique designer look in each space. Come find your PLAYCE with us today!
for direct bookings or other property questions.