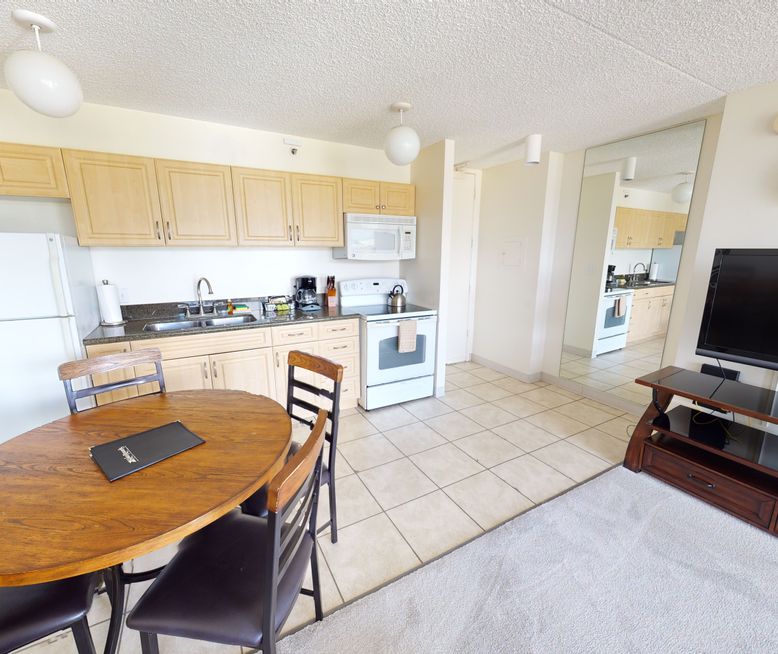 Tower 2 Suite 2208 - QP | Waikiki Vacation Rental | Koko Resorts
Listing titles:
Tower 2 Suite 2208 - QP | Waikiki Vacation Rental | Koko Resorts
Deluxe Updated Waikiki Condo - 22nd floor, Free parking & WiFi
...
Booking Estimator
Use this booking tool to understand exactly what you will pay to the host.
HiChee Tip: Did you know about 15% to 20% of what you pay goes to the travel agencies for their services, and is not paid to the host.
Share this with the host to find out how much of these service fees you could save.
Tower 2 Suite 2208 - QP | Waikiki Vacation Rental | Koko Resorts
This listing is verified in HiChee.
How does it work?
*Estimated book direct is the lowest price of OTAs minus their service fees.
Amenities
Essentials (towels, bed sheets, soap, and toilet paper)
Deluxe Updated Waikiki Condo - 22nd floor, Free parking & WiFi

Great value. Ideal for groups or a large family! This affordable Waikiki Banyan condo has a beautiful view of the city and Diamond Head, ample sleeping accommodations, and is one block from world famous Waikiki Beach. Decorated with bright island-style furnishings and local art, with a library of books on Hawaii and other fun vacation reading. Upgraded carpet and flooring. 
Enjoy the convenience of preparing your own meals with a fully equipped that includes refrigerator, range, microwave, rice maker, coffee maker, and other kitchen wares. There is a kitchen table with seating for four people to eat and share memories. Comfortable seating arrangement in the living room.

Convenient sleeping arrangements include two queen-sized beds in the bedroom and one sleeper sofa in the living room. Enjoy greater privacy with two separate doors to the bathroom. There is a hand shower for your comfort and convenience.

Save money and enjoy the convenience of a fully-equipped kitchen, FREE covered parking, flat screen TV with cable, FREE in room WiFi, and an A/C unit in the living room. We have gone out of our way to make your stay in Waikiki spectacular so take advantage of all the extras we provide. This condo fills very fast so please reserve now!

Hawaii TAT: TA-068-231-7824-01



Koko Resorts at The Waikiki Banyan
Koko Resorts at The Waikiki Banyan is the perfect location for your honeymoon, anniversary, family vacation, or to just relax and enjoy paradise! Located only one block from world famous Waikiki Beach where one can surf, swim, enjoy Hula shows, night-life, and more. The Waikiki Banyan is conveniently located near a wide selection of world class restaurants, and specialty shops including the International Marketplace and Royal Hawaiian Shopping Center. The kids will love other tourist attractions such as the Waikiki Zoo and Aquarium which are located only a few blocks away. Public transportation is readily available, extremely reliable, and located right outside the building on Kuhio Ave!
Complete with a tropical waterfall and koi pond, the upscale lobby will welcome you to one of Waikiki's most popular condo resorts. The recreation deck on the 6th floor is one of the largest in Waikiki and is equipped with a swimming pool, two hot tubs, kids play equipment, tennis court, basketball court, barbeque grills, picnic tables, sauna, lounge chairs, and mini snack bar. The Mini Mart is located on the 1st floor and is open daily. The Banyan Breeze coffee shop is located on the 1st floor.  24-hour security is there to help you rest easy.

Koko Resorts saves you money with standard amenities including FREE parking for one vehicle, FREE WiFi internet, TV with cable, FREE local and toll-free phone calling and an A/C unit in the living room. In addition, all suites managed by Koko Resorts include a full-size kitchen which will save you money and help you eat healthier by not eating out for every meal. Take advantage of all the extras we provide so you can get the most out of your vacation!

Please note the actual bedding configuration prior to booking to ensure the proper bedding for your stay. Maximum occupancy or the number listed that a suite sleeps may not always be the same as the number of guests that a suite can sleep in a traditional bed. Portable (folding) cribs and high-quality inflatable mattresses are available upon advanced request. There is a limited supply, so please notify us as early as possible  For your convenience, Koko Resorts provides laundry detergent under the bathroom sink and coin operated laundry machines are available on every floor. Upon 24 hours or more advanced notice, in-unit towel exchanges are available at $15 per exchange and tidy clean maid service is available at $35 per service. In case of the unexpected, Koko Resorts offers 24 hour emergency guest assistance just a phone call away.

This property at the Waikiki Banyan is professionally managed by Koko Resorts so if this particular condo isn't available please inquire about our other fantastic vacation rentals. Feel free to contact us if you have any questions.

Hawaii TAT: TA-068-231-7824-01
Attractions: Cinemas, Rain Forests, Reef
Family Friendly Amenities: Bathtub, Pack n Play Travel Crib
Leisure: Scenic Drives, Sight Seeing, Walking
Local Features: Massage Therapist
Resort Amenities: BBQ Grills, Hot Tub, Near Beach (Short Walk), On-Site Coin Laundry, On-Site Parking, Play Ground, Sauna, Swimming Pool, Tennis Court
Themes: Adventure, Budget
Unit Amenities: Bathroom Amenities - Hand Shower, Free Parking, Free Wi-Fi, Full Kitchen, Hand Shower, Hi-Speed Internet, Kitchen Bar/Island, Lanai (Balcony), Mid-Stay Cleaning, Rice Cooker, Washer/Dryer (Coin Operated), crib
Save Even More Money On Your Next Vacation
35 great tips on planning, travel hacks, transportation savings, and cheap food and drink options!
House rules
Child-friendly (3-12 years)

No smoking
About the host
Aloha E Komo Mai! When you stay with Koko Resorts you are staying with Ohana (family). We are here to help you have the best possible stay in Hawaii. Our accommodations are clean and affordable and are tailored to your needs. Our suites vary in size, location and condition, but they are always clean and ready for your arrival. Our team members will always greet you with a smile and they will do their best to answer your questions and give you the assistance that you need. Each team member will always treat you courteously and with respect. So if you have a special need or if something goes wrong, please tell us. We are here to help. Our goal is to have you say "Our vacation was the best because we stayed with Koko Resorts". Mahalo nui loa for staying with Koko Resorts.
or call
(
to see the contact phone)
for direct bookings or other property questions.