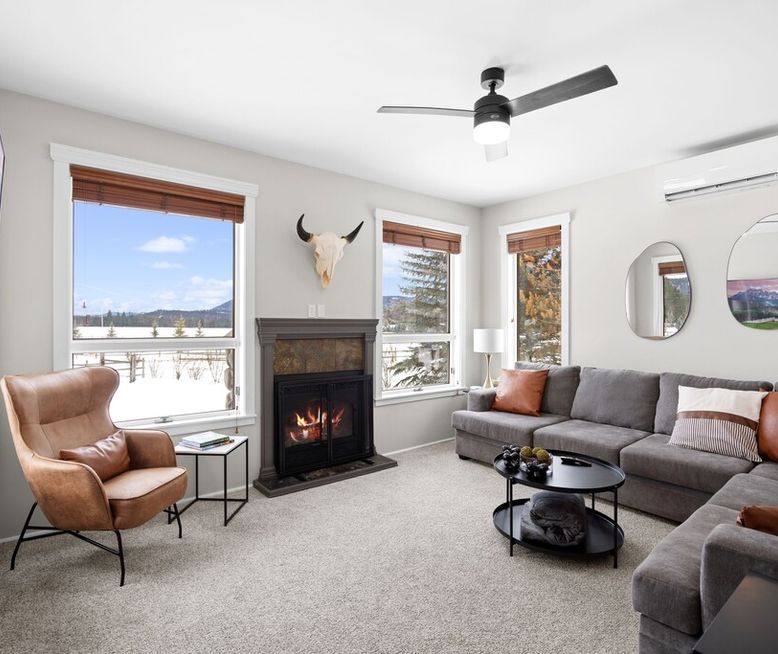 Private Home | Mountain Views | Hot Tub
Listing titles:
Private Home | Mountain Views | Hot Tub
This stunning getaway is perfect for those craving breathtaking views and cool mountain air. Soak in the private hot tub after a day of enjoying the spectacular hiking trails or ski slopes nearby. Feeling a world away while still being just moments from the finest restaurants, this is the perfect place for your next family holiday.
...
This stunning getaway is perfect for those craving breathtaking views and cool mountain air. Soak in the private hot tub after a day of enjoying the spectacular hiking trails or ski slopes nearby. Feeling a world away while still being just moments from the finest restaurants, this is the perfect place for your next family holiday.
6 Min Drive to Beaver Lakes Trail Head
10 Mins to Whitefish Lake and Downtown Whitefish
20 Min Drive to Big Mountain Ski Resort
25 Min Drive to Tally Lake
Experience Whitefish With Us & Learn More Below!
KEY FEATURES:
☀ 5 Spacious bedrooms; 2 kings, 2 queens, 1 twin daybed w/ trundle
☀ 3 Bathrooms; 1 ensuite,1 full, 1 half
☀ Modern, fully-equipped kitchen w/ coffee station
☀ 2 Comfortable lounges w/ large HDTVs for streaming
☀ High-speed WiFi + dedicated workspace
☀ Private backyard w/ 1 acre of land
☀ BBQ area + fire pit
☀ Deck dining area
☀ Private hot tub
Here Are A Few Kind Words From Our Past Guests:
"The host is super responsive & friendly. The home is absolutely beautiful, clean & comfortable. The kitchen has everything you need & the added bonus of the grill makes cooking a breeze. The views are lovely & it is a truly peaceful place to stay. Super close to an adorable downtown area with cute shops, yummy food, an amazing dog park & close to a never-ending amount of lakes, places to hike & bike, & of course Glacier National Park. Perfect for a family trip or getaway with friends." - Eleni
"Torey's home was great!! Perfect location, a few minutes from town, delightful house that is somehow both close to town and yet was so quiet and felt secluded. This was a great stay for our family while we explored what the area had to offer! The wifi signal is strong, which was great because cell service was not so strong ;) We would definitely return!" - Crystal
"Such a serene and beautiful home! It seems it's all been recently updated and has such great amenities including a hot tub to soak in all the surrounding beautiful scenery. Loft area has a deck great for enjoying our morning coffee and peaceful views. Looking forward to going back to enjoy a family ski trip this winter." - Jennifer
☆☆ BEDROOMS ☆☆
Your family or large group will sleep soundly spread across the five comfortable bedrooms on two floors. Each bedroom features crisp white linens and a gorgeous wilderness theme that continues throughout the home. The air conditioning ensures a pleasant stay in the summertime, and the premium linens will keep you comfy in any season. The lower level features the master suite and two additional bedrooms while a further two bedrooms are on the upper floor.
The master suite boasts a comfortable king-sized bed and a large ensuite bathroom. Modern decorations and artwork surround the bed in a spacious setting filled with natural light. The home's theme is beautifully captured in this room by the use of calming neutral tones and vibrant textures.
The secondary bedroom features another comfortable king-sized bed in a spacious and well-lit setting with a private TV and large white cabinets with ample storage for your stay. Unique camping decorations are a feature of this bedroom for a light-hearted modern touch.
The third bedroom has a plush queen-sized bed with a solid wood headboard, patterned cushions, and modern light fittings mounted above the elegant bedside tables. Contemporary tones and artworks continue in this bedroom for a relaxing ambiance.
The fourth bedroom is on the main floor of the home and features a queen-sized bed in a bright room with soft carpeting. A large window looks out over the property, showing off the open spaces and lovely secluded setting of the home.
The fifth bedroom is a hybrid bedroom and office with a twin-sized daybed and trundle. It is the perfect place for a daytime office for guests who need to get some work done during their stay, and transforms to sleep two guests comfortably in the evenings.
☆☆ BATHROOMS ☆☆
Three full bathrooms cater to this sizable home well by providing convenient places for getting ready for daily adventures as well as offering space for pampering time.
The master bedroom's ensuite has a spacious layout offering guests a lovely tub, a hot bubble bath, and a large walk-in shower. The double vanity is a great feature for a couple with its drop-in sinks, white cabinetry, and twin mirrors. Stainless steel fittings are featured throughout for a chic, modern finish.
The second bathroom is shared by the second and third bedrooms on the lower floor of the home. This bathroom features a walk-in shower and modern single vanity. This room conveniently doubles as the home's laundry room which is ideal for both long and short stays.
A third bathroom is located upstairs in a ½ bathroom layout with a toilet and vanity. It adds some extra convenience to this large home. This space features similar modern fittings and decorations to the other two bathrooms.
☆☆ KITCHEN, LOUNGES & DINING ☆☆
Getaways should always be filled with adventure and quality time with friends and family. This spacious home provides the perfect venue for everyone to come together and enjoy themselves when they are back from outdoor activities. An open-plan space on the main floor makes this possible with a lovely fully-equipped kitchen, breakfast island, indoor dining, and two luxury lounges.
The kitchen is the heart of the home, beautifully designed, and ideally laid out for the home chefs of the group to create delicious homemade meals. The modern space features a large double-door fridge and ample cabinets to store all of your holiday items for long and short stays. All the necessary appliances are available for guests' use and a complimentary coffee station will keep the energy levels up for the early morning adventures.
Just a few steps and you are in the main lounge that boasts an extremely comfortable corner couch that provides a cozy place to enjoy time together right by the warm gas fireplace. Elegant furnishings, decorations, and artwork fill the space and create the ideal room to relax in luxury.
Dining is a breeze with indoor and outdoor dining tables that are closely situated to each other, as well as a four-seater kitchen island for quick meals. A stylish chandelier is positioned over the solid wood indoor dining table providing warm light for a cozy setting in the evenings in an otherwise bright and airy room during the day.
A secondary entertainment area and lounge are found upstairs, with a top-floor balcony, another comfortable sofa, 75" HDTV, board games, and a mini basketball game area.
☆☆ OUTSIDE SPACE ☆☆
The home is nestled on a spacious property that encourages you to enjoy the fresh mountain air when firing up the grill on the deck or making an evening bonfire in the garden fire pit. The large private lawn is a great space for group games and activities. Guests are invited to relax and soak in the private hot tub after a long day of exploring, enjoying the beautiful night sky in this truly special town.
★☆ Book Today & Let Us Take Care Of You In Whitefish! ☆★
Guest Access:
Guests have complete access to this lovely mountain home. Self-check-in and a Smart Lock system make arrivals a breeze with keyless entry. We encourage you to make yourself at home during your stay.
The high-speed WiFi pairs fabulously with our Smart TVs. Feel free to log into the available streaming services to enjoy your favorite shows even while away. A dedicated workspace has been set up for those who may need to attend to urgent work during their stay.
Parking is available on the premises, along with additional street parking should you need it. Please note that one of the garage spaces will likely be taken by one of our permanent vehicles. Despite this, there is still ample parking space.
Please note that Fridays are garbage days. We hope that the timeous email and text reminder will reach you to ensure that everyone has sufficient garbage space. The hot tub is serviced on Thursdays, so you may see someone at the property if your stay falls on a Thursday.
TRAVEL INSURANCE: Please seriously consider purchasing travel insurance for your upcoming reservation. While travel insurance is not mandatory it can protect against an unforeseen trip cancellation.
Less than 10 mins to Downtown Whitefish
20 Mins to Big Mountain Ski Resort
10 mins to Whitefish Lake
Less than 5 mins to Beaver Lakes Trail Head
40 mins to Glacier National Park
Please note that there is potential for dog interaction at this property. The neighbor has a friendly German Shepard who visits the yard from time to time.
Save Even More Money On Your Next Vacation
35 great tips on planning, travel hacks, transportation savings, and cheap food and drink options!