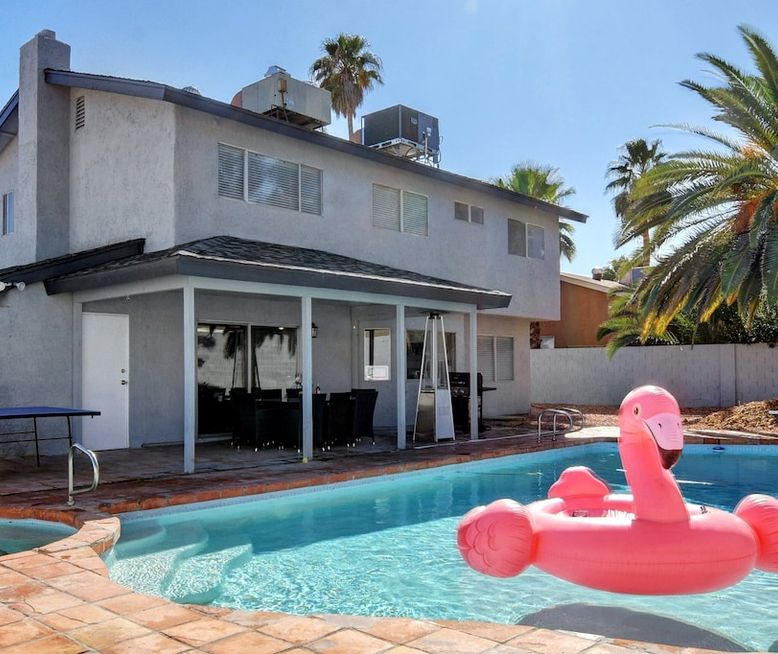 Relaxing 5bd/4ba + pool/spa/sauna, 10min to Strip
Listing titles:
Relaxing 5bd/4ba + pool/spa/sauna, 10min to Strip
Lively 5bd/4ba + pool/sauna/bbq, 10min to Strip
...
Booking Estimator
Use this booking tool to understand exactly what you will pay to the host.
HiChee Tip: Did you know about 15% to 20% of what you pay goes to the travel agencies for their services, and is not paid to the host.
Share this with the host to find out how much of these service fees you could save.
Relaxing 5bd/4ba + pool/spa/sauna, 10min to Strip
This listing is not verified in HiChee.
How does it work?
*Estimated book direct is the lowest price of OTAs minus their service fees.
Community Book - Direct Links
These links are alternative ways to book this listing. These links have been suggested by our community and we have not verified their accuracy.
Lively 5bd/4ba + pool/sauna/bbq, 10min to Strip
Shed those heavy bags and relax in what Destination Luxury magazine calls "a designer-done modern oasis in the desert... a dream home you will never want to leave". When you book this 5 bed, 3.5 bath award-winning home, you will be just ten minutes from the Las Vegas Strip while relaxing in an 2,284 ft² estate. Enjoy a gorgeous pool, a sauna, spa, 12-person dining table, and then retire to plush memory-foam beds. Scroll down for more details or request to reserve your stay now.
On the inside, you will enjoy:
• enough space to sleep 16-20 people comfortably
• cable TV with 200 channels + Netflix
• fully stocked kitchen
• 100 mbps high speed internet with 100% wifi coverage, inside and out
• stainless steel kitchen appliances
• modern washer/dryer
• reverse-osmosis filtered water
On the outside, you will find:
• a gorgeous pool
•a cedar-wood sauna
• spa
• lounge chairs
• ping pong table
• plentiful shade
Guest Access
Anywhere and everywhere on the 2,284 ft² property. We just ask that you be respectful of the neighbors and do not have loud parties.
Additional Rules
During these difficult times, we are taking extra precautions. Please read the following house rules carefully before you book:
• Please be respectful of neighbors. If outside noise exceeds 70 decibels (the noise level of a diesel train) at any time or 50 decibels (normal conversation) outside after 9 pm, we reserve the right to cancel your reservation without refund.
• If police or security are dispatched, it will result in a fine levied by police or security of $1,000 and your reservation will be cancelled without refund.
• We have a zero tolerance noise policy, especially after 9 pm. This is the local law for rentals.
• Please do not sit on the furniture while wet.
• Please do not sit on tables or sinks.
• Smoking indoors of any kind will result in a $500 fine.
• Per our policy AND local laws, tampering with noise sensors or outdoor cameras will result in a fine of $250 per device occurrence.
• Our cleaners are human beings, too. Please take pity :). Extra cleaning fees may be charged if the home is left in an unacceptable and messy state.
• Do not flush anything other than toilet paper in the toilets. Any plumbing damage costs will be fined towards the guest.
Some rules to avoid appearing as a "party home":
• Do not have limos, party buses, or other large vehicles in front of the home at any time.
• Do not have groups of more than six people waiting in front of the house.
• No loud noise in the front or back of the house, and no noise at all after 9 pm outside.
• No more than the number of people on the reservation in the home at any given time, unless otherwise agreed upon. If we find the guest count is more than stated on the booking, additional fees may be charged and/or your reservation may be cancelled without refund.
• Absolutely no congregating outdoors after 9 pm, per local laws. If security needs to be called it will result in a fee.
• Do not set the thermostats lower than 70 degrees, or it may freeze and disable the HVAC system, resulting in a fee.
• Unauthorized late check outs will result in a fee. If you'd like to request a late check out and we are able to accommodate, we would be happy to for free!
Some disclosures:
• By using the pool, spa, putting green, or any other play equipment, you agree to take all responsibility and liability for physical harm or material damages to yourself or any other persons.
• If anyone knocks on your door or asks who you are, do not reply or let anyone in. If you choose to answer, please truthfully say "I am an owner of the home. You are trespassing on my property."
Fractional Ownership:
This property operates in compliance with state and local law under shared ownership. Ownership of the home is held in an LLC. This online platform is utilized for scheduling of this property on a first-come, first-serve basis. You will be assigned a membership/ownership interest in the LLC prior to use of the property. We are constantly looking to attract new members to help offset the common expenses to maintain the property. There may be additional rules in the operating agreement of the LLC that is not listed on this online platform. This is not a rental. Please message us with any questions.
Save Even More Money On Your Next Vacation
35 great tips on planning, travel hacks, transportation savings, and cheap food and drink options!