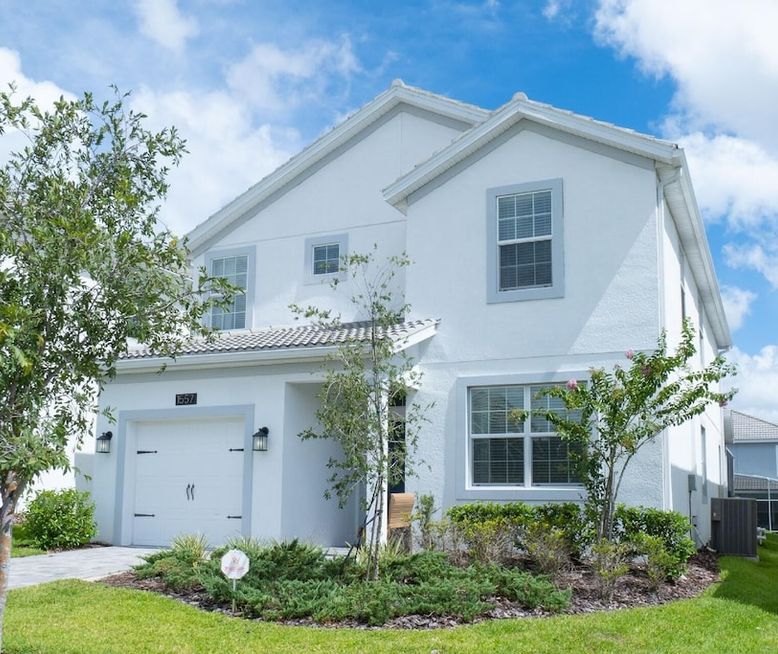 Magical Retreat 5BR Family Pool & Spa Near Disney
Listing titles:
Magical Retreat 5BR Family Pool & Spa Near Disney
Holiday house Davenport for 1 - 12 persons with 5 bedrooms - Holiday house
ED Refnr. 2877300
Champions Gate 5BR Villa * Pool & Spa * Near Disney
Things to do in Champions Gate: Champions Gate is just a 15-minute drive from Disney World, offering stunning luxury vacation rentals and some of the best resort facilities in the whole Orlando area. Set on a lush 1,500-acre plot and home to the renowned Champions Gate golf club, it's the ideal place to spend your Florida vacation – whether you're planning a few rounds of golf with friends or embarking on a grand tour of Orlando's theme parks. The resort's two 18-hole courses were designed by golfing legend Greg Norman. Together with Champions Gate's golf school and driving range, they offer an unrivalled opportunity to practice your swing in a gorgeous subtropical setting. Post-golf drinks are enjoyed nightly at the swanky clubhouse, which rents out clubs and golf carts. A lazy river snakes through the sprawling water park at Champions Gate, where you'll also find slides, fountains, and a poolside bar and grill. Edged by private cabanas, the formal pool is a good place to cool off when the weather heats up. For total privacy, take a dip in your luxury vacation home's outdoor pool. There's no shortage of places to eat and drink at Champions Gate; sample international beers at the on-site ale house, try sake-infused sashimi at the pan-Asian restaurant, or enjoy Italian classics in a romantic garden setting. Beauty treatments and full-body massages are offered at the Mokara Spa. Head there for a power hour of total relaxation, or stick around for whole day of pampering – you're on vacation, after all. Time for time out? The Mokara Spa at Champions Gate in Orlando, Florida, provides a calming escape from the outside world, allowing space for body and mind to rejuvenate. Whether you opt for a soothing facial treatment or a full-body massage, the spa's trained staff will ensure you're given the royal treatment Water park and pools When the sun shines brightly in Orlando (and it usually does) you'll want to find somewhere to cool down. At Champions Gate, just 6 miles from Disney, the options are almost unlimited. Float down the lazy river, whizz down a water slide, or laze like a lounge lizard by the formal pool. Otherwise, the pool at your luxury vacation rental is always close at hand. Shopping Champions Gate has its very own shopping complex complete with a spa and a handful of designer boutiques. Drop into Sunrise Sunset for kids' toys, resort wear, and presents for loved ones back home. The golf store at Champions Gate's clubhouse has all the gear you need for a rewarding round on one of the resort's 18-hole courses. Restaurants Champions Gate is full to bursting with amazing places to eat and drink. Whichever part of the resort you stay in, you'll never be far from a scrumptious snack or a fancy meal at an upscale restaurant. There are also plenty of bars to enjoy, including a poolside option, an ale house and a refined watering hole that overlooks one of the resort's lush golf courses. Golf Set in sunny Orlando, Florida, Champions Gate is a true golfer's paradise. The resort has everything a keen golfer could desire, including a swanky clubhouse, a golf school and a driving range. Oh, and there are two magnificent 18-hole courses designed by one of the world's most successful golfers.
Beautiful, clean, fully furnished, 5 bed/5 bath pool home near Disney World. Enjoy a vacation of fun at this spacious home that sleeps 14 in popular Champions Gate community. Kitchen is complete with everything to create a meal with your family. Flat screen tv's in all primary bedrooms and main areas for movie night, while the screened in pool and spa will allow you to relax. Access to tennis, volleyball, pools with a lazy river, water slides, tiki bar, cabanas, cinema and fitness room.
Private Pool/Spa in covered lanai. Note, please contact for optional heating.
Features of the property: Object in residential area
Outside area: Fenced; Heated swimming pool; Parking spaces: 1; Private swimming pool; Terrace; Wood grill;
House information: 2nd single bed; 2nd single bed; Bathrooms: 5; Bedroom; Detached building; Hot tub; Total number of floors in the building: 2; Year of construction: 2017; Year of renovation: 2017;
Living area: Bunk bed(s); Cable-tv; Double sofa; DVD-Player; Iron; King-size bed; King-size bed; King-size bed; TV;
Bath/WC: Bathtub; Bathtub; Bathtub; Hairdryer; Shower; Shower; Shower; Shower; Shower; Sink; Sink; Sink; Sink; Sink; Toilet; Toilet; Toilet; Toilet; Toilet;
Kitchen: Dishwasher; Electric stove; Freezer; Fridge; Microwave; Mini-oven; Oven; Stove; Toaster; Water boiler;
Other: Baby chair; Clothes dryer; Fitness equipment; Game console; Games for adults; Games for children; Heating; Non-smoking object; Ventilator; Washing machine; Wifi;
Distances (linear, approx.): Distance Bar / Club: 6 m; Distance to beach: 77 m; Distance to cafés/ restaurants: 2 m; Distance to food market: 2 m; Distance to lake: 4 m;
Visitor's tax : 14.00% from the rental price per object (local payment)
Extra costs:
- whirlpool: included in price .
- TV: included in price .
- high chair: included in price .
- garage: included in price .
- energy costs: included in price .
- Club / Guest Card: included in price .
- towels / bed linen: included in price .
- Climatisation / Ventilators: included in price .
- Towels: included in price .
- Bed linen: included in price .
- pool heating: per object and day Costs amounting to 35 USD (optional).
- Final cleaning: once per object Costs amounting to 229 USD (Mandatory).
Additional information:
- Distance to lake: 0 km
Save Even More Money On Your Next Vacation
35 great tips on planning, travel hacks, transportation savings, and cheap food and drink options!
About the host
We're vacation villa owners and family with a true passion for making fun memories to live life to the fullest. We value clean comfort, excitement, theme parks, and fun in the sun.
for direct bookings or other property questions.