Price Comparison Results
Airbnb • Vrbo • Booking.com • Direct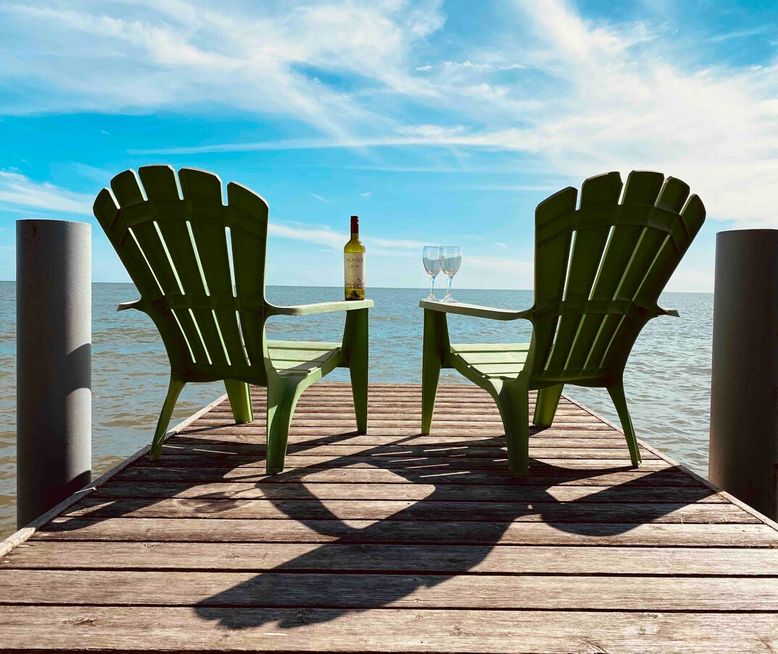 Lake Escape - Luxury cottage life all year long
Listing titles:
Lake Escape - Luxury cottage life all year long
This is a spacious 2000 square feet, 2 stories cottage with an open concept living space equipped with central heating and air conditioning.
...
Amenities
Essentials (towels, bed sheets, soap, and toilet paper)
This is a spacious 2000 square feet, 2 stories cottage with an open concept living space equipped with central heating and air conditioning.
This 82' waterfront property provides an infinite view of Lake Erie, Ohio & Michigan. Jump off the dock into the lake, direct access to the lake from our private boat ramp.
The conservation Marsh on the other side.
Sit back and listen to the crash of waves, stargazing at night, roast marshmallows and enjoy different wildlife in different seasons.
The newly renovated space with modern cottage theme.
Lots of woods and granite finished through the house.
Panorama Water view both side , one of kind living experience. Excellent privacy.
https:// (Website hidden by Airbnb)
Fresh clean linens every check-in
Full bathroom with bath towels, Shampoo and Body wash on each floor.
Smart home with lights timer, Self guided check in and Wifi Thermostat
Smart TV with Cable, Netflix and Disney +
High speed Internet (Fibre Optics) for work or streaming
Outdoor gas BBQ & firepit
Indoor full equipped kitchen
-Driveway parking up to 5 cars
- Private Entrance
- Keyless Entry Code
- Full Kitchen
- Full 3 pieces bathroom
Quiet time after 11 p.m. and please turn off exterior lights so others can enjoy the night sky
The main house and the loft unit have its own designated deck/patio area.
Please enjoy your stay within your designated area, which is separated by the concrete stepping stones on the lawn.
There is a ladder on the side of the house with a YELLOW CORD. That can be used to attach to the dock to get in/out the water.
Guest will receive a keyless entry code during the stay.
Watching sunset, doing yoga by the dock, star gazing at night (This place has a low light pollution and great for star gazing) and the infinite water view all year long.
Cozy up by the indoor fireplace and outdoor fire pit.
4 minutes walk to a private beach, a 4km walking trail, boat launch ramp and private recreational facilities like tennis court, soccer field and basketball court and clubhouse rental.
Conservation Area and private gated community
Snow sports gear (Ice Skating - seasonal)
Water sports equipment Rental (Kayak, Canoe - seasonal)
Golfing nearby
Boat launch ramp on site
Winery tours nearby
Horse riding nearby
Hiking nearby
Fishing nearby
Birdwatching nearby
35 minutes drive from Windsor downtown
15 minutes drive from Amherstburg downtown
The estate is between the Holiday Beach Conservation Park and the private beach.
Enter the private road slowly to enjoy the wildlife and the Marsh area. Pass through the private recreational amenities ( tennis court, beach volleyball, basketball and soccer field).
Make a left at the stop sign and the house is on the right by the lake front.
This gated community have many exclusive access to amenities like
- playground, beach volleyball, basketball court, tennis court, soccer field, club house rental, boat launch and private beach .. and more.
On-site Kayak, Canoe or paddle board rental and bicycles rental upon request
Enjoy the unique local wineries and distillery around the corners.
Free online Epic wine tour planning, refer to guide book.
--> www. (Website hidden by Airbnb)
Or enjoy a round the family mini golf and ice cream at Ure's Kitchen 5 minutes drive.
There are many restaurants, shops and historical attractions places around the town of Malden and the town of Amherstburg that's within 15 minutes drive.
*Others*
Water sports equipment and bicycles rental are available with fees.
Laundry facility upon request. (Extra fees apply)
Clubhouse rental for large group and special event. (Extra fees apply)
Small pet/trained pet is allowed with fees. (Please Enquire first.)
Additional space rental: Attached loft rental space upon request. (Upon availability)
- private entrance
- private parking space
- full bathroom
- queen bed
- kitchenette
- stunning view
- smart TV
- wifi
- baseboard heating
- Maximum occupancy: 3
Save Even More Money On Your Next Vacation
35 great tips on planning, travel hacks, transportation savings, and cheap food and drink options!