Price Comparison Results
Airbnb • Vrbo • Booking.com • Direct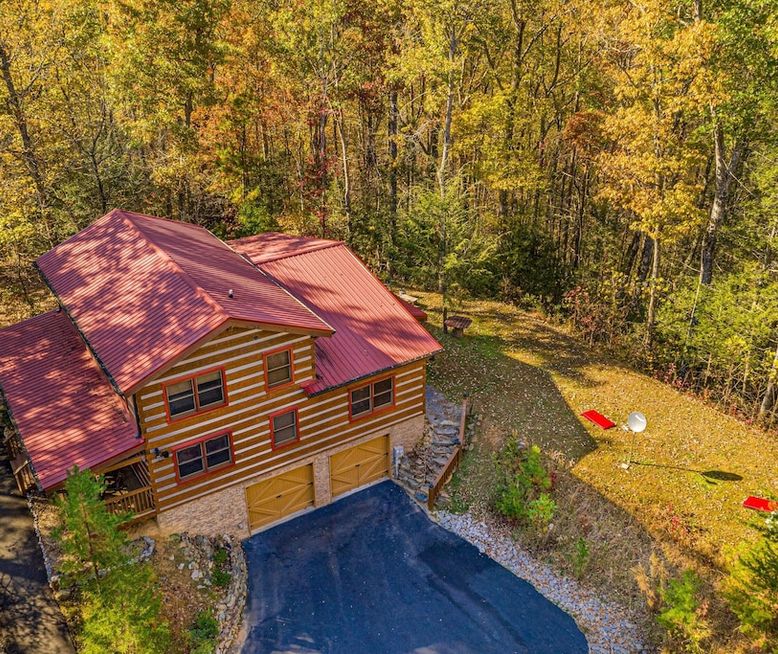 Appalachian Escape: Secluded log cabin | 3 acres |
Listing titles:
Appalachian Escape: Secluded log cabin | 3 acres |
Appalachian Escape Cabin - Gatlinburg - Pigeon Forge - Smoky Mountains
Appalachian Escape: Secluded log cabin 🌳 3 acres ♨️ Hot tub 🔥 Firepit 🎱 Games
Appalachian Escape is a 3 bed/2 bath 2000 sq ft "log cabin in the woods" with all the modern amenities. Private, secluded, and family-friendly. Large secluded property, wooded view. Great location - easy access to Gatlinburg and Pigeon Forge, close to Arts and Crafts loop, and the Great Smoky Mountains, Tennessee. Sleeps up to 10 guests. BY OWNER.
...
Booking Estimator
Use this booking tool to understand exactly what you will pay to the host.
HiChee Tip: Did you know about 15% to 20% of what you pay goes to the travel agencies for their services, and is not paid to the host.
Share this with the host to find out how much of these service fees you could save.
Appalachian Escape: Secluded log cabin | 3 acres |
This listing is verified in HiChee.
How does it work?
*Estimated book direct is the lowest price of OTAs minus their service fees.
Appalachian Escape is a 3 bed/2 bath 2000 sq ft "log cabin in the woods" with all the modern amenities. Private, secluded, and family-friendly. Large secluded property, wooded view. Great location - easy access to Gatlinburg and Pigeon Forge, close to Arts and Crafts loop, and the Great Smoky Mountains, Tennessee. Sleeps up to 10 guests. BY OWNER.
See floor plans in photos so you know exactly what you are renting (including furniture placement). Please 'like' and follow "Appalachian Escape" on FB. Check out 5 bd/3.5 ba "Ridge View Lodge" too! MUST be 25 or older to book, sign the Rental Agreement & provide a valid Photo ID to the Owner/Host within 48 hours of booking.
3 ACRES OF NATURE, WOODED VIEWS, YARD w/FIREPIT, COVERED PORCHES, HOT TUB, POOL TABLE, ARCADE, INDOOR JETTED TUB, WIFI.
✓ great location between Pigeon Forge and Gatlinburg, access by ALL PAVED roads
✓ paved flat parking for up to 6 cars
✓ free WIFI over satellite (we cannot guarantee the speed at all times)
✓ PRIVATE and SECLUDED on a large WOODED property with a backyard (Yard is NOT fenced - make sure to supervise small children)
✓ fire pit (we do not supply firewood though)
✓ hot tub
✓ "little log cabin" playhouse for the kids
✓ covered porches with rocking chairs
✓ charcoal grill and picnic table (it's like having a picnic in a park)
✓ whirlpool tub in upstairs bath (both baths have walk-in showers too)
✓ heated floors in bathrooms (winter only)
✓ KING bedroom on the 1st floor (for those not too keen on climbing stairs)
✓ gas log double-sided fireplace in the family room/dining room (operates Oct-Mar)
✓ modern kitchen with granite, stainless appliances, and a large island
✓ TVs in every room with DISH 100+, 2 Blu-Ray players
✓ tile and wood floors (no carpet)
✓ all wood inside and out with exposed hewn beams (no drywall)
✓ rustic and cozy décor (with many handmade pieces)
✓ one of a kind log cabin set in 3 wooded nature acres, NOT in a "resort" with dozens of cookie-cutter cabins mere feet from each other.
Please read on for more details.
★ Location: Conveniently situated near Gatlinburg, Pigeon Forge, Arts and Crafts, Great Smoky Mountains National Park, and Sevierville. You get the best of both worlds - access to attractions while also staying at a SECLUDED mountain cabin with plenty of amenities.
★ PROPERTY: Custom-built all-log cabin set on several wooded acres. WOODED views, an outdoor FIREPIT (firewood not provided). Located on a quiet residential street with just a few homes. Accessible by ALL PAVED roads and driveway, the cabin offers ample off-street parking for 4+ cars. With only 5 steps to the front door, your arrival and unpacking will be easy!
★ Inside Appalachian Escape Cabin: A thoughtful blend of traditional and modern - hand-hewn hemlock log walls, exposed beams, gleaming hardwood floors throughout, and rustic log furniture are all reminiscent of traditional craftsmanship. Designer pine cone motif light fixtures accent the all-log interior.
★ MAIN FLOOR: Floor-to-ceiling, stone-clad two-sided fireplace beckons you in to snuggle into one of the comfy sofas. Watch a movie of your favorite programming on a 48" HDTV (Satellite TV and Blu-Ray). Play a game or two on a rustic log pool table. Relive the fun days playing Pacman, Centipede, or any of the 48 classic 80s games on the upright arcade.
The fabulous and functional modern kitchen opens into the spacious dining area, so you can create your meal and entertain at the same time. Soft-close cabinetry, stainless steel appliances, custom chiseled-edge granite countertops, and a large island complete the look.
The dining room has a fireplace and farm-style table that seats 10 guests. The expansive kitchen island offers seating for 6, giving your group ample room to mingle or enjoy sit-down meals together.
Main floor King bedroom with a comfy memory foam mattress. The attached Jack-and-Jill bathroom has double vanity and a walk-in shower. Full-size washer and dryer (starter supply of detergent only).
★ SECOND FLOOR has another King bedroom with a memory foam mattress. Another large "family" bedroom on the second floor has two Queen beds (handmade by the owner) and two narrow twin daybeds. There is a TV with Satellite programming in every bedroom. A full bathroom with a walk-in shower and a separate jetted tub. Heated bathroom floors (winter) in both the main floor and upstairs bathrooms add a pleasant touch.
★ PORCHES: Drink your morning coffee out on the front deck in our rocking chairs. A picnic table is great for enjoying meals outside. After a full day of fun, hiking, and adventures, relax in the 5-person hot tub.
★ YARD: Take in the serenity of the Smoky Mountains with wooded and seasonal mountain ridge views. A variety of native plants and trees grow in the cabin backyard - you will feel like you are already in the Smoky Mountains national park. See the flame azaleas and Pink Lady Slippers bloom in spring, followed by rhododendrons in the Summer. Rock away in the rocking chairs on the full-length, covered porch. Have a relaxing dinner on the porch or gather around the picnic table and charcoal grill in the yard. Roast marshmallows and make s 'mores by the backyard fire pit (firewood is not provided). Kids will love the "little log cabin" playhouse, built using the trees harvested on the property.
Whether your idea of a dream vacation is to "hide away" with family and friends or to enjoy the many area's activities and attractions, escape to Appalachian Escape and find it all! Most desirable local destinations such as Downtown Gatlinburg, Pigeon Forge, Dollywood, Aquarium, zip lines, and more are all within easy driving distance.
★ WHAT MAKES US DIFFERENT: Appalachian Escape Cabin is not a typical rental owned by a company, but rather a privately owned vacation home. During the construction of the cabin, we incorporated traditional and rustic features with modern amenities for your convenience. Additionally, we personally created or restored the furniture and decor pieces to add a unique touch. We hope that you will enjoy your stay at Appalachian Escape just as much as we do and take care of the cabin with the respect it deserves.
When you compare Appalachian Escape to other cabins of similar size, you will realize that you get more value and a better experience with us! Logcabinlivingalltheway !
★ IMPORTANT TO KEEP IN MIND:
► This is a MOUNTAIN cabin so guests must expect to drive up some MOUNTAIN roads. While paved and accessible, 4WD or AWD vehicles and/or chains may be needed during winter IF snow/ice is present.
► Cabin features a metal roof and wood floors upstairs. You'll be able to hear the rain falling on the roof.
► This cabin is child-friendly but NOT child-proof. Our property is NOT FENCED-IN so children must be watched by a capable adult while outside.
► Unlike hotels, this cabin does not offer daily cleaning services. However, you will be provided towels, linens, and a STARTER supply of soap, dishwasher detergent, laundry detergent, toilet paper, paper towels, and trash bags.
► While we have a regular pest control program, the cabin is in a wooded area that is still largely wilderness. Because of that, it is possible to get 4-6-8 (or more) legged, crawling or winged visitors both outside and inside. This cannot be 100% prevented. When staying at the cabin, make sure to keep the doors closed. Never leave food items in the vehicles, and NEVER leave food, food leftovers, or trash outside. Any garbage should be bagged and locked in the bear-resistant containers provided.
► Sightings of bears, deer, reptiles, birds, raccoons, snakes, and all kinds of insects and arachnids can be expected and are NOT grounds for cancellations or refunds. Feeding wildlife is strictly prohibited.
► No refunds will be given for weather events, fear of driving on mountain roads, change of plans, or life events. Consider appropriate travel insurance.
► Third-party amenities, such as electricity/water, satellite TV, and internet are beyond our control. In the event of service interruption beyond our control, Guests agree that they are not entitled to, nor will seek compensation of any kind, including partial or complete refunds for any such interruption.
► This property is listed on various online booking and listing platforms, each with its own policies, terms, and conditions. The Rental Agreement's policies, terms, and conditions will take precedence over any other policies, terms, and conditions mentioned in the booking site's listing that you used to book or inquire about this property.
► Rates may differ on different platforms and are updated dynamically. Sales, discounts, and specials (if any) apply to new reservations only.
► NO SMOKING, NO PETS. NO OCCUPANCY ABOVE STATED LIMIT (10 total, with no more than 8 adults).
► $500.00 Damage deposit is required.
► MUST be 25 or older to book, sign Rental Agreement & present a valid photo ID within 48 hrs of booking.
Save Even More Money On Your Next Vacation
35 great tips on planning, travel hacks, transportation savings, and cheap food and drink options!
About the host
We are a couple who loves being "away from it all", the mountains, the climate, and the nature of East Tennessee and Western North Carolina. We are avid DIYers, and our cabins have become our passion. Rest assured that you will be dealing directly with us, the owners! We do not give up our responsibilities to some "property management" company; we are not a mega rental corporation with hundreds of listings and remote staff who answers the phones but knows little about the properties they advertise. We know the area, we know our cabins, we love staying in them, and, admittedly, a little proud of them too. We hope that our guests will appreciate our cabins and make wonderful memories in the Smokies for years to come
for direct bookings or other property questions.