Price Comparison Results
Airbnb • Vrbo • Booking.com • Direct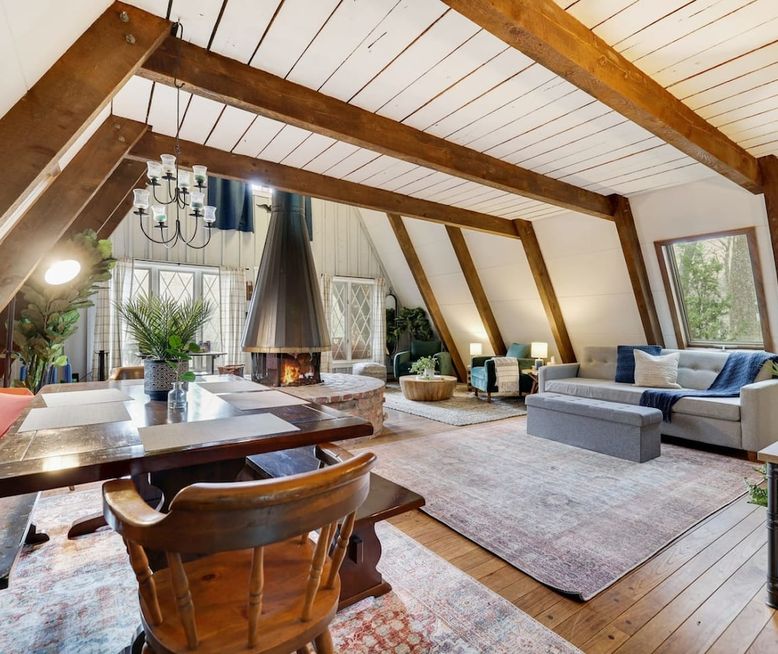 Modern Mountain Cabin w Community Lakes & Pools
Listing titles:
Modern Mountain Cabin w Community Lakes & Pools
Modern Cabin w Lakes Pools, Lofted Deck, Fireplace
Bluebird Retreat at Indian Mountain Lake is a charming A-Frame cabin nestled among the trees, the perfect Poconos getaway!
...
Booking Estimator
Use this booking tool to understand exactly what you will pay to the host.
HiChee Tip: Did you know about 15% to 20% of what you pay goes to the travel agencies for their services, and is not paid to the host.
Share this with the host to find out how much of these service fees you could save.
Modern Mountain Cabin w Community Lakes & Pools
This listing is verified in HiChee.
How does it work?
*Estimated book direct is the lowest price of OTAs minus their service fees.
Amenities
Essentials (towels, bed sheets, soap, and toilet paper)
Bluebird Retreat at Indian Mountain Lake is a charming A-Frame cabin nestled among the trees, the perfect Poconos getaway!
The highlights:
- Swim, fish or kayak on 5 private lakes or enjoy 2 outdoor pools
- Converse around the modern indoor circular fireplace
- Cook s'mores around the fire pit
- Grill & relax with a glass of wine on the deck w lighting
- Drive 20 mins to all of the best attractions in the Poconos (skiing, waterparks, hiking, golf) and many fantastic restaurants & shops
Enjoy!
Our cozy, A-frame cabin has all the comforts of home, just nestled away in the Poconos mountains. Bluebird Retreat is fun for couples, families, or groups of friends -- and is the perfect home base for your getaway!
The cabin includes:
- Two bedrooms – with 1 queen bed each room
- An open loft with 2 single beds and a sofa bed in the living area
- Modern, circular fireplace in the middle of the living room – perfect for warming up on a chilly day!
- A spacious deck & grill for relaxing with the gang
- Fast, reliable WiFi that's great for WFH / video calls and streaming movies
- Smart TV in the living room, with Roku set up so you can easily sign-in to Netflix, Disney+, or any of your streaming services
- Central heat to keep you comfortable no matter the weather
- Fully-stocked kitchen with all the major appliances, including dishwasher
- Spacious living room with a vaulted ceiling
- Outdoor fire pit to wind down the evening with s'mores!
- An outdoor yard game treasure box full of activities for kids and adults: corn hole, volleyball, soccer and kick balls, horseshoes, and many more!
Beyond the cabin itself, Bluebird Retreat is part of Indian Mountain Lake, one of the leading privately owned, gated communities in the scenic Pocono Mountains. As a guest, you'll have access to all of the amenities, and can:
- Swim, fish or kayak in any of the FIVE lakes in the community
- Swim at your choice of two heated outdoor pools (in the summer), including one with areas specifically designed for babies and young kids
- Work up a sweat on the basketball, tennis, and volleyball courts
- Enjoy some playtime with the kiddos on one of the playgrounds (with swings and slides)
We often take our two little kids and dog to the cabin with us, so both our cabin and the community is very family- and dog-friendly.
In addition to the community amenities, you can drive a quick 20-30 mins to all of the main attractions in the Poconos, including:
- Camelback, Jack Frost, Split Rock & Big Boulder ski resorts
- Beltzville Lake State Park for motorboating
- Kalahari Resort, the largest indoor waterpark in the area
- Jim Thorpe for the Lehigh Gorge steam railway tour
- Stone Meadows & Pocono Manor Resort for 18 holes of golf
- Pocono Raceway for NASCAR racing and airshows
The Poconos has so much to offer throughout the year... and Pinewood Place is the perfect get away to take it all in!
Save Even More Money On Your Next Vacation
35 great tips on planning, travel hacks, transportation savings, and cheap food and drink options!
About the host
for direct bookings or other property questions.