Price Comparison Results
Airbnb • Vrbo • Booking.com • Direct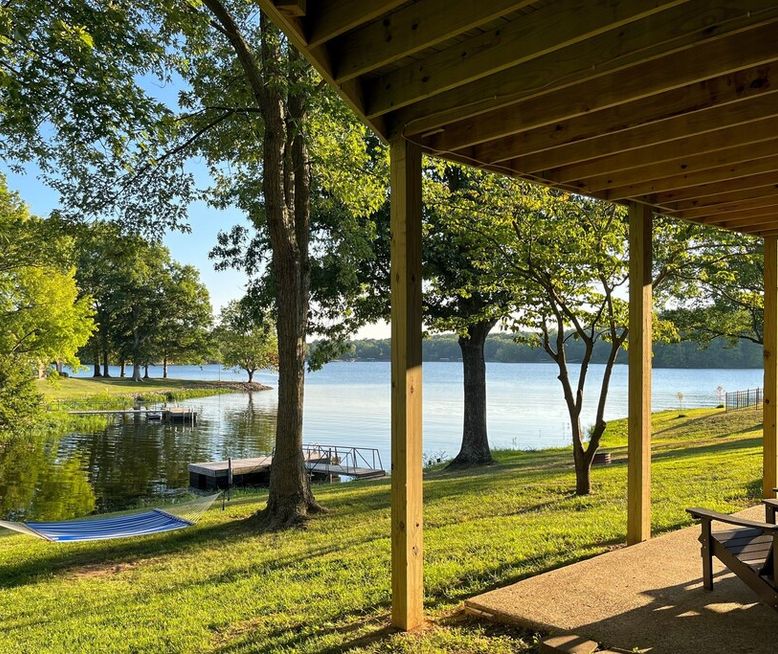 4 Kayaks and No Stairs to Water!
Listing titles:
4 Kayaks and No Stairs to Water!
Booking Estimator
Use this booking tool to understand exactly what you will pay to the host.
HiChee Tip: Did you know about 15% to 20% of what you pay goes to the travel agencies for their services, and is not paid to the host.
Share this with the host to find out how much of these service fees you could save.
4 Kayaks and No Stairs to Water!
This listing is verified in HiChee.
How does it work?
*Estimated book direct is the lowest price of OTAs minus their service fees.
SLEEPING ARRANGEMENTS
1 Queen Bed in Master Bedroom in lower level
1 Queen Bed in 2nd Bedroom in lower level
1 Queen Bed in 3rd Bedroom in lower level
1 Bunk Bed in 4th Bedroom in upper level/loft
THE LAYOUT- MAIN LEVEL:
Living Room with propane fireplace
Kitchen & Dining Area
Walkout Deck with large charcoal grill and 2 dining tables + chairs for 10
Views of lake from every room
Half Bath
UPPER LEVEL/LOFT:
Accessible by a secured ladder
Bedroom 4: Bunk Bed
Views of the Lake
LOWER LEVEL:
Master bedroom with queen bed with walkout to patio and ensuite full bathroom and jetted soaker tub
Bedroom 2: queen bed with walkout to patio
Bedroom 3: queen bed with walkout to patio
Washer/Dryer
Bathroom 3: Full Bathroom
OUTDOORS:
Private "T" dock with ladder
Fire pit for luxury relaxation close to the patio
Hammock for extra lounging
Great base for lake lounging and skiers/tubers- located on the main channel near the ski area
It's a gentle slope of just 20 steps down from the house to the dock
AMENITY HIGHLIGHTS:
Located just off of the main channel
4 kayaks included
Small private dock for boat tie-off
Lake views from almost every room.
Charcoal Grill and firepit provided
Complimentary WiFi
LOCATION HIGHLIGHTS:
10 minutes from I-57/I-24 (Exit 45)
On Lake of Egypt
NEARBY TOWNS:
Marion IL- 20 minutes
Goreville IL - 15 minutes
Creal Springs IL- 10 minutes
Carbondale IL- 35 minutes
RECREATION:
Lake of Egypt Pyramid Acres Marina Boat Launch- 8 minutes
Ferne Clyffe State Park- 18 minutes
Tunnel Hill State Trail- 18 minutes
Shawnee Bluffs Canopy Tours- 25 minutes
Touch of Nature Outdoor Education Center and Bike Trail- 30 minutes
Giant City State Park- 30 minutes
SIU Student Center & Southern Illinois University Campus- 35 minutes
Jeremy "Boo" Rochman Memorial Park aka "Castle Park"- 30 minutes
Panther's Den- 27 minutes
Garden of the Gods- 1 hour (with many fun places to stop along the way including Camp Ondessonk, Jackson Falls, Burden Falls, & our personal fav. Bell Smith Springs.
WINERIES & MORE
Katy Lynn Distillery- 18 minutes
Honker Hill Winery- 20 minutes
Blue Sky Vineyard- 30 minutes
Feather Hill Vineyard- 30 minutes
Starview Vineyards- 30 minutes
"KNOW BEFORE YOU GO"
A rental agreement and $500 security deposit hold is required (just like a hotel).
Maximum 4 vehicles- ABSOLUTELY NO STREET PARKING.
No Boat Trailers allowed.
Additional parking and/or trailer drop is located 10 minutes away at no cost. Violation by blocking other neighbors will be fined up to $300.
BYO Beach Towels: We only provide bath towels.
BYO Life Vests to ensure proper size
Inventory: We provide a "starter package" of inventory for our lakehouse: 3 rolls of T.P. per bathroom and 1 full roll of paper towels.
House Manual: Our house manual is 100% online.
PET POLICY
Pets are not allowed unless certified and vested service dogs in accordance with the ADA (American's with Disabilities Act). According to the ADA, "Service animals are defined as dogs that are individually trained to do work or perform tasks for people with disabilities," and "Dogs whose sole function is to provide comfort or emotional support do not qualify as service animals under the ADA."
Save Even More Money On Your Next Vacation
35 great tips on planning, travel hacks, transportation savings, and cheap food and drink options!
About the host
Veteran-Owned, Woman-Owned vacation rental management company specializing in unique, boutique and luxury short term rentals in beautiful Southern Illinois
for direct bookings or other property questions.