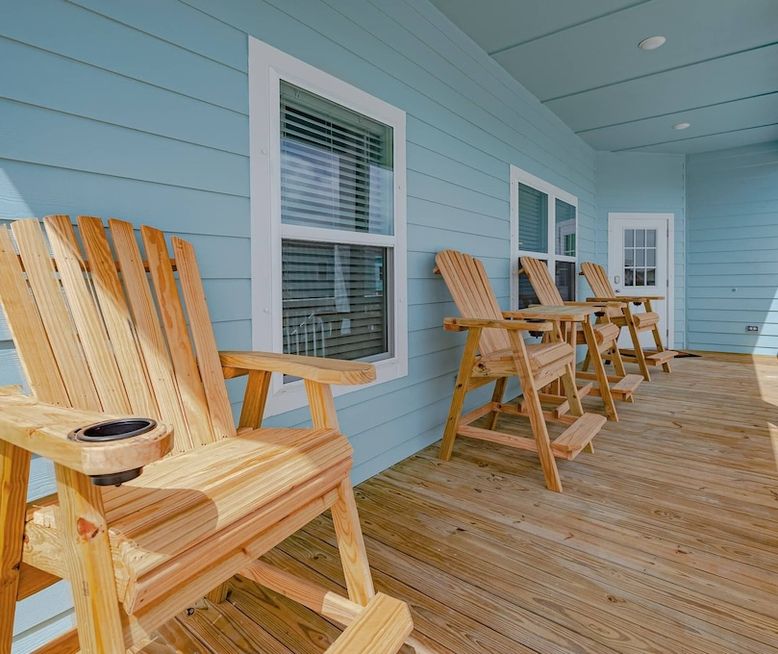 Close to beach w/pool access! Perfect Location 3/2
Listing titles:
Close to beach w/pool access! Perfect Location 3/2
Close to Beach w/ Pool Access - Family and Boat Friendly 3bd/2ba Beach-cottage
Imagine Your Dream Vacation…
...
Booking Estimator
Use this booking tool to understand exactly what you will pay to the host.
HiChee Tip: Did you know about 15% to 20% of what you pay goes to the travel agencies for their services, and is not paid to the host.
Share this with the host to find out how much of these service fees you could save.
Close to beach w/pool access! Perfect Location 3/2
This listing is verified in HiChee.
How does it work?
*Estimated book direct is the lowest price of OTAs minus their service fees.
Imagine Your Dream Vacation…
Relaxing on the deck at Catchin' Paradise, your island-style beach house, you sip a beverage and watch stars emerge over Redfish Bay which is visible from the balcony. There's a whole red snapper sizzling on your grill with lemon and paprika. Savory smoke mingles with coastal breezes across Estes Flats. A full moon rises over the Gulf of Mexico. Beyond Aransas Bay lie silhouettes of San Jose Island, Mustang Island, and the twinkling lights of fishing boats.
The centralized location is ideal. The house is located 9 minutes from Rockport beach and 15 minutes from Port Aransas. This house is perfectly located if you're attending any one of the many festivals in Rockport/Port Aransas like the Whooping Crane Festival, Market Days, Oysterfest, Sandfest and many more.
Rockport, Texas is lauded as one of the best year-round fishing destinations in the world. In 2017, this small, thriving community was voted the #2 Best Coastal Small Town in the U.S. In 2021 it was ranked 3rd best Coastal Small Town in the US by USA Today and has been ranked by Tripadvisor as a top 25 destination for multiple years.
Visitors are enchanted by the natural beauty of this area; windswept live oaks, pristine sandy beaches, vibrant sunrises, sunsets and incredible birdwatching. The town of Rockport has cultural attractions, art events, and stellar restaurants. If family-time is your vacation focus, there's no better spot. The area is also home to Aransas National Wildlife Refuge; the only US location with rare and endangered whooping cranes.
If you've come to Rockport, you may be on the hunt for red snapper, speckled sea trout, black drum, or redfish. Aransas Pass is the most direct navigable outlet into the Gulf of Mexico from the bay. So you may find yourself heading toward deeper seas, in search of Tuna, King Mackerel, Spanish Mackerel, Dorado, Marlin, Sailfish or Wahoo.
Port Aransas is a popular destination for its beach which sits on the Gulf of Mexico. The 18 miles of beach stretch from Port Aransas through Mustang Island and is routinely voted one of the best beaches in Texas.
This vibrant cottage offers a safe, covered parking area with 12ft ceilings, big enough for a boat and truck. Additionally, there's a community swimming pool, an outdoor BBQ grill, outdoor fish-cleaning station, and neighborhood/community boat washing area. The closest boat launch is the Cove Harbor Marina, which is just a few minutes away.
This sunny and bright modern cottage has a beach-theme interior and peaceful, soothing colors. It's a great place to call home base while exploring area attractions, fishing, boating, hunting, kayaking, paddleboarding, birdwatching or enjoying the beach. Come home from a day in the sun to a fully equipped, elegant space where you can relax, cook a meal and enjoy quality family time.
This brand-new, beautiful, modern, beach cottage features an open floor concept in the living room, dining room and kitchen, three spacious bedrooms, and two full bathrooms. The large double-vanity in the master bathroom provides you ample space to get ready for a night on the town. The home can accommodate up to eight people.
• Master Bedroom: King bed and en-suite full bathroom with double vanity
● Bedroom 2: Queen bed
● Bedroom 3: Bunk bed with a full bed on the bottom and a twin bed on top
● Common area: Full sofa bed, second full bathroom
The house has a fully stocked kitchen with coffee maker, smart TV's in every room, Hi-Speed Wi-Fi, AC/Heat, Beach Kit, beach chairs, kid-friendly games, highchair and pack and play, an outdoor shower, toiletries, hairdryer, extra blankets and pillows, and a laundry area with washer and dryer. Stays over 28 days welcome with signed rental agreement. Spanish translation available.
Save Even More Money On Your Next Vacation
35 great tips on planning, travel hacks, transportation savings, and cheap food and drink options!
About the host
for direct bookings or other property questions.