Price Comparison Results
Airbnb • Vrbo • Booking.com • Direct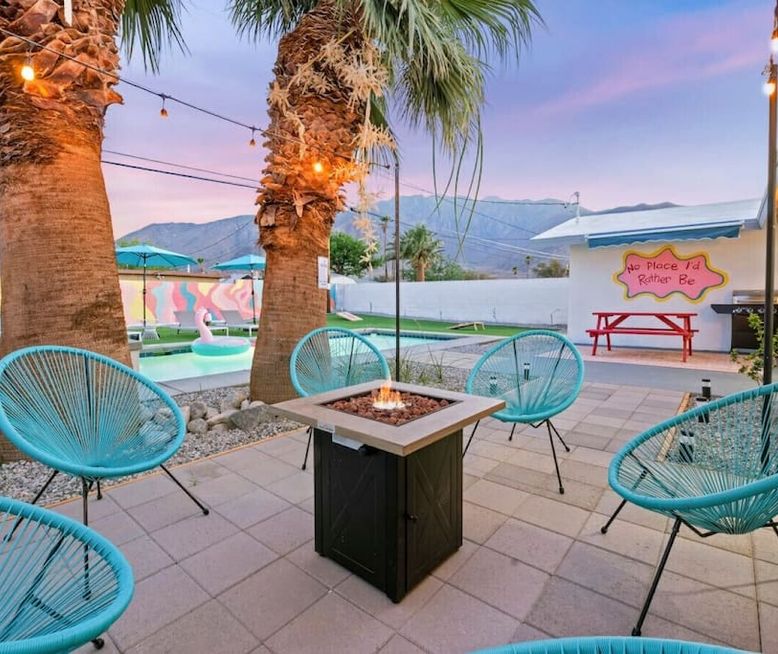 Desert Oasis- Pink! Heated Pool, Hot Tub, IG Mural
Listing titles:
Desert Oasis- Pink! Heated Pool, Hot Tub, IG Mural
Rather Be Desert Oasis- Girls Paradise, Heated Pool, Hot Tub, IG Mural
If you're looking for a getaway for a girls weekend, your best friends bachelorette party, an escape from the city life or a trip away with your kids. Rather Be Desert Oasis is the place to be.
...
Booking Estimator
Use this booking tool to understand exactly what you will pay to the host.
HiChee Tip: Did you know about 15% to 20% of what you pay goes to the travel agencies for their services, and is not paid to the host.
Share this with the host to find out how much of these service fees you could save.
Desert Oasis- Pink! Heated Pool, Hot Tub, IG Mural
This listing is verified in HiChee.
How does it work?
*Estimated book direct is the lowest price of OTAs minus their service fees.
If you're looking for a getaway for a girls weekend, your best friends bachelorette party, an escape from the city life or a trip away with your kids. Rather Be Desert Oasis is the place to be.
Our pink inspired home offers a large salt water pool with optional heating, hot tub. yard big enough for your kids and dogs to run and play, IG mural, BBQ, firepit, games, toys and activities to keep your friends and family entertained for hours. Downtown Palm Springs is a short 10 minute drive away
Rather Be Oasis Desert was remodeled inside and out in 2022 with immaculate attention to detail, love and care. It has been stocked with the finest things to make your stay super comfortable and leave wanting nothing more.
Follow our journey on IG @ratherbe.properties
Backyard
• Large salt water pool, with optional heating
• 6x6 hot tub with mountain and sunset views
• Sun lounge chairs, drink tables and sun umbrellas
• Propane burning fire pit, lounge chairs and blankets for cold evenings
• Outdoor dining table and chairs
• Propane BBQ
• Pool toys, floats, games and pump all available for your use
• Large green area for you to enjoy a game of corn hole
• Complementary sunscreen, bug spray and pool towels
Living room
• Super comfortable couch, coffee table and armchairs
• Smart TV with Roku, Netflix and Disney+
Dining room
• Seating for 6 at a large table
• Steps from the kitchen and outdoor area
Kitchen
• Brand new appliances including an oven, stove, microwave, dishwasher and a Whirlpool side by side refrigerator with water dispenser and ice machine
• Complementary tea and coffee station
• KEURIG machine with coffee pods, cream and sugar
• Pour over kettle with a wide selection of teas
• Cooking basics- salt and pepper, cooking oil, foil, plastic wrap, baking paper
• High velocity blender
• Brand new dish wear, including plastic plates, bowls, cups, forks and spoons for the kids
• Non-stick frying pans and cooking utensils
• Plastic cups for outdoor and pool use
• BBQ tools
Laundry
• Washer & dryer with complementary laundry detergent and dryer napkins
Bedrooms
• First master bedroom- Queen bed, dresser, lamps smart TV with Roku, Netflix and Disney+, private en-suite bathroom with walk in shower
• Second master bedroom- Queen bed, dresser, lamps, smart TV with Roku, Netflix and Disney+, direct access to back yard and private pool and yard entrance
• Bedroom 3- One full over full bunk bed, perfect for kids sleep overs
• All bedrooms equip with smart alarm clocks, built-in full-length mirror sliding closets with coat hangers, luggage stands and extra pillows and bedding
Bathrooms
• Master bathroom has direct access from the master bedroom it has a smart Bluetooth multimedia mirror, so you can listen to your music while in the bed or bathroom
• Both bathrooms are equipped with shampoo, conditioner, body wash, complementary bathroom amenities in case you forget anything including- toothbrushes, toothpaste, dental floss and Q tips and hair dryers and extra toilet paper.
Storage closet
•Located in the hallway, our storage closet is stocked with any extra things you may need to make your vacation feel more like a home. Including a sounds machine, extra pool and diving toys, a pool toy pump, toolbox, first aid kit, iron, ironing board, bug spray, sunscreen, aloe vera, fly swatters, a vacuum, steam mop and clean mop pads, broom and dustpan, laundry basket, close drying rack, extra propane tank and the awning handle to open the shade pergola.
Check in is contactless. You will receive a digital guest book and a unique front door code 2 days before checking in
We will be available for you during your stay between the hours of 9am-9pm, please feel free to call, text or email with any questions or concerns you may have during your stay! We are here to help you in case you need anything at all
Downtown Palm Springs is a 2.8 mile drive from our Desert Oasis
The neighborhood is currently under construction. There are a lot of older run down houses that developers are buying and starting to change. The neighbors are all very friendly
City ID #5142
If you are planning on drinking or heading out to one of the many local concerts or events make sure you Uber or Lyft
Family friendly
• Being parents of young kids ourselves, we know how hard traveling can be sometimes, we have really tried our best to accommodate for young families
• Once your booking is confirmed, we have a nanny available to stay in with the kids if you decide to have a parent's night out
• We have a pack N play, crib sheets and baby blankets available
• Pool and bath toys
• Plastic plates, bowls, cups, sippy cups and kids spoons, knives and forks
• Books, games and puzzles for the whole family to enjoy
Pet friendly
• We are pet friendly at a fee of $50 per pet
• We have dog food and water bowls available, doggy treats and poop bags
** We just ask that you take your dog with you if you go out or keep it in a create- as all the furniture is brand new and we'd hate for it to get ruined
Pool heater
• The pool requires a lot of natural gas to heat, so using this will incur a daily fee of $75. This will be billed prior to your arrival if you request it.
• Our pool cleaner Malcolm comes every Tuesday and Friday; he comes and go through the side gate and will not worry you throughout your stay.
Desert living
This home and many homes in Palm Springs are located in the desert, sand is around, sand flys when windy. When windy the pool does catch some sand. Our pool cleaners always try their best to clean the sand, but in some cases sand my be in the pool
Early Check In/Late Check Out
Are dependent upon availability. Please contact your host to discuss availability. Fees apply. Details below
• Early check in from 9am- 50% of nightly rate
• Early check in from 1pm- $50
• Late check out until 12pm- $50
• Late check out until 4pm- 50% of nightly rate
*Extra fees can be invoiced before or during your stay
• Loud music, rambunctious parties, streets filled with cars parked in front of neighbors homes and driveways are prohibited by County Ordinance and will not be tolerated
• Renters and their guests should park in the garage, driveway or directly in front of the property to avoid ticketing. Max 4 cars
• Quiet hours between 10 p.m. and 7 a.m
• All dogs are to be on leashes whenever they are in unenclosed areas. Barking dogs often result in neighbor complaints
• Exceeding the occupancy limit could result in expulsion from the rental, fines, or both
• Smoking is not allowed inside, this includes the use of cigarettes, vape and weed
Permit #5142
Save Even More Money On Your Next Vacation
35 great tips on planning, travel hacks, transportation savings, and cheap food and drink options!
About the host
for direct bookings or other property questions.