Price Comparison Results
Airbnb • Vrbo • Booking.com • Direct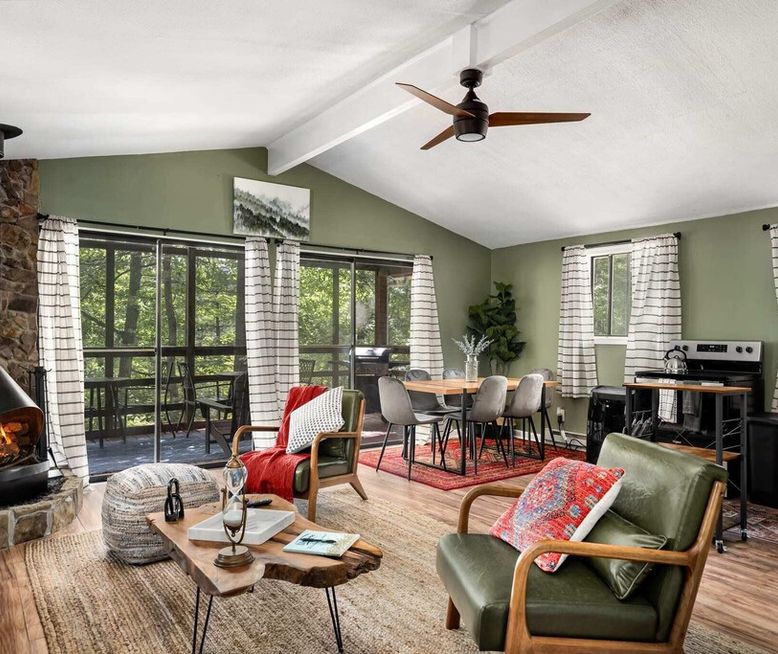 Sunny Cabin w Hot Tub, Grill, Porch, FirePit, WiFi
Listing titles:
Sunny Cabin w Hot Tub, Grill, Porch, FirePit, WiFi
Booking Estimator
Use this booking tool to understand exactly what you will pay to the host.
HiChee Tip: Did you know about 15% to 20% of what you pay goes to the travel agencies for their services, and is not paid to the host.
Share this with the host to find out how much of these service fees you could save.
Sunny Cabin w Hot Tub, Grill, Porch, FirePit, WiFi
This listing is verified in HiChee.
How does it work?
*Estimated book direct is the lowest price of OTAs minus their service fees.
Summary:
Red Cedar Grove is an open, light-filled cabin nestled in the Shenandoah Valley, just minutes from Bryce Resort – the perfect place for your getaway!
The highlights:
- Unwind in the new hot tub!
- Unwind out with a glass of wine & grill in the huge screened-in porch
- Stream movies or take video calls on fast WiFi (great for remote work!)
- Cook s'mores and hang out around the fire pit
- Drive 10 mins to Bryce Resort & Lake Laura for tons of both winter & summer activities
Enjoy!
The Space:
Our family-friendly cabin is packed with amenities and fun for couples, families or groups of friends.
The cabin includes:
- Two bedrooms, both with queen beds
- Fully-stocked kitchen with stove/oven and microwave
- Smart TV where you can quickly sign-in to your favorite streaming service
- WiFi that's more than enough to stream movies and hold video calls – perfect for working remotely
- Wood-burning stove to keep you cozy on those cool winter nights (we also have electric heat and AC to keep you comfortable!)
- An outdoor yard game treasure box full of activities for kids and adults: cornhole, volleyball, soccer balls, horseshoes, and many more!
- Brand new hot tub, perfect for unwinding after a long day
Outside the cabin, we also have:
- Huge screened-in porch with a grill
- Outside fire pit with seating for the whole gang
We often take our two little kids and dog to the cabin with us, so we're very family- and dog-friendly. The cabin is also all on one level, so no concerns with stairs.
Beyond the cabin itself, we love how close we are to Bryce Resort (about a 10 minute drive away). The resort has tons of things to do – from skiing and snow tubing in the winter, to swimming, kayaking, and golfing in the summer. And of course, many great restaurants, bars, and shops as well. Plenty to keep everyone entertained!
Save Even More Money On Your Next Vacation
35 great tips on planning, travel hacks, transportation savings, and cheap food and drink options!
About the host
for direct bookings or other property questions.