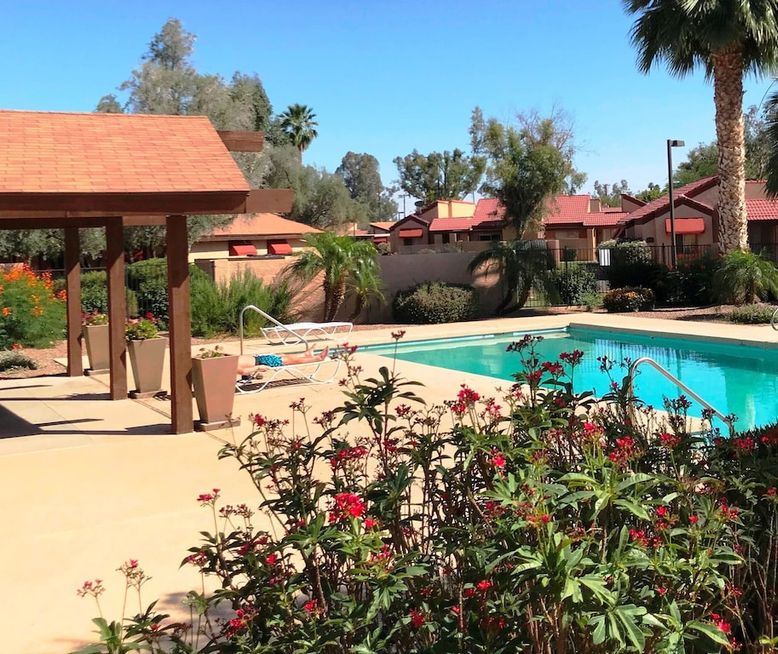 Fits 11> CΛsitΛ ΛrizonΛ-Tempe: Families + kids
Listing titles:
Fits 11> CΛsitΛ ΛrizonΛ-Tempe: Families + kids
CΛsitΛ ΛrizonΛ - Tempe - Designed for LARGE FAMILIES + Kids
This SINGLE STORY Townhome has been fully renovated and designed to accommodate a large family (or two families with kids). Up to 11 guests + baby:
...
Booking Estimator
Use this booking tool to understand exactly what you will pay to the host.
HiChee Tip: Did you know about 15% to 20% of what you pay goes to the travel agencies for their services, and is not paid to the host.
Share this with the host to find out how much of these service fees you could save.
Fits 11> CΛsitΛ ΛrizonΛ-Tempe: Families + kids
This listing is verified in HiChee.
How does it work?
*Estimated book direct is the lowest price of OTAs minus their service fees.
This SINGLE STORY Townhome has been fully renovated and designed to accommodate a large family (or two families with kids). Up to 11 guests + baby:
- Main Bedroom: KING size bed (fits 2)
- 2nd Bedroom: QUEEN size bed and a Roll-out TRUNDLE bed (fits 3)
- 3rd Bedroom: TRIPLE BUNK bed and a TWIN size bed with Pull-out TRUNDLE bed (fits 5). Excellent for keeping all the kids together!
In addition, the Living Room FUTON (fits 1)
A portable Graco play-pen and High-Chair available (upon request).
[see photos]
Long-term stays are encouraged: 1 to 12 months, with additional discounts for longer stays.
If this Property is not available, you may want to check our other properties at:
- Casita Arizona-Chandler: https://www.vrbo.com/2964801
- Casita Arizona - Phoenix
- Casita Arizona - Flagstaff: https://www.vrbo.com/2955342
----
CLEANING STANDARDS + 24-HOUR GAP BETWEEN GUESTS: For COVID-19, as an extra safety precaution, a minimum of 24 hours is reserved between check-out of departing guests and check-in of arriving guests.
----
OUTSTANDING LOCATION:
This Townhome is excellent when you account for its LOCATION, the number of rooms, and the number of guests that it can accommodate.
HERE'S WHAT YOU GET when you stay at our CASITA ARIZONA – TEMPE:
-CENTER POINT: Our SiestaTownhome is a center point between Tempe Downtown (3.5 miles) and Mesa Downtown (4 Miles). It is just 7 miles to the famous Scottsdale Oldtown and 13 miles to Phoenix Downtown.
-ASU: 2.2 miles to ASU and Downtown Tempe (famous Mill avenue, many excellent restaurants, and good nightlife).
-METRO/LIGHT RAIL: less than 1 mile to two Light Rail Stations ("Price-101 Fwy/Apache Blvd" at 0.6 miles or "Smith-Martin/Apache Blvd" at 0.9 miles). This Light Rail will allow you to go (without a car) from upper Phoenix (Dunlap Avenue), through Downtown Phoenix, Skyharbor Airport, ASU, Downtown Tempe, and all the way passing Mesa Downtown until Gilbert Road. With the Light-Rail, you can access many events, restaurants, shopping malls, conference centers, and Spring training locations.
-AIRPORT: 7 miles to Phoenix Sky Harbor Airport (plus you can use the Metro Light Rail – see below)
-BASEBALL SPRING TRAINING /FOOTBALL SEASON:
< 1.5 miles to Cubs Spring Training (Sloan Park)
< 2.5 miles to Sun Devil Football Stadium
Plus, for your own practice, Escalante Park is 0.3 miles, 6 min walking distance with Football, Soccer, Jog trails, Basketball, Volleyball courts, and a swimming pool.
-SHOPPING:
< 1.5 miles to Tempe Marketplace (a large open-air mall with movie theaters, restaurants, shopping center)
< 2 miles to Mesa Riverview (a large open-air mall with movie theaters, restaurants, shopping center)
-ENTERTAINMENT, KIDS, and WATER SPORTS:
< 400 ft: Literally right next to the Tempe Escalante Pool. A seasonal summer pool that features a zero-depth entry, lap swimming lanes, splash area, and waterslide.
< 4 miles to Tempe Beach Park [rent paddle boats, kayaks, standup paddle boards];
< 6 miles to "Golf Land Sunsplash" (over 30 exciting rides and attractions, waterslides, and mini-golf)
< 6 miles to Kiwanis Park Lake [rent paddle boats, kayaks, standup paddle boards];
< 7 miles to LEGOLAND Discovery Center, the SEA LIFE Aquarium, and Arizona Mills (an outlet mall) with IMAX Theater;
< 8 miles to "Oasis Water Park" (7 acres of huge water slides, giant wave pool, a side-by-side active river, and areas designed for younger children);
< 9 miles to the Phoenix Zoo and Desert Botanical Garden;
-GOLF: For golfers, this location has been recognized by many golf guests as a superb central location for accessing many of the top golf courses. Its location in Tempe being so close to Highway 101, Highway 60, and Highway 202, allows your group to go in any direction very easily.
< 2.5 miles to Shalimar;
< 2.8 miles to ASU Kirsten;
< 4.3 miles to Dobson Ranch;
< 5 miles to Rolling Hills;
< 6 miles to Coronado and Continental;
< 8 miles to Arizona Grand (ranked 4.0 by Golf Digest);
< 9 miles to Papago;
< 10 miles to Raven (ranked 4.5 by Golf Digest and #5 by Arizona Magazine);
< 10 miles to Talking Stick;
-HIKING/BIKING:
< 9 miles to "Papago Park" and "Hole in the Rock" hills.
< 9 miles to "Beverly Canyon Trailhead" (the very start of the large "South Mountain Park and Preserve" - a 16,000-acre area with many trails, wildlife & a drivable road to several lookouts with sweeping city views);
----
ABOUT THE TOWNHOME:
The Townhome contains 3 Bedrooms and 2 Full Bathrooms:
- Main Bedroom: King-size bed with nice long mirror closets and a flat-screen Smart TV. This room can also fit the portable GRACO Play-Pen. It contains a large ceiling fan.
- Second Bedroom: We call this the "Classical Bedroom". This is the first bedroom you'll find when you enter the hallway. It has a Queen size bed with a trundle under-bed (Twin size wide). This bedroom fits 3 adults. It has a Ceiling Fan.
- Third Bedroom: This is our "Dinosaur's Eye Bedroom." It has a very tall ceiling. This allowed us to include a TRIPLE Bunk Bed (each bed is Twin size wide). In addition, we included a Twin bed with a pull-out Twin size bed. When this bed is pulled out, it converts into a KING-sized bed. In total, this room can accommodate up to 5 guests. This is excellent for keeping all the kids together. The reaction from many families with kids has been that they love it! It also has a mirrored closet that contains a 3-chest drawer with some toys for kids. The room has a Ceiling Fan. ... Plus, it has a surprise for those kids that love dinosaurs!
With respect to the two Bathrooms:
- The first bathroom is in the hallway and features a bathtub (with assisting handlebars) and a shower handle.
- The second bathroom is inside the Master Bedroom and features a shower (with easy access, shower seating capability, and assisting handlebars). See photos.
The Living Room:
The living room has very tall ceilings. It features a real fireplace, a 43" flat-screen TV, and a Futon that can accommodate 1 person.
The enclosed Patio:
It features a large BBQ grill and a round outdoor table with 5 folding chairs. It also contains a misting system for hot days. The patio is shaded with a metallic lattice (pergola).
PARKING:
The Townhome has 2 assigned (and shaded) parking spots. The complex also contains several visitors' parking spaces. . Many of these can accommodate very tall and large vehicles.
LINENS: We provide freshly cleaned linens, bedding, and towels for all our guests. We also supply paper towels, toilet paper, trash bags, laundry detergent, dishes, dishwasher, and hand soap for short stays.
LAUNDRY ROOM: It includes a large-size Washer and Dryer.
----
ABOUT THE COMPLEX and SWIMMING POOL:
The Townhome is part of the well-known "University Ranch" complex. It is well maintained and kept green all year round. It has outstanding grass areas with very tall trees.
It has a gated Community Swimming Pool with a Hot Spa and a Ramada for events. The swimming pool is only accessible to the community residents. We provide the key and Pool Towels.
The swimming pool is not heated. The spa is heated.
The swimming pool is open year-round from 5 am to midnight.
----
IMPORTANT HOUSE RULES: (additional house rules in Rental Agreement)
NO SHOES in the house: A shoe area is provided at the entrance.
NO PETS ALLOWED: We are diligent to inform about our strict "no pets" policy – no animals of any kind. There are no exceptions, so please don't ask. To ensure compliance, immediately after guests depart, all floors and furniture are inspected with UV light to clearly expose any pet urine. Evidence of pets at the property will result in an automatic charge of a $500 fine from the Security Deposit.
RENTAL AGREEMENT: Guests must sign a rental agreement prior to Check-In. Once the reservation is made, the rental agreement will be provided via email.
BED ACCOMMODATIONS: We arrange the beds and provide towels in accordance with the number of guests under each reservation. Please contact us in the event you need a particular bed arrangement.
TOWELS: Please do not use the regular bath towels for cleaning objects, hair dye, or make-up removal. We have provided cleaning clots under each bathroom sink, the laundry room, and the kitchen sink. These are in case you need a cloth to clean shoes, golf clubs, or certain objects. Please note that any linen found with major stains that are not removed with a single cleaning cycle will be deducted from the Security Deposit. No exceptions.
BBQ GRILL: If used, the BBQ grill needs to be returned in clean condition (please note that the cleaning fee does not cover cleaning the BBQ Grill). If BBQ Grill is found unclean there will be an automatic charge of $30 via VRBO payment request.
----
ACCESSIBILITY INFORMATION:
This is a one-story townhome. Steps and clearance information:
From the parking lot, you have the standard curb height. From the curb, you will face a concrete path with no steps: Very flat with the standard expansion joints.
At the main door, you will find the normal/standard step to get into the unit.
Measured wide clearances (inches/centimeters):
Main door: 32 3/4" / 83 cm.
Hallway: 34 1/2" / 88 cm
Bedroom doors: 27 1/2" / 70 cm
Bathroom doors: 25 1/2" / 65 cm
Hallway bathroom has a standard bathtub height and standard toilet height. Includes an assisting handlebar and dual shower head and shower handle [see photos]
Main bathroom has a shower with two seating spots. It includes the standard height step to access the shower. Includes assisting handlebar and dual shower head and shower handle. [see photo]
----
OWNERS AVAILABILITY:
We do our best to accommodate your needs. We live very close to the property and can assist when needed. Please contact us if you have any questions or needs.
AZ TPT License: 21491449
Tempe STR License: 000409
Save Even More Money On Your Next Vacation
35 great tips on planning, travel hacks, transportation savings, and cheap food and drink options!
About the host
for direct bookings or other property questions.