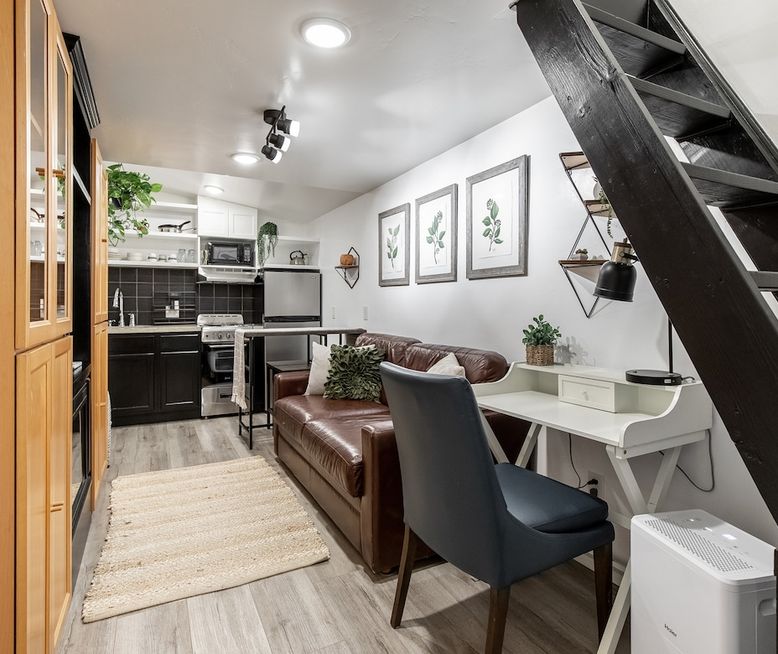 This cute little tiny house is brand new!
...
Amenities
Essentials (towels, bed sheets, soap, and toilet paper)
This cute little tiny house is brand new!
Featuring:
Full kitchen
Living area with TV and lots of storage
Loft bedroom with 1 queen bed
Full bathroom with walk-in shower
AC/HEAT
***THIS IS A TINY HOME. Bedroom accessed by a ladder. 1st floor has 7' ceilings. Approx 200 square feet. This is NOT a hotel and is best for those who are self sufficient and laid back.
*NO children or babies permitted.
Fully self contained tiny house. No shared walls with neighbors.
Please note- outside guests are NOT permitted in the tiny house. Only registered guests.
This listing is perfect for:
-single travelers needing a safe rest stop
-laid back and easy-going guests
-people who like small spaces
-people who want a fun and different lodging experience
-people who just need a place to sleep and not a place to stay most of the day.
This listing is NOT for:
-people who don't understand the definition of TINY
-people who have physical limitations and can't climb the ladder to the loft
-people who need a place to work full time
-people who want a hotel experience
-people are skittish and generally whiney. ;)
If you are traveling with a 2nd guest, again, please make sure that you are OK with TINY.
Bed arrangements:
- Bedroom area: 1 queen mattress on the floor *low ceilings in bedroom! kneeling/crawling only!
---House Amenities---
-Approx 200 sq ft. This is tiny.
-Easy and fast self check-in with secure keyless locks
-Free wireless internet (fiber optic)
-Dedicated mini split HVAC system (air conditioning and heating)
-On demand water heater
-House is behind a small locked courtyard
---Bedroom---
-Fresh clean linens
-Diverse selection of pillows for comfort
*this is in the LOFT which is has a VERY low high ceiling height. You can not stand in the loft. Loft is accessed by a LADDER. NOT STAIRS.
---Living Room---
-Comfortable leather sofa
-HDTV with HDMI inputs (Netflix included)
---Bathroom---
-Walk in shower, toilet, vanity and custom tile
-Stacks of freshly sanitized linens
---Kitchen---
-•Kitchenette- Sink, oven/stove, fridge, (no dishwasher or disposal)
-Coffee machine, blender, toaster, microwave
-Dining table seats 2 people
---Building Amenities---
-Frontload coin-op washer/dryers in building with detergent provided
-Plenty of off-street parking. You MUST park on the street and not in the lot.
---SMOKING AND VAPING NOT PERMITTED---
-I'm sorry but due to the location of this tiny house, you may not smoke ANYWHERE on the grounds. If you are a smoker or vaper, please do not book this property.
We prefer short term stays. If you want to stay more than a week, please let us know. We do offer a linen service for long term stays.
You have a private entrance to a locked area and then a keypadded entry to the house itself.
This is a completely private tiny house. Private entrance with secure keyless lock. Come and go as you please. Entire suite plus building amenities are included. Please make yourself at home.
You have access to the coin-operated laundry in the building and internet is free.
Save Even More Money On Your Next Vacation
35 great tips on planning, travel hacks, transportation savings, and cheap food and drink options!
About the host
for direct bookings or other property questions.