Price Comparison Results
Airbnb • Vrbo • Booking.com • Direct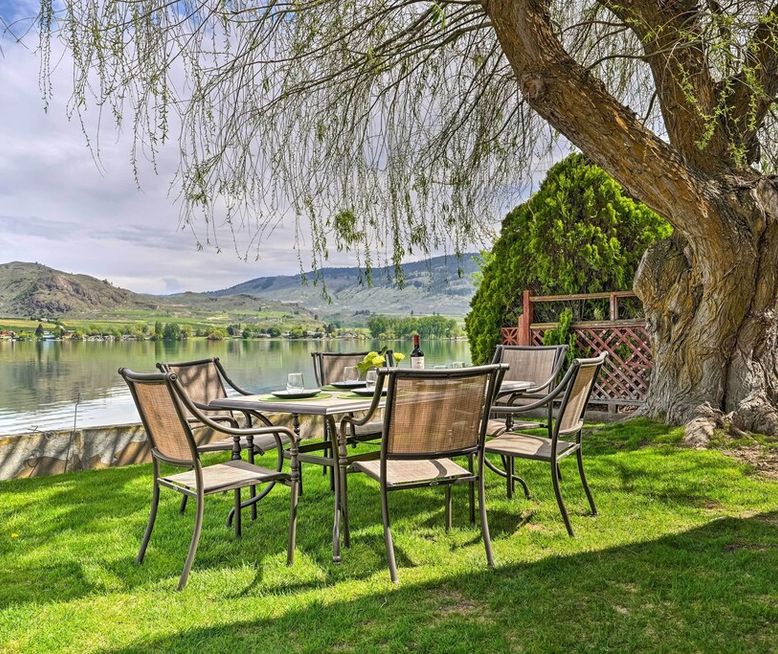 Beach Escape: Zen-inspired Lake Osoyoos Chalet!
Listing titles:
Beach Escape: Zen-inspired Lake Osoyoos Chalet!
*Please note there is another vacation rental unit on the premises, and other travelers may be present*
...
Community Book - Direct Links
These links are alternative ways to book this listing. These links have been suggested by our community and we have not verified their accuracy.
*Please note there is another vacation rental unit on the premises, and other travelers may be present*
This brand new 1-bedroom, 2-bathroom lakefront vacation rental home is a cutting-edge example of new age architecture. Efficient, modern design and furniture make this 640-square-foot space feel twice as large with an entire wall of windows that opens to Lake Osoyoos and sleeping accommodations for 4 guests. Fall asleep and wake to magnificent views and days filled with outdoor adventures!
-- THE PROPERTY --
Bedroom (Loft): Queen Bed | Living Room: 2 Sofa Beds, Twin Ottoman
This stunning home named "The Chalet" is situated at the foot of beautiful Lake Osoyoos, Washington with unbelievable views and direct access to the crystal clear waters. Your jaw will drop as you enter the home and see just how amazing the interior is.
The simplistic, modern decor goes perfectly with the design of the home. Open the large sliding glass doors in the living room to allow the Northwest breeze to blow inside as you explore the home.
As you venture up the floating staircase to the loft bedroom, you'll be encapsulated by the warm, wood ceiling that travels throughout the home and continues to the outdoor deck. With a plush queen bed, the bedroom is the perfect place to read a book as you enjoy the lake views.
Feel rejuvenated from your day of travel in the glass-enclosed walk-in shower upstairs. With another full bathroom downstairs, shower time can be quick and easy for all guests. Once you're feeling refreshed, make your way to the fully equipped kitchen outfitted with European appliances and prepare a delicious meal.
Share your meal at the 4-seat dining table inside or make your way to the picturesque lakefront patio outside. The cafe lighting in the willow tree above fosters a warm, romantic atmosphere. Finish your meal sipping on a glass of wine from one of the many vineyards in the region and fall into a sense of tranquility as you watch the sunset.
Retire for the evening and wake up feeling like you're in a dream as the water glistens with the light of the rising sun. This fully outfitted home has everything you need for a memorable stay - just bring your bathing suit!
-- THE LOCATION --
Lake Osoyoos is one of the Northwest's best-kept secrets. As long as you remember your passport you not only have access to the amazing attractions on the US side of the lake but also the Canadian side!
Enjoy the rural experience the town of Oroville offers as you venture to the Saturday Farmers Market and stock up on homemade jams, jellies, and tamales! Use the jam to make some easy peanut butter and jelly sandwiches to bring on your hiking excursions.
There is a trail at the south end of Oroville that takes hikers on a steep climb and rewards them with a beautiful mid-mountain lake and possibly even bighorn sheep sightings. You can also travel to Similkameen River 5.9 miles from the home and hike along the trails where the views are indescribable.
Reward your athletic efforts by enjoying a meal at Pastime Brewery 1.4 miles away. Indulge in a pint while you listen to the live music. Experience all that the charming town of Oroville has to offer before you decide to go on an urban excursion.
Make sure you bring your passport so you can travel across the border to British Columbia for an afternoon of wine tasting in the Okanagan Valley. The area is rife with vineyards; you'll want to extend your trip to go wine tasting at every one! On your way to the vineyards, stop in Penticton 40 miles from the home to experience their summer street fair.
Head back to Washington for a day filled with lake swims and golf games. The Oroville Golf Club is the perfect place to tee up, and it's only 3.5 miles away! While some guests golf, others can go horseback riding 12.9 miles away at Eden Valley Trail Rides.
Everything about your trip to Lake Osoyoos will be filled with sun and memory making moments. Water, wine, and golf say it all! And when you're worn out from adventuring, your amazing vacation home is right there for ideal relaxation.
-- REST EASY WITH US --
Evolve makes it easy to find and book properties you'll never want to leave. You can relax knowing that our properties will always be ready for you and that we'll answer the phone 24/7. Even better, if anything is off about your stay, we'll make it right. You can count on our homes and our people to make you feel welcome--because we know what vacation means to you.
-- POLICIES --
Policies:
- No smoking
- No pets allowed
- No events, parties or large gatherings
- Please note there is another vacation rental unit on the premises, and other travelers may be present during your stay
- Must be at least 25 years old to book
- Additional fees and taxes may apply
- Photo ID may be required upon check-in
- NOTE: The property has a maximum occupancy of 4 guests but is more suitable for 2 adults and 2 children
Save Even More Money On Your Next Vacation
35 great tips on planning, travel hacks, transportation savings, and cheap food and drink options!