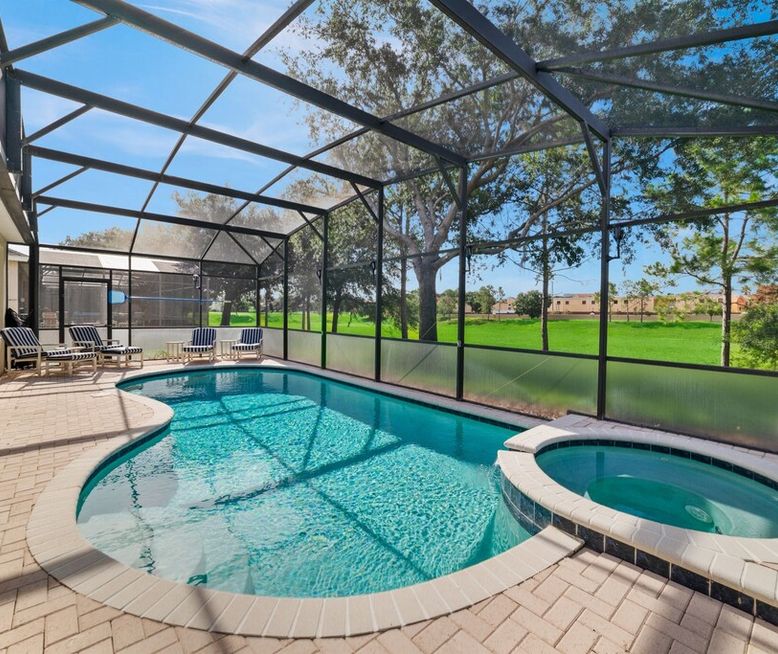 5 Bed/5 Bath in Windsor Hills - 2 miles to Disney
Listing titles:
5 Bed/5 Bath in Windsor Hills - 2 miles to Disney
Luxury Villa with Private Pool on Windsor Hills Resort, Orlando Villa 4857
** Renovated May 2021 **
Our villa is located in Windsor Hills, a 5-star gated resort just 2 miles from Disney. It has everything that you and your family could possibly need for the most magical vacation to Disney and the attractions of Orlando. With five bedrooms and five bathrooms, Royal Ascot is ideal for larger families, and accommodates up to 10 guests in spacious comfort.
Royal Ascot villa has a bright and spacious family room to relax in together as a family, with occasional and coffee tables, surrounded by overstuffed sofas and a love-seat, plus an entertainment center with a big-screen TV.
Step out from the family room under the cool and shaded lanai, and on to the pool deck that surrounds our crystal clean pool and raised spa pool. Sit and soak-in the Florida sunshine on the cushioned, deck loungers, or take a cooling dip in our optionally heated pool.
Sitting in the bubbling raised spa and listening to the waterfall is a perfect way to relax at the end of each fun-packed day at the parks and attractions. The pool is provided with a removable safety fence for extra added protection for young infants should you need it, and all doors leading on to the deck area have been provided with additional safety locks and alarms.
If that's not enough family fun - then why not enjoy some time together in our converted games room? Lots of fun for the family and things to do when the weather is not quite up to the usual Florida sunny standard!
As our guest you have access to everything Windsor Hills ha stop offer.
The popular club house at Windsor Hills provides the perfect place to sit around wonderful lagoon pool, hot tub, and the Windsor Hills Water Park for the kids, lots of cushioned loungers, and many more features to enjoy as you soak in the Florida sunshine or stay in shape in the fitness room. Meet other families and kids from around the US and the world and make new friends.
Kids of all ages will want to stop at the video games room, play a game of pool or ping-pong in the club house. There's even an on-site 40-seat private cinema for guests that has regular showings of popular and recent family friendly movie releases.
Outside of the clubhouse, you'll find picnic and barbecue stands, a kids tot-lot. There's even a sundry shop in the clubhouse if you run short of sun block or need a drink and a snack. A little ways into Windsor Hills you will find a fabulous "Castle" play area for the kids – which they'll want to return to again and again.
Our local management company is available 24/7
Optional Pool Heating $120/week
No Pets allowed
Save Even More Money On Your Next Vacation
35 great tips on planning, travel hacks, transportation savings, and cheap food and drink options!