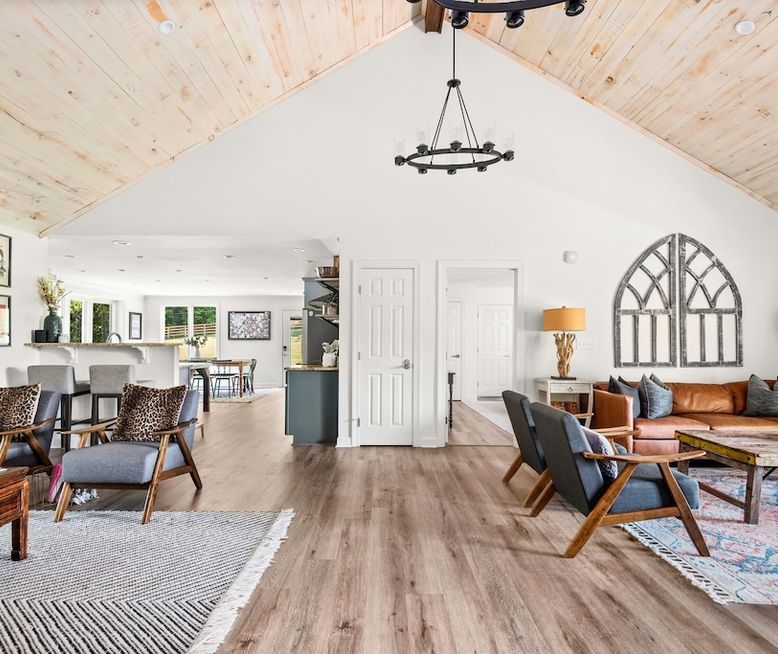 Leiper's Fork | Hilltop Home | 4 King Beds
Listing titles:
Leiper's Fork | Hilltop Home | 4 King Beds
Welcome to Lyric at Leiper's Fork. This hilltop home is nestled on 12 acres and offers 2 large living spaces; a well equipped kitchen and dining area; and 3 bedrooms each with King Beds (4 king beds in total) plus 3 en suite bathrooms (and a 1/2 bath). The layout provides ample gathering space for your entire group to be together but also separate areas to break away to. In all, there is nearly 2,700 sq ft of living space for you to enjoy.
...
Welcome to Lyric at Leiper's Fork. This hilltop home is nestled on 12 acres and offers 2 large living spaces; a well equipped kitchen and dining area; and 3 bedrooms each with King Beds (4 king beds in total) plus 3 en suite bathrooms (and a 1/2 bath). The layout provides ample gathering space for your entire group to be together but also separate areas to break away to. In all, there is nearly 2,700 sq ft of living space for you to enjoy.
Step outside where you'll find an uncovered patio with adirondack chairs and a fire pit. Dine al fresco using our charcoal grill / bbq and large picnic table (plus a 2nd picnic table for the littlest of guests). A variety of outdoor games, including corn hole and ring toss are provided to complete this idyllic outdoor setting.
A 70ft balcony spans the entire back of the home overlooking the treetops and is lined with 10 huge rocking chairs and 2 bistro sets. This is the perfect place to take in the fall foliage while sipping your morning brew or evening beverages. Though the entire home and property are yours during your stay, you may notice our resident "guests" like deer, turkeys and other wildlife. :)
Whether inside or out, plentiful amenities are provided to make traveling easier. This ranges from a well stocked/ equipped kitchen to bathroom essentials. For the littles and their parents, we offer a variety of family amenities such as pack n plays, high chairs, a baby monitor, toys, books & more.
Much like the words of a song, Lyric has a way of evoking emotion, inspiring us and even taking us back to a certain time when life moved a little bit slower. You'll feel it from the moment you turn onto the winding country roads that lead to Leiper's Fork and eventually to our secluded home. We imagine it is these same back roads that inspire the lyrics for many a songwriter here in this quintessential Tennessee town.
Despite being a rural space, you are just 3 miles to Leiper's Fork Village, 12 miles to Downtown Franklin & 25 miles from Nashville.
** SAVE WHEN BOOKING A WEEKLY STAY (discount automatically applied when 7+ nights selected) **
LYRIC AT LEIPER'S FORK HIGHLIGHTS:
-- OUTDOOR SPACE --
* Hilltop home situated on 12 acres
* Uncovered patio with fire pit, adirondack chairs & charcoal grill/ bbq
* 70 ft covered balcony lined with rocking chairs
* Outdoor games
* Picnic tables for adults and littles
-- MULTIPLE GATHERING SPACES --
* Living room 1: Plentiful seating, including an extended length leather sofa
* Living room 2: Extended length sectional, game table & games
* 55" Smart TVs in both living rooms with access for streaming Amazon Prime video, Netflix, Hulu & more (NO CABLE)
* Reading room
* Inspiration room/ breakfast nook
* 2 outdoor areas
-- WELL EQUIPPED KITCHEN --
* Dinnerware & utensils
* Cookware & bakeware
* Coffee pot with espresso & cappuccino maker
* Tea kettle & tea
* Basic serving trays & serving flatware
* Children's dinnerware & high chairs
-- COMFORTABLE SLEEPING --
* 3 bedrooms each with en suite bathrooms
* 4 King beds (2 memory foam & 2 hybrid mattresses)
* 2 Firm Pillows + 2 Soft Pillows per bed (4 total per bed)
* 2 Sleeper sofas each with Queen, memory foam mattresses
* Blackout window shades in all bedrooms
* Pack n' play for the littles
-- PLENTIFUL AMENITIES --
* Family-friendly amenities like children's toys, books, high chairs, pack n plays & kitchen items
* Dog-friendly (additional fees apply)
* Reliable, High-Speed Wi-Fi
* Luxury Terry Turkish towels in bathrooms
* Electric fireplace (Realflame brand, gives off heat but not actual flame)
* Variety of board games, puzzles and more for adults and children
* Outdoor games
* Smart home enabled, including Echo dot (Alexa) smart devices throughout for music, alarm or sleep sounds
-- CLEANING PROTOCOL --
* We utilize a licensed, professional cleaning company
* Antimicrobial mattress & pillow encasements
* Towels, blankets & ALL bed linens, including duvet covers are washed between each stay in a commercial facility
Important Considerations... there's a lot to love about our home but let's be sure it's the right fit for you:
* All guests will be asked to sign a RENTAL AGREEMENT within 48 hours of booking (or immediately if arrival is within 48 hours of booking). If not signed, reservation will be canceled and considered a guest-initiated cancelation with applicable penalties.
* Only accessible via small flights of stairs (both front & back entrances).
* It is absolutely necessary that you have a vehicle to get around. A small (or large) SUV would be encouraged however it is not necessary. The roads leading to the home are all paved however there is a GRAVEL ONLY easement that takes you back to the home.
* Lyric is a place to escape the daily grind and while there is much to do in surrounding areas the home sits far back from even the backroads. The nearest gas station/ market is located about a 10-15 minute drive down the hillside and the nearest grocery store is about a 20-25 min drive down the hillside.
* Pets: We welcome potty trained dogs with a non-refundable pet fee of $25/dog/ day. Please select the # of pets and this will calculate automatically or notify us post-booking and we will add it. We do not allow cats, birds, reptiles, ferrets or anything else that is not a human or dog. :) Please see below for additional pet "house rules."
* If you do not like nature or bugs, we suggest looking outside of Tennessee for your stay. This is the South and the home is completely surrounded by wooded area. We take every precaution to prevent critters from making their way into the home (we regularly treat the interior and exterior of the home), however it is inevitable they will make their way in on occasion. Around the property it is quite possible you will see a variety of critters, snakes, mice and other wildlife. This is especially important to consider if you are bringing children and/ or dog(s)- or anyone with a strong dislike of such things. :)
* There is no fencing around the home nor the property.
* Our rates are dynamic which means that they change based on day of week, season, etc. Please enter your exact dates and guest count to calculate pricing. We charge an extra guest fee of $25/guest/ night for any guest count over 8 (our max guest count is 12). This includes infants and children.
* Pets: We welcome POTTY TRAINED dogs with a fee of $25/ day/ dog- up to 2 dogs per stay with these conditions:
* Please let us know ahead of time if you plan to bring them
* Avoid having them on the furniture or keep furniture covered with blankets/covers brought by you
* Utilize the pet waste bags we have provided and pick up after your pets once they have done their business outdoors
* We do not allow any other types of pets, reptiles, or anything non-human. :)
* Our home is smart home enabled and has security & safety devices throughout. This includes the use of security cameras (EXTERIOR Only, NO interior) around the property & echo devices which are considered to be listening devices inside the home. The echo devices can be unplugged if you prefer.
* We welcome PHOTO SHOOTS & small gatherings (with PRE-approval only) such as business meetings/ retreats, baby showers, craft clubs, networking soirees and other special occasion get togethers accommodating up to 15-20 attendees, depending on circumstances & setup. We can only accommodate up to 12 guests for overnight stays, however. We have a strict NO wedding, marital ceremony or receptions policy. Absolutely NO parties.
Save Even More Money On Your Next Vacation
35 great tips on planning, travel hacks, transportation savings, and cheap food and drink options!
About the host
We're Megan and Richard – and the little guy is our son/ future host in training! We're born and raised Floridians turned Tennesseans, high school sweethearts and the owners + your host(ess) at Southbound Stays. Our hosting journey began in 2016 and today, we own + host 5 traditional short term rentals/ vacation homes and 1 extended stay rental (for stays of 30-90 days). *Get social with us and follow our adventures at SouthboundStays.* We were guests before we were hosts and still operate with a guest-first mentality. During your stay, we want you to feel the comfort of being "at home" with the laid back feeling of being away from yours. We put care into every aspect of our homes and your stay: * We purposely selected our homes based on their amazing locations * All of our homes are privately enjoyed and setup exclusively to welcome guests (we are not present in or at the home during your stay) * I lovingly designed each home with intention to maximize the space and comfort * We made a list of things we wished we had during our own travels and put them in our homes * We allow dogs* at every one of our homes and even they get treats upon arrival (*added fee) * Through our local short term rental association and our own, direct partnerships with local businesses, we have worked to get discounts for our guests to save you hundreds on dining, attractions and even luggage storage while in town * You will always have direct access to us, the owners and host(ess). Whatever it is that brings you to Nashville TN, Leiper's Fork TN or Cocoa Beach FL our homes are ready to welcome you for your time here.
for direct bookings or other property questions.