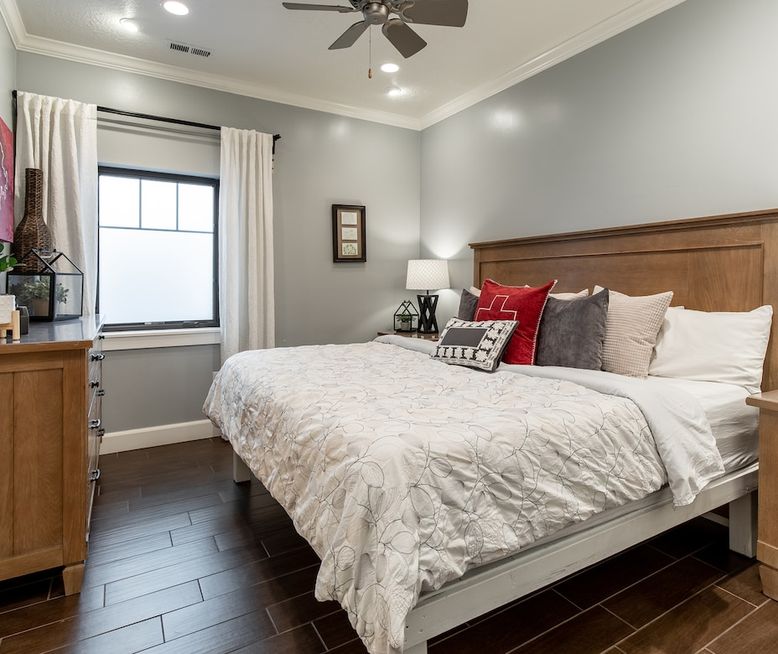 Heavenly Swiss Chalet Styled Condo (ADA OK!)
Listing titles:
Heavenly Swiss Chalet Styled Condo (ADA OK!)
This beautiful condo is new, sparkling clean, and thoughtfully furnished. It boasts 3 bedrooms, 1.5 bathrooms, sleeps up to 11 guests and is right across from an indoor/outdoor water park and gym.
...
Booking Estimator
Use this booking tool to understand exactly what you will pay to the host.
HiChee Tip: Did you know about 15% to 20% of what you pay goes to the travel agencies for their services, and is not paid to the host.
Share this with the host to find out how much of these service fees you could save.
Heavenly Swiss Chalet Styled Condo (ADA OK!)
This listing is verified in HiChee.
How does it work?
*Estimated book direct is the lowest price of OTAs minus their service fees.
Amenities
Essentials (towels, bed sheets, soap, and toilet paper)
This beautiful condo is new, sparkling clean, and thoughtfully furnished. It boasts 3 bedrooms, 1.5 bathrooms, sleeps up to 11 guests and is right across from an indoor/outdoor water park and gym.
Large windows
Fully equipped kitchen
Fiber internet
Approx 1100 sq ft
Coin-op laundry in building
Off-street parking
Hairdryer/coffeemaker/iron
If you want pristine cleanliness, the finest quality furnishings and personal service, Aspenwood Manor would be delighted to host you!
Switzerland is the inspiration for this suite. From the vintage chocolate advertisments to the beautiful handpainted oil painting of a Swiss dairy farm, this suite's artwork is mostly original.
3 bed/2 bath condo. 1st Floor- NO STAIRS. Ground Level. Wheelchairs OK
Bed arrangements:
- Master Bedroom: King
- 2nd Bedroom: Queen bed with full sleeper sofa and toddler bed (trundle)
- 3rd bedroom: 2 Twins bunk with single twin (3 twins total)
- Living room: 1 Queen sleeper sofa
---Suite Amenities---
-Everything was designed and decorated with your ease and comfort in mind
-Approx 1100 sq ft
-Easy and fast self check-in with secure keyless locks
-Natural light from north facing windows
-Plenty of closet space
-Free wireless and wired high speed internet (fiber optic)
-Dedicated HVAC system with NEST thermostat (air conditioning and heating)
-Dedicated water heater (no sharing with other units!)
-Gorgeous original art and custom furniture throughout
---Bedrooms---
-Fresh clean linens
-Diverse selection of pillows for comfort
-King and queen bed with pillow top mattress
-Iron and ironing board
---Living Room---
-Comfortable leather sofa with sleeper
-Large HDTV with Blu-Ray, HDMI and Netflix provided (no cable)
-The fireplace pictured is decorative only
---Bathroom---
-Master bath- Luxurious soaker, walk in shower, beautiful custom tile. Bathroom is accessed from Master and 2nd bedrooms
-2nd 1/2 bath- toilet and vanity
-Stacks of freshly sanitized linens
-Hairdryer
---Kitchen---
-Dishes & cookware
-Coffee machine, blender, toaster, microwave
-Fridge with icemaker, dishwasher, disposal
-Dining table seats 6 people
---Kid-Friendliness---
Kids are welcome in this suite! Please note the bunk bed in the 3rd bedroom.
--Home Office Amenities--
Built in desk in kitchen with hard-wired internet plug and outlets
---Building Amenities---
-Vending machine with lots of yummy stuff
-New frontload coin-op washer/dryers in building with detergent provided
-Private off-street parking is steps from the entrance to the building
---Proudly offered:---
-Linen service for long term stays
-Arrival welcome basket
---Location---
-Walk to yummy local restaurants (Mozz Pizza, 5 Brothers Sushi, Chip Cookie, etc)
-Across the street from an indoor water park and state of the art gym. Only $5 for adults and $4 for kids for all day!
---Sleep Count---
We love families! This suite can accommodate up to 11 guests, however this is ideally a mix of adults and kids. If beds can't be shared, the max count is 7 (including sleeper sofas).
ADA Details:
Wheelchair accessible, roll in shower, grab bars. Please note the kitchen is ADA to the code book but the sink/appliances are not roll-under capable. Beds are normal height and not low to the ground.
Aspenwood Manor's Defining 100% Experience:
• 100% Commitment! 11+ years and more than 10,000+ satisfied guests. (We do not cancel confirmed reservations.)
• 100% Meticulously clean! Floors are hardwood/tile and scrubbed at each cleaning. Kitchen and bathrooms are sanitized, linens are bleached and freshly folded, and all décor is dusted and vacuumed.
• 100% Dedicated to helping you be at home in Provo! We're here to be your local expert and provide carefully curated resources and amenities.
• We absolutely love caring for our return guests and strive to be your home in Provo.
If there is anything we can do to specialize your stay, please let us know! I (Sarah) have an uncanny ability to remember our individual guests and I delight in remembering the details you prefer to make your stay absolutely perfect.
→From one of our favorite return guests:
"Honestly, it's sort of one of those places that you don't want to tell anyone about because it's like a hidden gem that you want to keep to yourself. In saying that, if anyone I knew was traveling to Provo, I would HIGHLY recommend this stunning, clean, comfortable place! Can't wait to go back!! Feels like home." -Valynn
Is this your first booking on AirBnB? Use this link to receive $50 off your stay from AirBnB:
https://www.airbnb.com/c/aspenwoodm
This is a completely private suite. Private entrance with secure keyless lock. Come and go as you please. Entire suite plus building amenities are included. Please make yourself at home.
We live nearby and want you to have a 5-star experience! We're always available if you need anything.  I'm only a call, text or email away!  I'm available all day from about 10am-11pm and for emergencies only during the night. +1 801 805 ︎︎4794
AMAZING location- right across from a brand new rec center with pools, gym, park, bbq areas, etc. Also, only 1/2 mile from the downtown area with 20+ amazing independent restaurants.
.4 miles from Utah Valley Convention Center
0 miles from Provo Rec Center (amazing pool!)
.6 miles from Pioneer Park (playground and farmer's market in summer)
.6 miles from new LDS Provo City Center Temple
.2 miles from Smith's (Kroger's) and .6 miles from Fresh Market
.3 miles from Provo Library
1.1 miles from Provo Frontrunner station (train that runs to SLC Int Airport)
.6 miles from BYU
We are about 1 mile from the Provo frontrunner station (regional train which connects to the airport). Local bus stations are near us as well. If you need any suggestions on transportation, just let us know!
Directions from Salt Lake City International Airport
-Take TRAX green line to 500 W & North Temple
-Catch the Frontrunner train south to Provo Station
-You can either walk from the station, or take the 830 Northbound bus that will get you a bit closer to us.
-We can send you a link to a video tutorial on how to take the train from the airport.
Uber or Lyft are also great options!
Our walk score is 89 out of 100; you can get to almost everything within a few minutes of walking.
Please do not book if you intend on hosting a loud party.
We do not allow smoking or vaping in any form in the suites or anywhere on the grounds.
We ask that you be respectful of the suite. We will ask you to be financially responsible for intentional damage to linens and furnishings.
No pets or emotional support animals of any kind.
Service dogs are welcome, but you must let us know before you book.
We try to be sensitive to those with chemical allergies and use only green and organic cleaning products.
We can not waive AirBnB fees, so please do not ask us to do so. Direct pricing is always lower. We are Aspenwood Manor in Provo.
If any problems arise, we will do our best to take action ASAP.
We try to make this listing as complete as possible but we can't control how AirBnB displays the information. Your time is really valuable! We appreciate that you're interested in our suites, and we know it must be frustrating to not have all the information right on hand to make a quick and confident decision. To this end, we suggest that you find our main site. We are Aspenwood Manor in Provo. Each of our properties has a detailed page with floor plans, pictures, and tons and tons of information.
Thank you for reading all these details! We encourage you to call or email us with any questions you have so that you can book in confidence. We want to host you!
A link to all of our listings:
www.airbnb.com/p/aspenwood-manor-in-provo
Save Even More Money On Your Next Vacation
35 great tips on planning, travel hacks, transportation savings, and cheap food and drink options!
About the host
for direct bookings or other property questions.