Price Comparison Results
Airbnb • Vrbo • Booking.com • Direct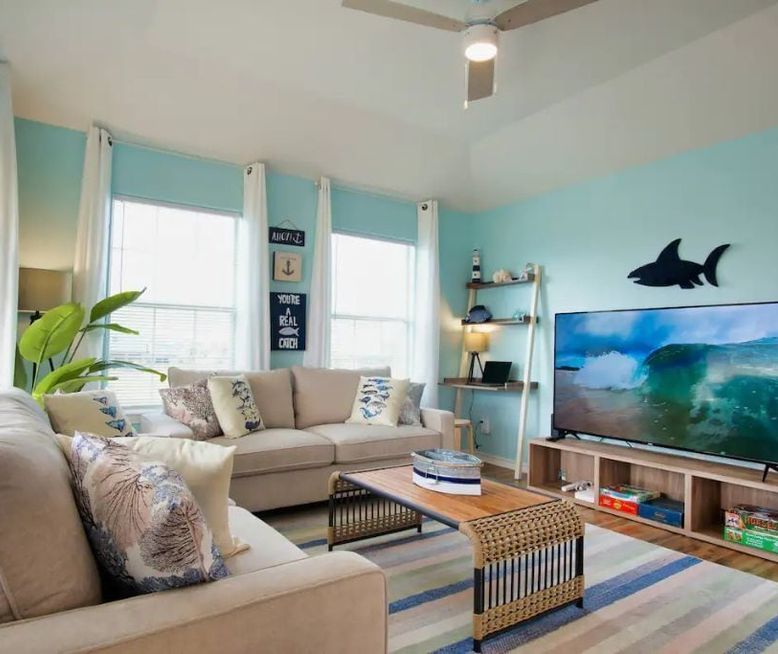 Seabreeze Sueños ~ Surfside Abode a Walk to Beach
Listing titles:
Seabreeze Sueños ~ Surfside Abode a Walk to Beach
A short stroll to the shoreline, Seabreeze Sueños is ready to welcome you and yours for a sun-filled beach getaway. This breezy and dreamy 3 bedroom and 2 bathroom coastal escape with wonderful indoor and outdoor amenities is well-equipped with everything you need to make it the perfect stay in Surfside Beach!
...
A short stroll to the shoreline, Seabreeze Sueños is ready to welcome you and yours for a sun-filled beach getaway. This breezy and dreamy 3 bedroom and 2 bathroom coastal escape with wonderful indoor and outdoor amenities is well-equipped with everything you need to make it the perfect stay in Surfside Beach!
The space
Welcome to Seabreeze Sueños! This inviting beach home has a perfect spot for everyone. After day on the beach, freshen up using the outdoor shower and take a seat at the table while family and/or friends grill up favorite bites within the fenced in patio area. As your day comes to a close, head upstairs to watch the sunset and sip your favorite beverage on the expansive front deck. Settle in for the evening, binging on your favorite shows on the 70" Roku smart TV or sneak away to the screened-in rear deck to enjoy the sounds of the waves and breezes as they come ashore. Sleeping the night away in one of the three well-appointed bedrooms, including a primary bedroom with en-suite bathroom, is literally a breeze with central AC keeping guests cool and comfortable. Early risers can take advantage of a fully-equipped kitchen to make the perfect meal and brew a welcome cup of coffee to start a new day of fun and relaxation.
Other things to note
Our home is located in a quiet residential neighborhood. Please be respectful of our community and neighbors. Parties, events, or large gatherings are strictly prohibited. In addition, excessive noise at any time is never allowed and quiet hours are in place every day between 10 p.m. and 8 a.m.
The location of our home affords close proximity to all conveniences and amenities. While it is not beachfront, it is just a short 5 minute walk to the beach.
​The sleeping arrangements at our home can accommodate up to 8 guests with a queen bed in the primary bedroom and a full bed with twin pull-out trundle bed in each of the 2 guest bedrooms.
We welcome experienced, responsible/responsive and positively reviewed guests over the age of 25. Any and all persons staying or visiting the property must be 18 years of age or older unless accompanied by a parent or a legal guardian.
A copy of the guest's government issued ID must be shared with the host upon a confirmed reservation. This is for safety and security purposes and is strictly required in order to stay at our home.
Pets allowed with restrictions and additional fees (please see house rules below).
Public water provided by the Village of Surfside Beach is not recommended for drinking nor cooking. Please plan accordingly and bring bottled water or purchase it at the nearby convenience stores.
It is highly recommended that all guests purchase trip cancellation/interruption insurance. In the event that a guest cannot make a trip due to a family emergency, illness, bad weather, flight/rental car cancellation, job loss, COVID-19 ban/restriction, etc., the guest should seek reimbursement through their travel insurance. If a guest cancels a reservation, all eligible refunds will be governed by the cancellation policy agreed upon at time of booking. No refunds outside of the cancellation policy will be possible unless a mandatory evacuation is ordered for the area.
Mother Nature's creatures both great and small also reside in the area in which our home is situated. We subscribe to regularly scheduled pest control services so our guests can have an enjoyable stay. Despite measures we have taken to keep the home free of such events, it is not uncommon to have a stray visitor come into the house through an open door or window even if left ajar for a brief moment. While we cannot be held responsible for encounters with pests or wildlife inside or outside the home, if notified immediately of such an occurrence, arrangements can be made to accordingly try to address the issue. No refunds will be offered for these encounters.
Property has 2 motion-activated exterior security cameras (at entry/deck and patio/driveway areas) that record sound and video 24/7 and decibel monitoring sensors inside and outside of the home to ensure neighborhood noise levels are respected. Tampering/removing equipment will result in a full security deposit loss.
House rules
Please be respectful of our home, neighborhood, and community. Violation of any of the following rules are grounds for cancellation of your stay and immediate removal from the property:
- 8 guest maximum occupancy; no unauthorized guests (penalty fee of $100 per unauthorized person, per night will apply).
- No smoking or vaping.
- No parties, events, or large gatherings.
- No excessive noise; quiet hours in place between 10 p.m. and 8 a.m.
- No underage drinking or use of illegal substances.
- Copy of a government issued ID must be shared with the Host upon confirmed reservation.
Responsible guests and their well-mannered furry companion are welcome to our home, for whom the following pet policy applies:
- Only 1 dog weighing 50 pounds or less is permitted unless agreed upon in advance with the Host. No other pets allowed (e.g., cats, birds, etc.).
- An additional fee of $100 per stay for the 1 dog will apply.
- The pet must remain within the owner's control at all times, either on a leash or in a carrier as appropriate. The pet can never be left alone on the property.
- We expect the pet to be completely house trained. Please clean up after the pet.
- The pet is not allowed on the furniture/beds.
- We count on the owner to prevent the pet from making excessive noise, being disruptive, or exhibiting aggression toward other guests or neighbors.
- In the unlikely event the property requires excessive cleaning or if damages are incurred as a result of the pet, you will be charged additional fees starting at a minimum of $300 for services and repairs.
A guest manual with detailed guidance and helpful information will be made available at time of booking.
Save Even More Money On Your Next Vacation
35 great tips on planning, travel hacks, transportation savings, and cheap food and drink options!
About the host
BSME Homes offers a curated vacation home rental experience for any traveler from tranquil mountain retreats to serene coastal escapes. Welcoming those who want to explore new destinations, seeking to get away or simply wanting to reconnect with loved ones, guests will have a place to call home with BSME Homes. Each BSME Homes residence is appointed with amenities to meet the needs of every guest while being situated in unique locales awaiting to be explored. From the outdoor stargazer to the indoor binge watcher, all that is required are your packed bags and a tiny bit of wanderlust. Started by hosts Ben and Michael, these seasoned travelers have always held a passion for exploration and enriching experiences and, likewise, sharing the joy of hosting with others so that they too can truly experience a "home away from home". From its humble beginnings in Southern California, BSME Homes has carefully expanded its offerings across the United States by hand selecting a unique array of vacation homes in locales that are complementary yet diverse, but still consistently delivering the same quality BSME Homes experience. Ben and Michael hope whichever BSME Homes property their guests choose, they will discover new experiences and create enduring memories that continue to inspire.
for direct bookings or other property questions.