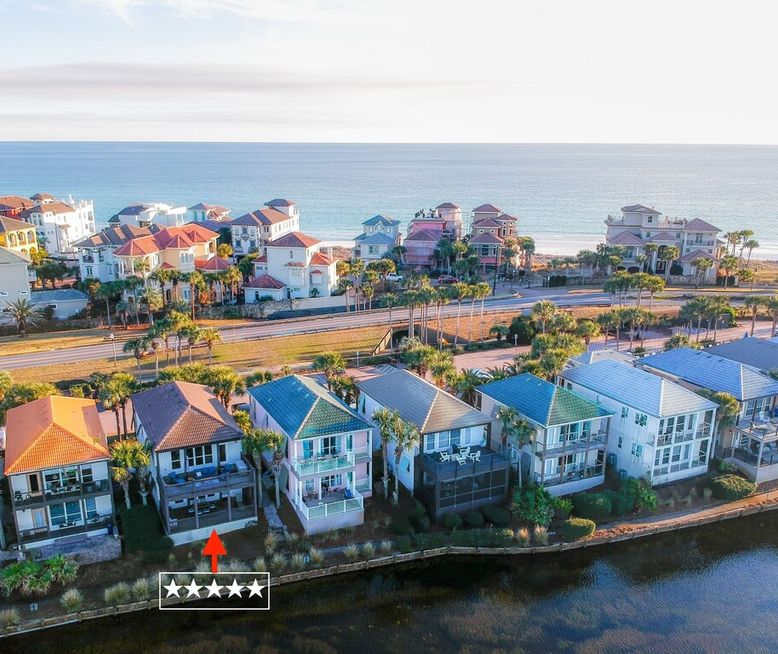 Waterfront, Beach just 200 steps! Pool, Beach gear
Listing titles:
Waterfront, Beach just 200 steps! Pool, Beach gear
Waterfront w/pool. Just steps to the sand. Beach cart/chairs/towels/toys
You have found your beach home in Destin! Reserve Spring Break/Summer dates now!
...
Booking Estimator
Use this booking tool to understand exactly what you will pay to the host.
HiChee Tip: Did you know about 15% to 20% of what you pay goes to the travel agencies for their services, and is not paid to the host.
Share this with the host to find out how much of these service fees you could save.
Waterfront, Beach just 200 steps! Pool, Beach gear
This listing is verified in HiChee.
How does it work?
*Estimated book direct is the lowest price of OTAs minus their service fees.
You have found your beach home in Destin! Reserve Spring Break/Summer dates now!
What guests ❤️ About MARGARITA VILLA B:
🏖 Just Steps to beach
🌊 Beach cart, chairs, toys, & towels
😴 Bunk beds kids love
🌐 Fast Wifi
🏊‍♀️ Heated Pool
🍳 Well-equipped Kitchen
🛌 Master Bedroom w/KIng bed & ensuite bath
👶🏼 Pack-n-play & high chair
📺 TVs w/Roku
🚗 Free Parking for 2 cars
🦆 Ground Floor-Lakefront
📲 Digital guidebook
Read our FULL description to see all of the wonderful details!
MARGARITA VILLA B is our ground floor unit in Destiny Beach Villas. It provides a splendid accommodation for your stay, and includes a bunk bed room for the kids. Only 3 steps needed to enter the home.
Only 200 steps to the beach, with a tunnel under the road to avoid crossing traffic!
Swim in the clear emerald waters of the Gulf, hop the waves, sunbathe in the Florida sun, or play in the powder-like white sands of America's #1 beach. There is even a beach playground for the kids and a public bath-house/restrooms. With a license, you can surf fish on the beach!
Jut 50 steps to pool -- heated at Thanksgiving & 12/18-3/31 (HOA may reduce/extend heating for low demand or weather or demand). The pool area includes restrooms w/showers, outdoor rinse station, and plenty of seating. Pool hours are 8am-10pm. Children must be accompanied by an adult. No lifeguard on duty.
For early risers, the sunrises can be magnificent. Otherwise, be sure to catch one of our famous sunsets on the beach.
Work remotely, attend virtual meetings, or participate in online school with our high-speed Internet using the latest mesh Wi-Fi technology.
MARGARITA VILLA B has 2 bedrooms; a Master w/ensuite bathroom, and a 2nd bedroom w/2 twin/full bunk beds that kids just LOVE! A second full bath is in the hall.
The home has a well-equipped kitchen and a living area with a large HDTV equipped with Roku. It's an ideal layout for a family vacation, a quick getaway, or a friend-cation.
Tastefully decorated and comfortably furnished throughout, each bedroom and the living area has ceiling fans and an HDTV using Roku streaming capability; just bring your logins from your favorite streaming services or cable/satellite provider. Roku offers a ton of free TV and movie options as well.
The rear deck of MARGARITA VILLA B overlooks Four Prong Lake, with water so clear that you can see the bottom. Watch the waterfowl, fish, and the myriad of turtles that live in the lake. There is a lakeside walking path. Swimming/boating/fishing in the lake is not allowed.
MARGARITA VILLA B has its own water heater and an HVAC system with smart thermostat and ceiling fans for your maximum comfort. With its own entrance and private lakefront deck, there are no shared areas.
—— HOME LAYOUT ——
A floor plan of MARGARITA VILLA B can be found in the photos.
Enter into the living area which extends to the kitchen/dining area. To the right of the kitchen will be a hall with laundry center, bathroom with tub/shower, and the bedroom w/bunk beds and closet. At the end of the hall is the Master bedroom with king bed, closet, and ensuite bath with a tub/shower.
Both bedrooms open onto the front porch, where there are chairs and a bench for enjoying your morning coffee or after-dinner beverage.
From the living room, exit onto the lakefront deck with outdoor dining table.
— KITCHEN —
The MARGARITA VILLA B kitchen is well-equipped with the glassware, dinnerware, serving ware, and cookware needed to create meals for your group. There is even a coffee bar area with a drip-brewer, k-cup maker, and an electric kettle. With a microwave, dishwasher, oven and cooktop, and a refrigerator, there is plenty of room to store food, prepare meals, and then clean-up.
And, of course, there are Margarita glasses, but you need to provide your own Margaritas.
— PARKING —
Guests of MARGARITA VILLA B can park up to 2 vehicles in the lot. Spaces are not assigned. Parking passes are provided. Golf carts count as one of the 2 vehicles.
The permits *must* be displayed or vehicles will be towed. Its a consequence of being across from the beach. Even our parking lot is in high-demand!
— WHAT WE PROVIDE —
・bed linens
・bath towels & washcloths
・hand towels & make-up towels
・bath mats
・blankets/comforters
・beach wagon, towels, chairs, toys*
・kitchen essentials such as foil, plastic wrap, salt/pepper, basic spices, etc.*
・basic cleaning materials*
・starter set of toilet paper (2 per bath), paper towels (2 rolls), and trash bags (2-3 per can).
・Pack-n-play with sheet & high chair
・Shampoo, conditioner, body wash, hand soap, and lotion from Public Goods™️
—— WHAT YOU NEED TO BRING —
・Soaps and shampoo for your whole stay
・Sunscreen
・Paper towels, toilet paper, trash bags for remainder of your stay.
* Our team does their best, but with expanded cleaning protocols, it is just not possible to inventory every item after every stay. Their focus is on cleanliness. If we have not been alerted by a guest that an item has been used up, so we can replenish it, it may not be present. We do ask that guests try to replace what they use — in terms of foil, salt/pepper, spices, oils, first aid items, etc.
—— BOOKING INFORMATION ——
At MARGARITA VILLA B, we charge NO fees other than a cleaning fee (up to $240 per stay - varies seasonally). Booking sites may add their own fees.
We offer optional mid-stay cleans, contact us for pricing.
There is a $300 refundable security deposit, done by placing a hold on the credit card you provide. Its released after departure and inspection completed - usually within 1-5 days.
After the reservation is made, we (Remarkable Vacation Rentals) will send a confirmation email from Remarkable.Rentals with a link and instructions to finalize the booking on our secure website. If its not in your Inbox within an hour, check your "junk mail" folder..
The Renter of record must:
・be at least 25 yrs of age,
・provide a valid government-issued ID,
・be present during the whole stay (No third-party bookings),
・place a credit card with us for the security deposit,
・sign our rental agreement, and
・provide names and ages of the entire party.
Important: The renter agreement, contact info, and credit card for the deposit must be completed within 24 hours or your reservation may be cancelled.
Pricing of MARGARITA VILLA B is updated frequently to reflect local trends, availability, demand, and other factors. Rental rates can rise or fall accordingly and are not locked until reservation is completed.
▶︎ Our cancellation policy is: Guest receives 97.00% if cancellation occurs at least 30 days before arrival; No refunds within 30 days of arrival.
▶︎ We cannot accommodate early arrivals or late checkouts.
▶︎ When booking is complete, you'll receive a link to a personalized version of our MARGARITA VILLA B digital guidebook. It contains info that will help you to have a great stay, including:
* door code (48 hrs before arrival),
* directions,
* Wi-Fi instructions.
* local attractions and restaurants,
* and much more!
We are constantly updating and adding information. You can view it on the web, save as a PDF, print it, or save it to your phone's homescreen for easy access. No app! No login! No account!
—— TRAVEL INSURANCE ——
We *strongly* encourage acquiring travel insurance if you have any concerns about needing to cancel for any reason, including inclement weather. You'll be presented with options at checkout, from our service providers. We are not involved in the transaction in any way. You can, of course, find many online sources of travel protection policies. There may be deadlines to purchase coverage.
—— ACCIDENTAL DAMAGE COVERAGE ——
At Remarkable Vacation Rentals, we cover your booking for up to $500 of accidental damages at no cost to you. This is "no-hassle coverage" that covers breakage and other accidental damage. There is no need to select this coverage from the listing site.
Basic guidelines of the accidental damage coverage are:
・Guest must report damage, with photo(s), at the time it occurs. That is generally the only thing a guest needs to do.
・Damage reported after departure will not be covered.
・Coverage does not include stained or damaged linens, bedding, towels, or missing items, express shipping, rush, or after-hours service costs.
Costs for damages that exceed the coverage or are excluded will be charged against the security deposit, then to the card on file if necessary.
— TOP RULES —
We have shared our homes for many years and have hundreds of 5-star reviews. The house rules are here in the listing as well as in communications you will receive from us. There are a few that, if broken, will result in immediate termination of stay with no refunds and forfeiture of deposit. These are:
* Animals not allowed under any circumstances.
* Events & parties are prohibited.
* No smoking of any kind in home or on decks.
* Do not exceed # of people on your booking.
* Drugs and other illegal activities are not tolerated and will be reported.
* No third-party bookings.
We use approved interior/exterior noise monitoring devices to ensure that we, or our guests, do not violate City of Destin noise ordinances and the prohibition of parties and events. If noise levels exceed acceptable levels, you will be contacted. These can also protect against false reports. They record noise levels, not actual audio.
There are actively recording video cameras outside the front of the home. There are no interior views.
Remember that you are not staying in a hotel, you are staying in our home. There is no front desk, but our team is available by email, text, or message.
Please mention "REMARKABLE.RENTALS ROCKS!" in your inquiry to let us know you read it all.
Save Even More Money On Your Next Vacation
35 great tips on planning, travel hacks, transportation savings, and cheap food and drink options!
About the host
for direct bookings or other property questions.