Price Comparison Results
Airbnb • Vrbo • Booking.com • Direct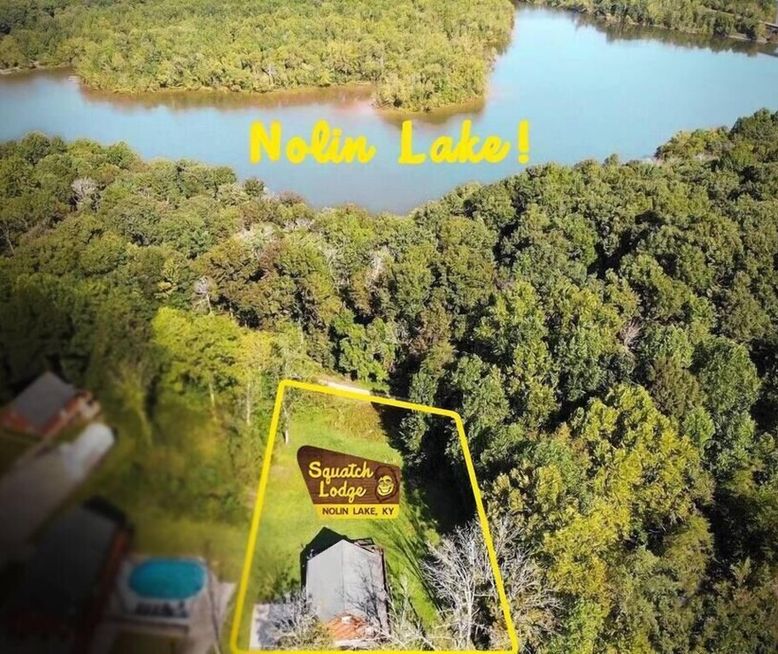 Fun Lake View Log Cabin at Nolin Lake Mammoth Cave
Listing titles:
Fun Lake View Log Cabin at Nolin Lake Mammoth Cave
Fun lake view log cabin at Mammoth Cave & Nolin Lake
Welcome to the Squatch Lodge!
...
Community Book - Direct Links
These links are alternative ways to book this listing. These links have been suggested by our community and we have not verified their accuracy.
Welcome to the Squatch Lodge!
Enjoy boating, hiking, cave exploration, and many other outdoor and indoor activities at our pet-friendly lake cabin that sleeps 8. Enjoy beautiful sunset views from the balcony or take the kayak out for a ride. During the winter, you can watch the boats travel on the lake from the balcony. WiFi-connected Smart TVs are in every bedroom so everyone can watch what they want. Lots of free snacks, equipment and amenities are provided so you won't get bored. With so many activities from relaxing to rambunctious, there's something for everyone here!
What makes this property special is not only the (very tastefully done) Sasquatch decor, the huge assortment of free snacks provided (salty, sweet, crunchy, savory...it's all there!), the coffee bar with over 20 varieties of coffee, hot cocoa and tea to drink, the enormous number of games and recreational activities provided, but also how exceptionally clean the property is. Guests can enjoy use of a propane grill, a huge fire pit with Adirondack chairs, the 60-game classic arcade machine, the ping-pong table, the cornhole boards, and much more! When the weather permits, use one or both of the kayaks that are provided for free use by guests. Fishing equipment is also available for guests to use! The owners have worked very hard to ensure that you have tons of options for things to do at the Squatch Lodge and that you don't have to bring much -- pretty much just your clothes and your toothbrush (we even provide the toothpaste for you!) Household essentials such as laundry soap, dishwasher liquid, shampoo, conditioner, lotion, body wash and much more are provided for free for guest use. 
This modern log cabin is 1/2 mile from the private neighborhood boat ramp that's just for use by the residents of Nolin Lake Estates.  Squatch Lodge guests are more than welcome to use the private neighborhood boat ramp. The Iberia recreation center is nearby and offers gorgeous picnic areas, a boat ramp and a beach. Nearby there are multiple convenience stores, an ice cream shop and a bait store. A quick 20 minute drive will put you in Leitchfield, where there is a WalMart, lots of restaurants, a water park, and plenty of other stores in case you need something during your stay. 
Guests have full access to the entire property and house with the exception of a small owner's closet in the basement. Guests are provided with the personal cell numbers of the owners for any questions they may have.
Nolin Lake Estates is a peaceful lake neighborhood filled with friendly people. Most guests and residents get around the estates by using golf carts. The area is extremely safe! Please note that this cabin has a seasonal lake view during the winter. Also, to access the lake requires a walk down the road to an access path (map is provided in the cabin). The nearby Iberia Recreation Center has a very nice beach and ramp with picnic tables and restrooms. You will need a vehicle to get to restaurants or to go to the Iberia rec center. 
Since you're on a mountain at the Squatch Lodge, the driveway is steep. If you plan to visit during the winter, please check the forecast before you arrive. If snow or ice is predicted, we recommend using a 4x4 vehicle while here. To be fair, this area doesn't get much snow or ice though!
This log cabin is only a few years old but everything in it is new, including the furniture, appliances and bedding. You'll enjoy an exceptionally clean yet cozy environment. The owners are constantly adding new features and benefits for guests so each time you visit you can expect something new.
Save Even More Money On Your Next Vacation
35 great tips on planning, travel hacks, transportation savings, and cheap food and drink options!