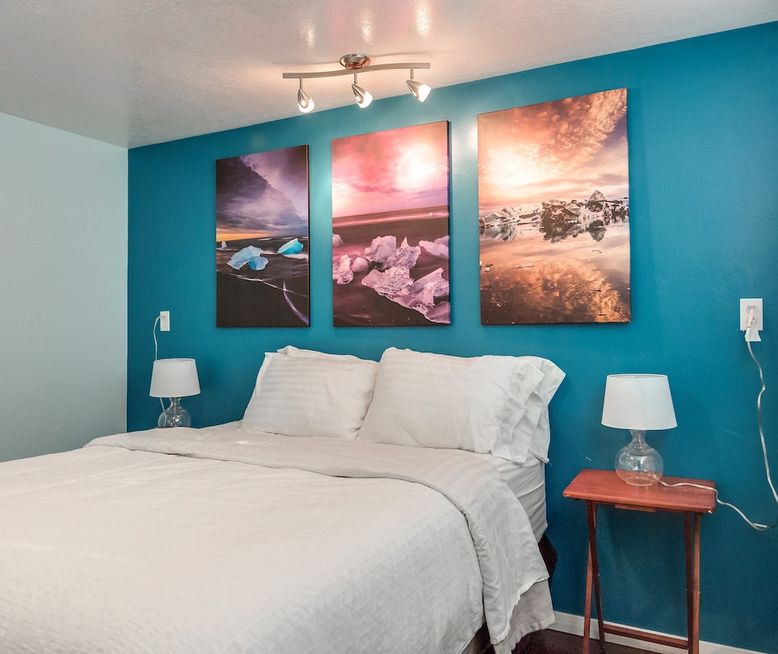 Cute Little Basement Getaway
Listing titles:
Cute Little Basement Getaway
This little one bedroom basement apartment is anything but dark! Private parking, high speed WiFi, washer and dryer, and more! (Pets allowed with approval and a $50 additional cleaning fee.)
...
Booking Estimator
Use this booking tool to understand exactly what you will pay to the host.
HiChee Tip: Did you know about 15% to 20% of what you pay goes to the travel agencies for their services, and is not paid to the host.
Share this with the host to find out how much of these service fees you could save.
Cute Little Basement Getaway
This listing is verified in HiChee.
How does it work?
*Estimated book direct is the lowest price of OTAs minus their service fees.
Amenities
Essentials (towels, bed sheets, soap, and toilet paper)
This little one bedroom basement apartment is anything but dark! Private parking, high speed WiFi, washer and dryer, and more! (Pets allowed with approval and a $50 additional cleaning fee.)
PLEASE READ THIS BEFORE BOOKING!
This one bedroom space is very small (imagine your first apartment as newlyweds) but it's cozy and very clean. We are centrally located for almost everything in the Provo/Orem area, and this apartment has all of the necessities for a short term stay.
The kitchen has a half sized fridge and a half sized oven and stovetop, which is the perfect size for a frozen pizza. There is not much counter space, but the the kitchen table has more than enough room for two people and the sides can also collapse down to provide more space if needed.
Even though the one bedroom is small, there is a comfortable King sized bed you can rest in and a large wardrobe to hang your clothing and belongings.
The well-lit living room has a large screen television with a Roku and Blu-ray player and a large, comfortable couch that is large enough for someone to stretch out on.
The bathroom is small and tidy and well stocked with towels, shampoo and soap. The shower is TINY so keep that in mind if you need more space to shower in. The water pressure is good and the showerhead is large.
Guests do not have access to the thermostat, however the host has a Nest device and can adjust the temperature if it is uncomfortable. There is a space heater provided and vent magnets to close the vents thoroughly if needed.
The parking is right in front of the entrance and can be a bit difficult to back out of, so care is needed when backing out.
There is also one fairly large step down from the driveway to the door, so keep that in mind if stairs are an issue. There are no stairs inside the apartment.
The entire apartment is yours! The private entrance comes off the driveway where you park your car just steps from your door. This is approximately a 500 square foot apartment. The bedroom has a king sized bed. An extra guest can sleep on the couch, or a small air mattress that can be provided upon request. All utilities and linens are included.
Includes Fiber gigabit wi-fi and wired internet. Blu-ray player and Roku. Smart HDTV. This is located in a home in north Provo. We do give preference to bookings that are consecutive. We prefer longer term stays, but will accept shorter bookings that are last minute or near other bookings.
We're here if you need us, but otherwise your space is completely private.
We are in an awesome location! Nestled in a quiet neighborhood right off State Street (one of the main roads leading through the city). Please be aware that this is an older neighborhood (most houses built in the 50's-70's) and at first glance may look less than desirable, but the inside has been completely remodeled. We have lived on this street for 10 years and have loved it. There are about 118 little kids within a 5 house radius, and the street consists of mostly young families and elderly couples.
We're close to bus stops. There is a new, free public transit bus, UVX, that runs from
UVU in Orem to downtown Provo. There is a bus stop less than half a mile from this location.
Please note this is a basement apartment. The unit above is also an AirBnb, and the guests are generally quiet and respectful, but the floors are the original wood floor from the 1970s, and there are some squeaky spots. Voices can also be heard through the units sometimes, as you would expect. All guests are aware of the sound transfer, and are generally very considerate of quiet hours.
Save Even More Money On Your Next Vacation
35 great tips on planning, travel hacks, transportation savings, and cheap food and drink options!
About the host
for direct bookings or other property questions.