Price Comparison Results
Airbnb • Vrbo • Booking.com • Direct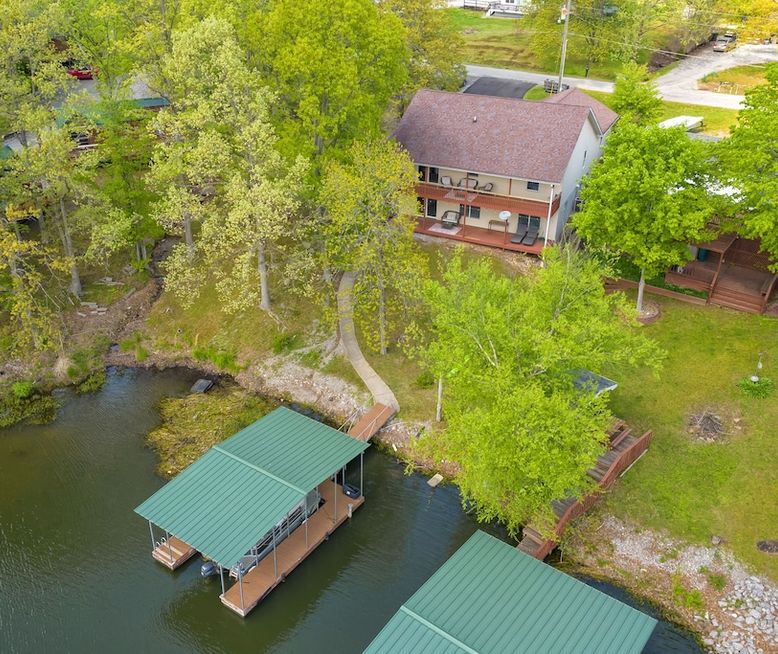 4BR w/Pontoon Rental | Next to Resort
Listing titles:
4BR w/Pontoon Rental | Next to Resort
Booking Estimator
Use this booking tool to understand exactly what you will pay to the host.
HiChee Tip: Did you know about 15% to 20% of what you pay goes to the travel agencies for their services, and is not paid to the host.
Share this with the host to find out how much of these service fees you could save.
4BR w/Pontoon Rental | Next to Resort
This listing is verified in HiChee.
How does it work?
*Estimated book direct is the lowest price of OTAs minus their service fees.
SUMMARY:
Beautiful 4 bedroom house located right next to Egyptian Hills Resort and Marina. Enjoy the convenience of a pontoon rental option onsite from ~April 15th-October 15th. The dock has a ladder so you can easily swim and kayak with our 2 kayaks. The next door marina offers food, drinks and entertainment regularly on weekends throughout the summer.
SLEEPING ARRANGEMENTS:
* 1 King Bed in Master bedroom with ensuite bathroom in lower level
* 1 Twin Bed; 1 bunk bed; 1 pull-out twin in 2nd bedroom in lower level
* 1 King Bed in 3nd bedroom in main level
* 1 King Bed in 4rth bedroom in main level
THE LAYOUT
Main Level:
* Full Bath
* Living Room with Smart TV
* Kitchen & Dining Area for 10
* Walkout Upper Deck
* Bedroom with king bed
* Bedroom with king bed
* Washer/Dryer
Lower Level:
* Master bedroom with king bed and ensuite bathroom
* Bedroom with 1 twin; 1 bunk bed; 1 pull-out twin (pull out from under bunk bed, stays ground level)
* Full bathroom
* Walkout Patio and sidewalk to dock
* Living room with gas fireplace and Smart TV
OUTDOORS:
* Private dock with pontoon boat rental available ($300 for 1 day rental or $250/day for entire number of nights staying).
* Outside decking areas and fire pit for relaxation
* Weed removal completed in fall 2021
* New ladder installed in 2021 for swimming off dock
* 2 Kayaks for your enjoyment
* Cleats on either side of dock to tie on own boat.
MORE INFORMATION:
* Egyptian Hills Resort and Marina next door- $30 ramp/boat launch fee
* Pyramid Acres Marina 10 minute drive- $5 ramp/boat launch fee
* Just 15 min drive to Marion
* Close to hiking in the Shawnee National Forest, Ferne Clyffe State Park, Giant City State Park
* Close to biking trails at Tunnel Hill Bike Trail, and mountain biking at the new Touch of Nature bike trail
* Each guest receives a personalized online Welcome Guide immediately upon booking- so you can plan your trip with all of our personal recommendations of places to go and things to do.
KNOW BEFORE YOU GO:
Pet Policy:
Pets are not allowed unless certified and vested service dogs in accordance with the ADA (Americans' with Disabilities Act). According to the ADA, "Service animals are defined as dogs that are individually trained to do work or perform tasks for people with disabilities," and "Dogs whose sole function is to provide comfort or emotional support do not qualify as service animals under the ADA."
Pontoon Rental option:
As described in the listing, we offer a private pontoon rental as an exclusive option with this property. The price is $300 a single day or $250 per day for entire stay and a $1000 security deposit hold. There are separate insurance forms to fill out and we will send those prior to your arrival.  Pontoon seats 10; Universal life vests are included.  To ensure proper fitting, we encourage you to bring life vests for children.  State law requires that anyone under the age of 13 must wear a life jacket while aboard any watercraft under 26 feet in length at all times the boat is underway.  
Rental agreement and $500 security deposit hold is required (just like a hotel).
Save Even More Money On Your Next Vacation
35 great tips on planning, travel hacks, transportation savings, and cheap food and drink options!
About the host
Veteran-Owned, Woman-Owned vacation rental management company specializing in unique, boutique and luxury short term rentals in beautiful Southern Illinois
for direct bookings or other property questions.