Please zoom closer to see listings
---
We couldn't find any results that matched your criteria, but tweaking your search may help. Here are some ideas:
Remove some filters.

Expand the area of your search.

Search for a city, address, or landmark.
Minnesota Vacation Rentals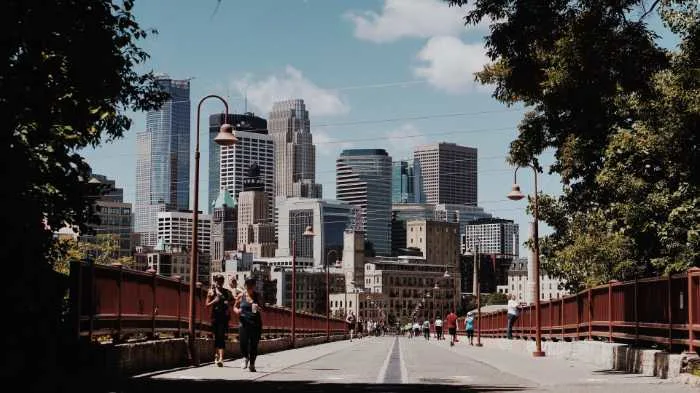 Minnesota - Our Vacation Guide
Come explore the land of 10,000 lakes! Minnesota is a nature lover's paradise, with its pristine forests, beautiful rivers and lakes. Minnesota is also home to some of the best golf courses in the country. And don't forget the delicious food - from hearty comfort foods to gourmet cuisine, you'll find something to suit your taste buds in Minnesota.
Whether you're looking for a romantic getaway or a family vacation, Minnesota has something for everyone.
What's the best time of year to take a vacation in Minnesota?
That depends on what you're looking for. If you love the outdoors, then spring and summer are the perfect times to come. The weather is warm and there are plenty of activities to keep you busy. However, if you're looking for a more relaxed vacation, fall is a great time to visit Minnesota. The leaves are changing color and the pace is a bit slower. Winter is also a great time to visit if you enjoy snow sports like skiing and snowboarding. No matter what time of year you decide to visit, Minnesota will be sure to give you memories that will last a lifetime!
What type of vacation rentals can I expect to find in Minnesota?
There is a wide variety of vacation rentals available in Minnesota. You can find everything from cozy cabins in the woods to luxury apartments in the city. No matter what your budget or preferences are, you'll be able to find the perfect vacation rental for you in Minnesota.
Where are the best places to stay in Minnesota?
Again, that depends on what you're looking for in a vacation. If you're looking for a quiet and relaxing vacation, then staying in one of Minnesota's many small towns is a great option. You'll be able to experience the true beauty of the state without all the hustle and bustle of the city. However, if you're looking for a more active vacation, then staying in Minneapolis or Saint Paul is the way to go. These cities have plenty to offer in terms of nightlife, restaurants, and things to do.
No matter where you decide to stay, Minnesota will not disappoint!
What's the weather like in Minnesota?

© WeatherSpark.com
The weather in Minnesota is notoriously unpredictable. You can experience all four seasons in one day! However, the average temperatures are as follows:
Spring: 40-60 degrees Fahrenheit
Summer: 70-80 degrees Fahrenheit
Fall: 50-70 degrees Fahrenheit
Winter: 20-40 degrees Fahrenheit
Of course, these are just averages - it's not uncommon to experience extreme temperatures outside of these ranges. So be sure to pack your bags accordingly!
What should I pack for my Minnesota vacation?
Again, because of the unpredictable weather, it's always best to err on the side of caution when packing for a Minnesota vacation. Be sure to bring plenty of layers, as well as rain gear and snow gear.
What's the best way to travel around Minnesota?
Walking, biking, and public transportation are all great options for getting around Minnesota. However, if you're planning on doing a lot of driving, then a car is the best option. Just be sure to pack a map - Minnesota can be tricky to navigate!
Is there anything else I should know before I visit Minnesota?
Yes! Here are a few more things to keep in mind when planning your Minnesota vacation:
Minnesota has a 6.875% sales tax
There is no statewide smoking ban, but many cities and counties have their own bans in place
Minnesotans are known for being friendly and welcoming, so don't be afraid to strike up a conversation with a local!
What are the 10 best things to see and do in Minnesota?
Look no further! Here are 10 great ideas to get you started:
Take a scenic drive down one of Minnesota's many beautiful highways.
Visit Duluth and enjoy the views of Lake Superior.
Stop by the Mall of America - it's the biggest mall in the United States!
Go hiking or camping in one of Minnesota's many state parks.
Take a dip in one of Minnesota's 10,000 lakes - they're perfect for swimming, canoeing, and fishing.
Visit the Mayo Clinic in Rochester - it's one of the world's leading medical clinics
Experience the beauty of Minnesota's North Shore.
Take a tour of the Minnesota State Capitol building in Saint Paul.
Visit the Minneapolis Institute of Art - it's one of the largest art museums in the country.
Enjoy the views from atop the Space Needle at Minnetonka Mills Park - it's the tallest structure in Minnesota!
What are the best beaches in Minnesota?
Here are a few great options:
Gooseberry Falls State Park
Split Rock Lighthouse State Park
Tettegouche State Park
Temperance River State Park
Itasca State Park
These are just a few of the many beautiful beaches that Minnesota has to offer. So get out there and enjoy the sun!
What food is specific to Minnesota?
Here are a few Minnesota-specific dishes that you'll want to try:
Tater tot hotdish: This dish is made with tater tots, ground beef, and vegetables, and it's a Minnesota staple.
Lefse: Lefse is a traditional Norwegian flatbread made with potatoes. It's often served with butter and sugar.
Fried walleye: Fried walleye is a popular Minnesota dish - the fish is breaded and fried, and it's usually served with tartar sauce or lemon.
Wild rice soup: Wild rice soup is a creamy soup made with, you guessed it, wild rice.
What time zone is Minnesota in?
Minnesota is in the Central Time Zone. This means that it is one hour ahead of Mountain Time and two hours ahead of Pacific Time. So if you're planning on calling or texting your friends back home, be sure to take the time difference into account!
What is the capital of Minnesota?
Spoiler alert: It's not Minneapolis!
The capital of Minnesota is Saint Paul. This city is located in the eastern part of the state, on the banks of the Mississippi River. Saint Paul is the second-largest city in Minnesota, with a population of about 300,000 people. As the capital, it is home to the Minnesota State Capitol building, which is worth a visit if you're in town. Saint Paul is also known for its many parks and green spaces, as well as its museums and art galleries. So whether you're looking to explore Minnesota history or to enjoy some time outdoors, Saint Paul is a great place to be!
How did Minnesota get its name?
The answer is a bit complicated. Minnesota is actually named after a river, which in turn was named by early French explorers. The word "Minnesota" comes from the Dakota Sioux word "mnisota," which means "cloudy water." The Dakota Sioux were the original inhabitants of the area now known as Minnesota, and they named the Mississippi River "mni sota" because of the cloudy appearance of its waters. The name eventually made its way to the state, which was officially established in 1858. So there you have it - Minnesota's name is derived from a Native American word meaning "cloudy water."
What is Minnesota's state bird?
Wonders never cease - Minnesota's state bird is actually the mosquito! This insect was officially adopted as the state bird in 1953, in a vote by elementary school students. The mosquito was chosen because it is very prevalent in Minnesota (especially in the summertime!), and it is also the state insect. So if you're planning a trip to Minnesota, be sure to pack your bug spray!
What is Minnesota's state flower?
The state flower of Minnesota is the showy lady's-slipper, which is a type of orchid. This flower was chosen as the state flower in 1902, making it one of the oldest state symbols. The showy lady's-slipper can be found in wooded areas throughout Start planning your Minnesota vacation today!