Price Comparison Results
Airbnb • Vrbo • Booking.com • Direct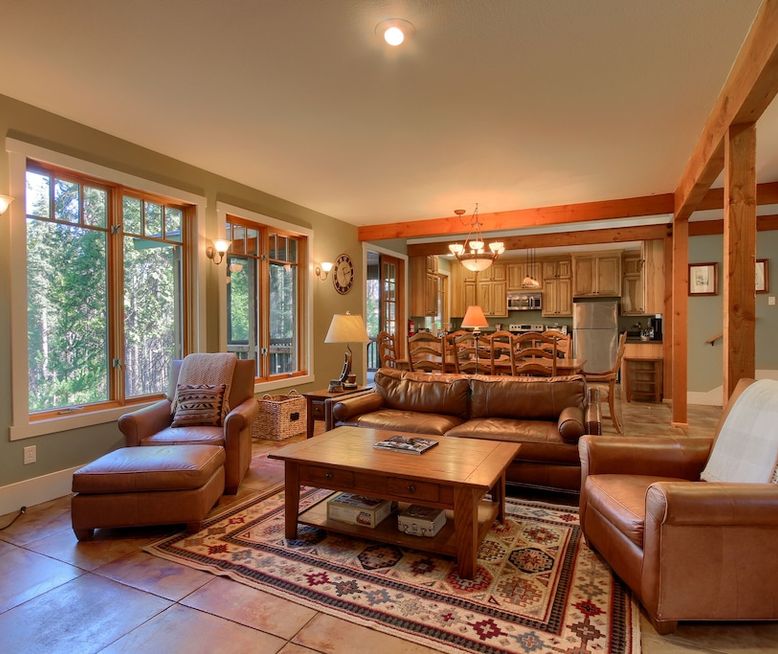 Aspen House in Fish Camp- 2 Miles from Yosemite's South Entrance!
Listing titles:
Aspen House in Fish Camp- 2 Miles from Yosemite's South Entrance!
Large (2400 sq ft.) luxury cabin with beautiful architectural charm, nestled in the forest of Fish Camp!
...
Community Book - Direct Links
These links are alternative ways to book this listing. These links have been suggested by our community and we have not verified their accuracy.
Large (2400 sq ft.) luxury cabin with beautiful architectural charm, nestled in the forest of Fish Camp!
HIgh end fixtures and furniture give you the ambience and comfort of a luxury resort.
A screened in balcony allows you to sip your morning coffee or evening wine while soaking in the peace and quiet of the surrounding Sierra forest.
This cabin features 3 bedrooms with 3 full bathrooms (2 bathrooms have whirlpool tubs!), giving plenty of space for up to 8 guests to enjoy. Parking is provided, with one space available in the garage, and up to 4 more cars in the driveway. A woodstove in the living room and radiant floor heaters ensure you wil stay cozy even in the coldest of weather.
The wifi available at the cabin is the absolute best offered for our area, so you can stay connected while on your mountain retreat!
Fully stocked, furnished, and completely updated kitchen gives you the ability to cook any meal, big or small. Kitchen highlights include granite counter tops, stainless steel appliances, electric range, fridge with ice maker, dishwasher, plenty of pots and pans, and much more!
A washer and dryer are located in the cabin and are free to use during your stay.
Attending a wedding or convention at Tenaya Lodge? This cabin is ONLY 1/2 mile from there, giving you incredibly quick and easy access!
Famed Lewis Creek Trailhead is just a few minutes down the road so you can have some great hiking in close proximity.
Not only does Fish Camp allow you such convenient access to Yosemite and Tenaya Lodge, its also just 20 minutes from Oakhurst, where all major supermarkets and shops for the area reside.
Bedding Configuration is as follows:
Bedroom #1- One queen bed, one twin day bed
Bedroom #2- One queen bed, one twin day bed
Bedroom #3- Technically a two bedroom suite with an entry foyer with separate doors, one twin day bed in each room
Please note: Indoor fireplaces AND outdoor fire pits are NOT allowed during county-wide burn bans, which often occur in the summer and fall months. This is due to heightened fire risk in the area at those times. Outdoor BBQ grills and propane fire pits are allowed year-round. As of May 29th, Cal Fire has banned ALL open flame fires. This includes outdoor fire pits and indoor wood stoves. Please do not light any fire at the property, or 911/Sheriff's Department will be called out. Thank you for helping us keep our area safe from wildfire devastation. Propane BBQ's and propane fire pits excluded.
Please note that like most properties in the Fish Camp area (above 5,000ft in elevation), this property does not have air conditioning. Summer nights tend to drop into the high 50's/low 60's, so opening the windows can quickly cool the home down. Fans are also provided in every sleeping room!
No Pets
Due to Covid 19, early check-in and late checkouts are unavailable. This includes luggage and grocery drop-offs. Please kindly plan your grocery shopping/traveling around the 4 PM check-in time. Our housekeepers and cleaning inspectors work all over the mountains, and timing is usually tight. If you need to check in early or check out late, we strongly recommend booking an additional night on the front end or back end of your stay. This will allow you to check in as early or check out as late as you need.
California Highway Patrol may require chains and/or 4 wheel drive with snow tires during winter and spring months. Please prepare accordingly. Unfortunately, no refunds can be given for guest's lack of vehicle preparation.
After booking, the rental agreement displayed at checkout will also be sent for E-sign to the email on file. Kindly E-sign this within 48 hours after you make your booking to finalize your reservation.
Save Even More Money On Your Next Vacation
35 great tips on planning, travel hacks, transportation savings, and cheap food and drink options!